Written by Ben le Vay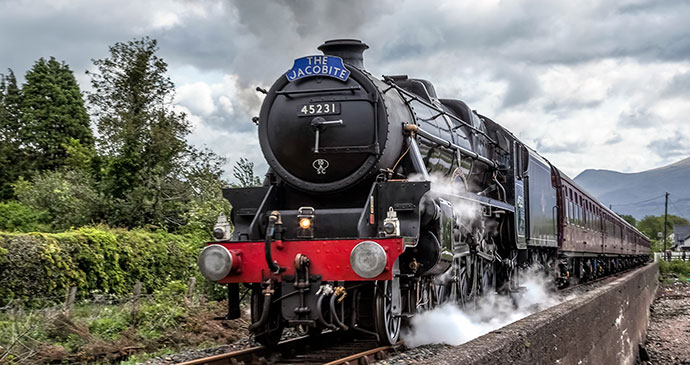 The Jacobite steaming its way through the Scottish Highlands © Philip Bird LRPS CPAGB, Shutterstock
Fort William–Mallaig, 41 miles; usually done as a round-trip day out with time at Glenfinnan and Mallaig, from around 10.20 to 16.00
This is Britain's most successful main-line steam service, and no wonder. It goes from one beautiful place to another through sensational landscape, the line itself being part of the spectacle, as well as the train.
There are proper steam whistles, the roar of safety valves making waiting children jump, the chuff – chuff – chuff – chuffchuffchuff as the wheels slip on wet days. The clicketyclack of traditional Mark 1 unpowered coaches with that gentle shwooshing of the brakes downhill, huge windows actually lined up with the seats, windows that actually open (a miracle nowadays) to God's good air, more likely God's good steam and smoke, and slam-doors with drop-windows for photographing through. Brilliant.
It's not too long for a family outing, it's affordable, and it's reliable. It's also in a holiday area where people want this sort of day out. The West Coast Railway Company, based in Carnforth in Lancashire, have been running it every summer and if they can keep steam alive where so many others have failed, good for them.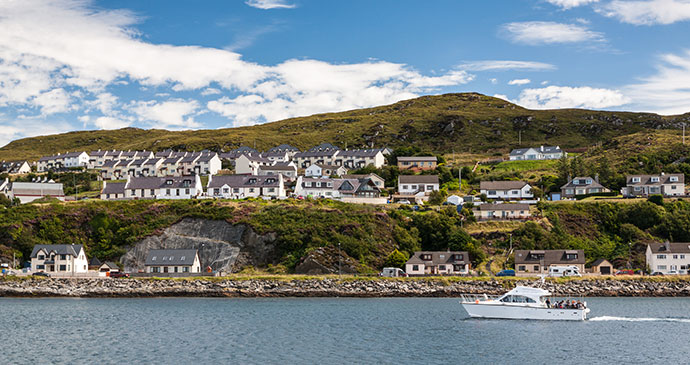 Mallaig: the end of the line © Bucchi Francesco, Shutterstock
The engines aren't the tiny tank engines seen on some preserved lines, and they don't do those pathetic speeds either, but carry on doing a proper job over a decent distance, complete with sweaty blackened fireman and driver, much like they used to. Yes, it's nostalgia for more innocent times when dirty smut meant something in your eye. Mind you, it had its comic moments when a loudspeaker announced 'this is a nonsmoking train'. At that very moment the engine was laying a huge duvet of grey and black smoke in the sky about 500 yards long.
A word of warning to those not used to this era of trains. Don't lean on the doors (they open outwards). Don't let your kids get their hands trapped in them (they are not called slam-door trains for nothing). And don't lean out of the windows to get that perfect shot on the camera/video. You will not see the lump of rock or tree branch on this limited clearance line. The picture will be posthumously viewed by your relatives, and the Health and Safety brigade will probably have the windows sealed up.
I even got to go on the footplate (they don't let everyone). When I stepped down, my carbon footprint was left on the platform. Marvellous.
---
Inspired? Read more in Britain from the Rails.