In December 2020, Hilary Bradt will accompany our incredibly exciting Eclipse Small Group Tour to Argentina, Chile and the Falkland Islands, an epic 18-day odyssey to catch the total solar eclipse. To start building the anticipation, we asked her about her previous travels to this part of the world, and what she's most looking forward to on this South America holiday.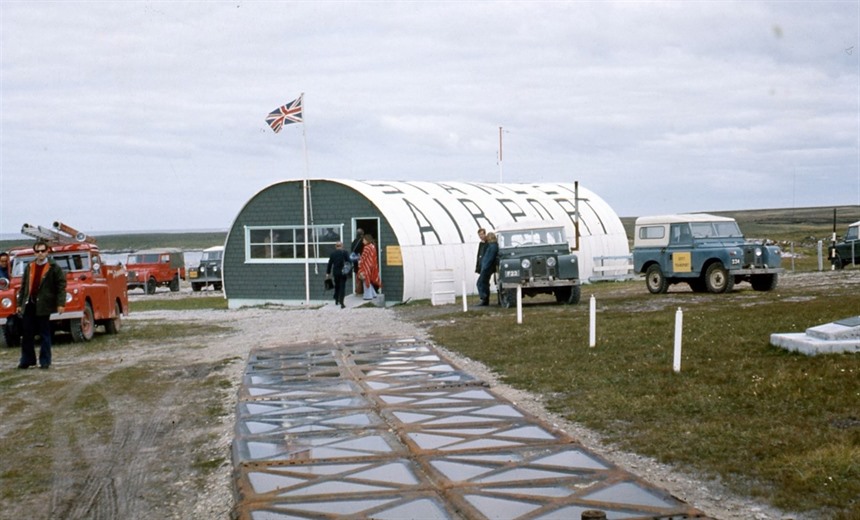 Stanley Airport in the Falkland Islands, taken in 1974 by Hilary Bradt
Q: When were you in the Falkland Islands?
I made two visits, both before the Falklands War, when it was a very different place than it is today. The first was in 1974 when the Argentine government was working hard to woo the Falkland Islanders; there were weekly flights from Comodoro Rivadavia, usually full of Argentines making the most of duty-free shopping in Stanley.
We stayed with an 86-year-old who offered B&B to the occasional British visitor who pitched up in Stanley. She was impatient at our enthusiasm for the wildlife. "Penguins, penguins, that's all I ever hear from you two. One day you'll come in flappin' like one!" We were there for Christmas Day – and for the Boxing Day races – and I'm thrilled that once again I shall experience a British Christmas in Stanley with the group.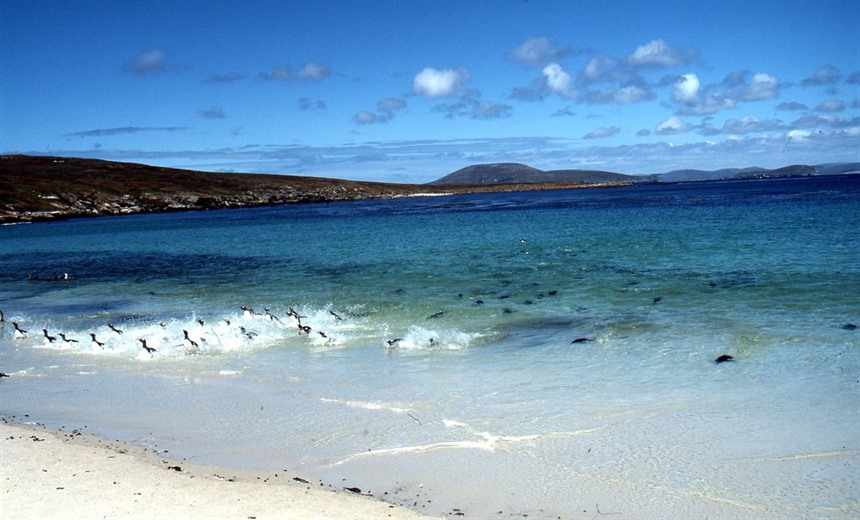 Penguins coming ashore in the Falklands in 1974, by Hilary Bradt
The second time was in December 1981 (so only a couple of months before the Argentine invasion). This time I was leading a group for the American company Wilderness Travel. We stayed on New Island, with the artist and author Ian Strange. It was one of the highlights of 30 years of tour leading.
I would put the Falkland Islands on a par with the Galapagos. The density of wildlife, the beauty of the landscape with its white sand beaches, and the clarity of the air, were quite extraordinary!
Enjoying the Falklands in 1974, by Hilary Bradt
Q: What was the highlight of your first visit?
There were too many to choose. One must be our stay on uninhabited Kidney Island where we were dropped off by boat, to be collected five days later. There was a 'naturalists' hut' on the island with bunks and a basic kitchen. We spent every day watching rockhopper penguins make their tortuous way up the cliffs – once we had made our own tortuous way through the tussoc grass!
I think, though, the main highlight was our walk to Volunteer Point to see the king penguins. It should have been a five-day hike but word got around that two visitors were on their way and we were collected, housed, fed and entertained by the farmers living out in the 'camp'.
Q: …and the second?
Undoubtedly seeing an all-white penguin! No one had told me there was an albino magellanic penguin (actually not totally albino – it had black flippers) and I went out one evening on my own to see what wildlife was around, and there it was outside its burrow. I could hardly believe my eyes.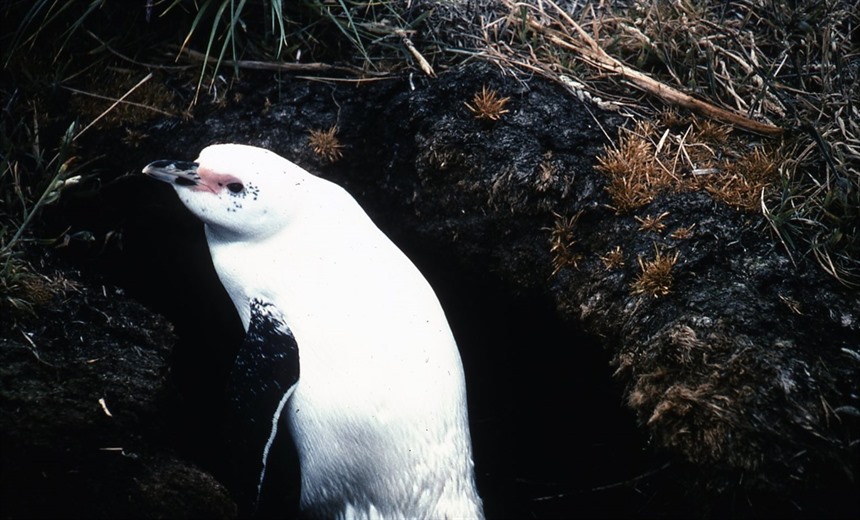 An albino magellanic penguin, by Hilary Bradt
Q: Any special memories that have stayed with you for all those years?
Everything! The delight of stepping back to a version of Britain which had long died out at home. For instance the telephone system. You would go to the phone box in Stanley, wind the handle to call the operator, and ask for no 1 or no 3 (usually single figures). The operator would then say "Oh the Smiths have gone to visit the Browns this evening so I'll put you through to them." Wonderful!
Q: I know you are very excited about the total eclipse. How many have you seen and where?
Two, and that's not enough! I saw the first one in the Isles of Scilly in 1999. I think it was the only place in Britain which had enough clear sky to see the eclipse. The clouds parted literally a couple of minutes before the moment of totality. I was hooked. The second time was in Madagascar, with Rainbow Tours. It was a very special occasion because of the wonder – and fear – of the local people. I'm thrilled to have the opportunity to see another eclipse in Argentina.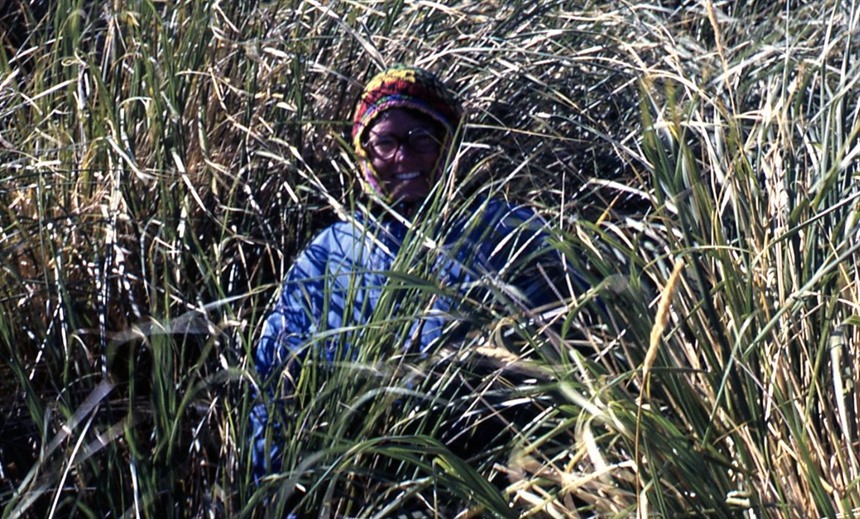 Hilary in the Falkland Islands in 1974, photo provided by Hilary Bradt
Q: Why is Argentina going to a good place to see it?
Not everyone realises that to have the full impact of a total eclipse you must be in the band of totality. Outside this narrow band where the sun is completely covered by the moon is only a partial eclipse. It was described by one umbraphile as like 'standing outside an opera house and saying you've seen the opera'. So no comparison.
There were not many places within this band which could accommodate a group, or several groups. Rainbow and their Argentine counterparts worked hard to find a place that ticked all the boxes.
Q: Apart from the Eclipse itself, what do you think will be the highlight of the tour? Is there anything in particular you're looking forward to?
It's just a fantastic tour! Of course the Falklands is going to be very special for me because of all those memories, but we see the best of Argentina – Buenos Aires and the Lake District – as well as some very special places in Chile. I haven't been back to these countries since backpacking through them in 1976 – so it's a while ago! Perhaps the highlight of Chile will be the island of Chiloe. I remember it being enchanting and utterly different from the mainland.
It really is a fabulous trip! It took many months of discussion to pull it all together and to read the itinerary now is to anticipate an utterly unique tour.
Interested in Rainbow Tours' December 2020 Eclipse Tour? Click here to find out more.