Written by Gail Simmons
In 1874, the lovesick author Robert Louis Stevenson stepped off a train at High Wycombe station on the first leg of a three-day journey across the Chiltern Hills to Tring. Almost 150 years later, Gail Simmons took to the hills in his footsteps, chronicling the world of her childhood before the construction of HS2 brings commensurate destruction to this ancient landscape.
Entwining personal memories with impassioned interviews and extracts from Stevenson's 'In the Beechwoods', Gail portrays the poet's 'Country of Larks' from prehistory to the present day. To discover what lies beneath, read on…
---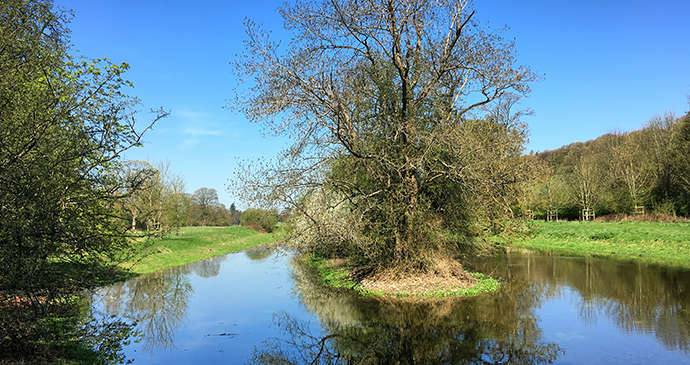 The peaceful idyll of the River Misbourne will be disrupted by the building of HS2 © Timo Newton-Syms, Wikimedia Commons
And then, just as I found myself lulled into reveries of this meadow's history, I was brought up short by a sign barring my way. Ahead, where the portal of HS2 will emerge from under the Chilterns, 'essential maintenance' to the electricity pylons was taking place and I was forbidden to take another step. The shouts of workmen scaling the pylon in front of me confirmed the warning. I had no choice but to turn back and retrace my steps to the bottom of the hill and walk up the busy main road to South Heath. South Heath is a prosperous community, and one that will bear much of the brunt of HS2. Having failed to get the tunnel extended under the whole of the AONB, the inhabitants will see the railway emerging from a portal just north of the village.
If the tunnel had been extended another six miles, to beyond Wendover, then it would have emerged outside the AONB. As it is, the tunnel will descend under the River Misbourne – twice – then climb uphill in one of the steepest gradients in the whole of Network Rail, to surface near the top of one of the most historic and unspoiled valleys in the entire Chilterns.
Now, walking into the village, I was entering the eye of the storm, the illusory calm before the maelstrom of HS2. It was a Monday morning, but an unnatural hush settled over the village like the first autumn mists. My 1880s map shows little development where modern South Heath is, only Sibley's Coppice, another ancient woodland of oak and beech wood scattered with rowan, cherry and birch. Coppices are woodland in which the trees or shrubs are periodically cut back to ground level to stimulate growth and provide firewood or timber, the woodland being managed sustainably to provide fuel for generations of villagers.
---
Read more in Gail Simmons's new book: