Written by Philip Briggs
Extending over a relatively compact and low-lying swathe of the interior northeast of Colombo and Bandaranaike International Airport, the so-called Cultural Triangle is the first inland stop on most extended tours through Sri Lanka. As its name suggests, the region is primarily of interest for its collection of ancient monasteries, decorated cave temples, abandoned capitals, towering dagobas and other archaeological reserves whose collective history spans a period of more than2,500 years. The Cultural Triangle houses no fewer than half of Sri Lanka's eight UNESCO World Heritage Sites: Dambulla Cave Temple, Sigiriya Rock Fortress and the ancient cities of Polonnaruwa and Anuradhapura. But these popular heavyweights are supplemented by literally dozens of lesser-known sites, many only marginally less rewarding, yet boasting a more tranquil and untrammelled feel. Unexpectedly, perhaps, the Cultural Triangle is also home to two excellent safari destinations: the popular cluster of 'elephant reserves' centred on Minneriya to the east of Dambulla, and the more neglected but arguably superior Wilpattu National Park near Anuradhapura.
Logistically, Dambulla/Sigiriya is the most accessible starting point coming from or heading to Colombo or other southerly and westerly locations. It is also a conveniently central base from which to explore Polonnaruwa (about 90 minutes to the east) and/or Anuradhapura (a similar distance north) as day trips. For those with sufficient time, however, we would recommend allocating a couple of nights to each of the three pivots on the Cultural Triangle, allowing you to explore the primary ruins in the cooler, less crowded and more photogenic early morning or late afternoon hours.
Dambulla Cave Temples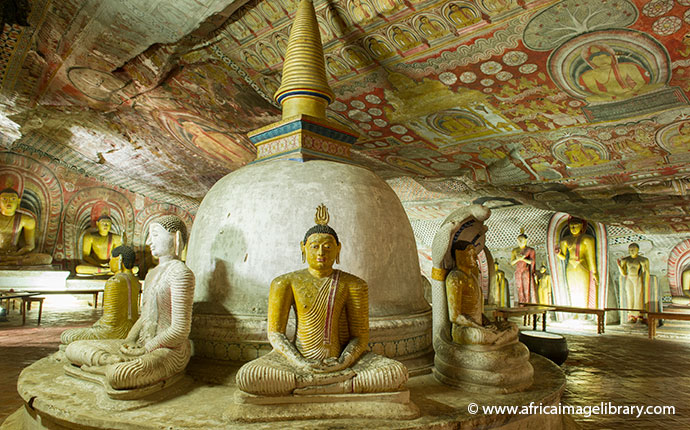 Maharaja is arguably the most beautiful of Dambulla's cave temples © Ariadne Van Zandbergen, Africa Image Library
Set in a tall granite outcrop overlooking the town, Dambulla's 'Caves of Infinite Buddhas' form the largest and best-preserved complex of its type in Sri Lanka, stuffed with a wealth of ancient rock statues and murals dating from the 15th century onwards.
Sigiriya Rock Fortress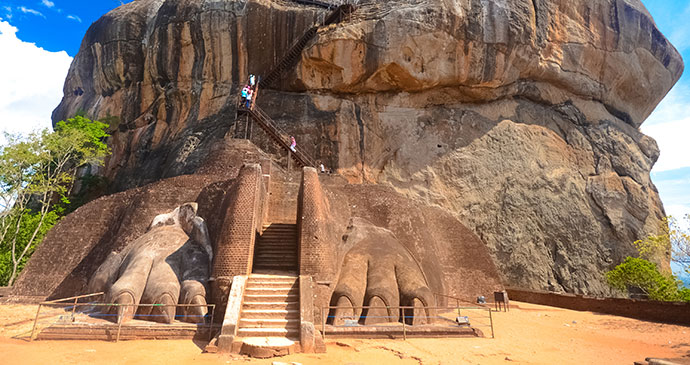 Sigiriya is claimed by many to be Sri Lanka's most impressive archaeological site © jonas Shutterstock
For many the unqualified highlight of the Cultural Triangle, the 'Lion Rock' developed as a skyscraping 5th-century citadel by the illfated King Kasyapa is a towering volcano plug adorned with ancient ruins and the country's oldest and most iconic Buddhist paintings.
Polonnaruwa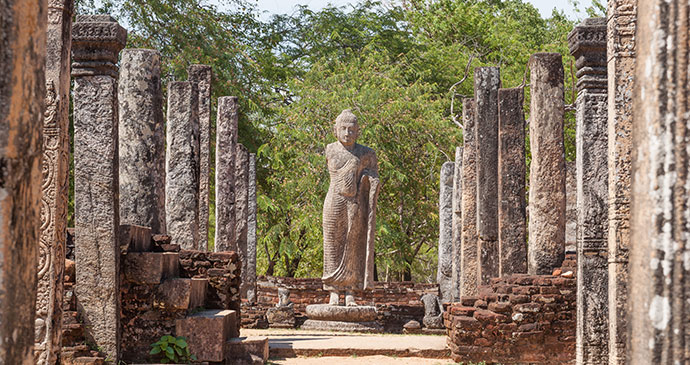 This sprawling ruined city incorporates ostentatious palaces that tower above colonnaded council chambers and ornate bathing pools © escape, Shutterstock
Though not as ancient as its predecessor Anuradhapura, this former Sinhala capital is if anything even more engaging, thanks to the immense architectural skills demonstrated in its diverse collection of ruined palaces, temples, dagobas and other structures.
Anuradhapura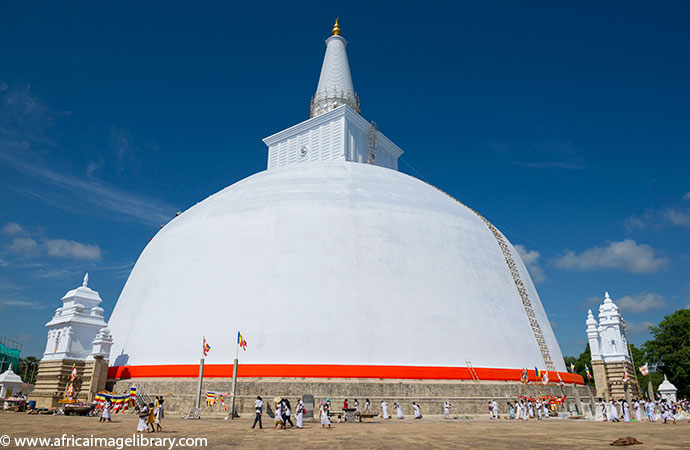 Dominating the southern skyline of Anuradhapura today as it did in ancient times, the magnificent whitewashed dome of Ruwanweli is topped by a tapering conical spire and gold-plated minaret © Ariadne Van Zandbergen, Africa Image Library
The on-and-off Sinhala capital for more than 1,300 years, ancient Anuradhapura houses the country's oldest and most sacred Bo Tree, a treasury of ancient statues and engravings, and a trio of 2,000-year-old dagobas that form the only comparably ancient structures whose altitudeapproaches that of the tallest Egyptian pyramids.
---
Want to learn more about the Cultural Triangle? Check out our comprehensive Sri Lanka guide: