The Cotswolds are home to some bizarre sporting events at which competitors show off their physical prowess in thoroughly unusual ways. Caroline Mills profiles a handful of these.
Cooper's Hill cheese rolling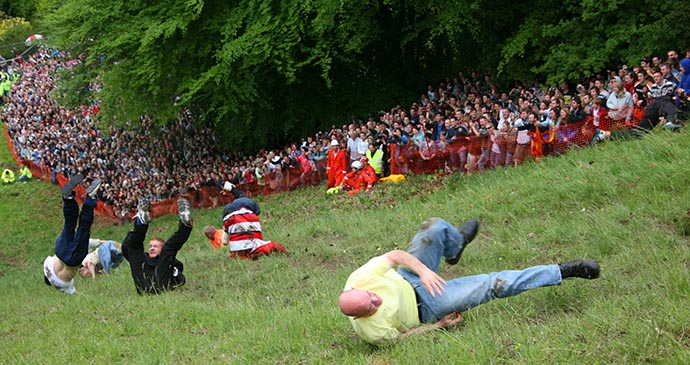 Sitting on top of a steep escarpment, Cooper's Hill has a 1 in 2 incline. As this is common land, you are entitled to walk on the hill – and the Cotswold Way passes along its foot – but what is all the more remarkable is that hundreds of people, who one can only assume must be bordering on insanity, throw themselves down this slope every year in pursuit of a giant wheel of Double Gloucester cheese. The annual cheese-rolling event, which takes place every spring bank holiday at the end of May, is a highlight of the quirky Cotswold calendar.
Football in the River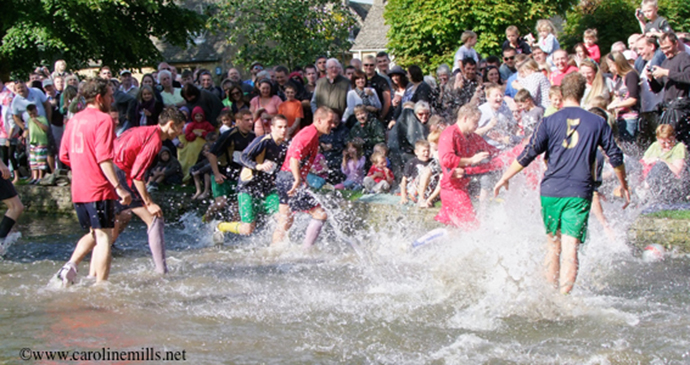 Members of Bourton Rovers Football Club divide every August bank holiday Monday to play against one another in a far-from friendly clash in the River Windrush. The crowd size is far greater than at an average Bourton Rovers weekend game; most spectators are wet before a ball is even kicked, with the prelim warm-up moving on from passing round cans of beer to jogging on the spot, sidesteps and pressups, each stamp of the foot placed with gusto to create the biggest splash.
Cotswold Olimpicks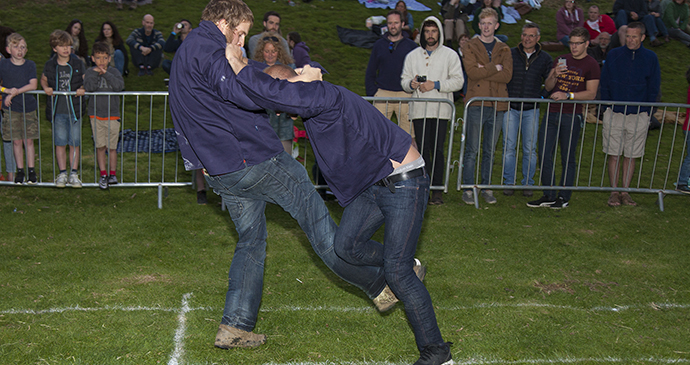 Dover's Hill is named after a 17th-century lawyer, Robert Dover who, in 1612, organised a sports festival here. It has continued on and off ever since and is now an annual event known as the Robert Dover's Cotswold Olimpick Games. While the sports festival is recognised by the British Olympic Association as being a part of the Olympic history, the participating sports are very different. The Games (held at the beginning of June) are opened in front of Dover's Castle, a giant, temporary stage prop replicating that used in the original festival to kick off proceedings. Events include shin-kicking, tug of war and a traditional sack race, with teams and athletes competing for the Championship/Champion of the Hill. A torchlight procession from the competition grounds to the centre of Chipping Campden is rounded off with dancing and pageantry to befit a medieval games festival.
Morris dancing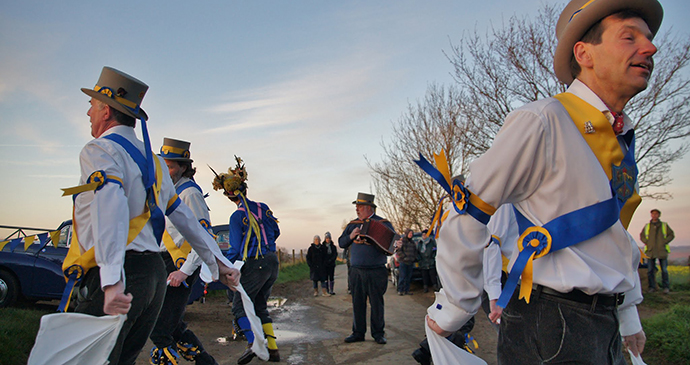 While morris men take their dancing very seriously, their evident enjoyment at larking about is a crowd-pleaser. These athletes from the seven ages of man – many morris-dancing troupes will have father and son dancing alongside each other – have just as nifty footwork as any expensively paid footballer, the steps intricate and complex to coincide with the hand movements and shake of a bell. One wrong move and a hurdle over a long stick could be excruciatingly painful to all concerned. What I found so appealing, in a world of ever-widening boundaries, was the localised rivalry. The chattering dance troupes, while united in their entertainment, were from differing counties. It mattered. As the Squire announced each dance, each with an Arcadian name, he would describe them as being a 'foreign dance' because they originated from a village in neighbouring Oxfordshire (the county border being all of four miles away).
Woolsack races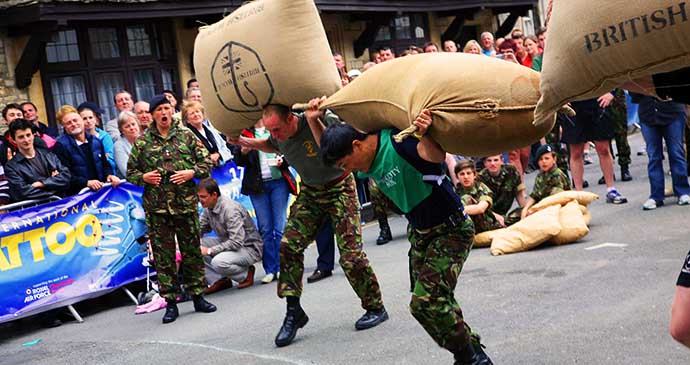 Every spring bank holiday Monday, Tetbury revives an old tradition of gruelling hard work when men and women compete in the Woolsack Races. The location is Gumstool Hill, where fraudulent traders received a watery punishment at the ducking-stool. Competitors race from the Crown Inn at the top of the hill to the Royal Oak at the bottom carrying a bag of wool on their shoulders, weighing a staggering 65 pounds. But that's not the half of it, for they then pass the bag to a team member who must climb back up the hill – with a gradient of 1 in 4 in places – still carrying the sack. A plaque in the wall close to the Crown Inn marks the start and finish line.
---
More information
Ready to work up a sweat in the Cotswolds? Then check out our guide: