Written by Sophie Ibbotson and Max Lovell-Hoare
If you think you're tough and want a challenge to pit yourself against, look no further than the Chadar Winter Trek, a six-day hike in sub-zero temperatures along the frozen Zanskar River from the appropriately named Chilling to Zangla. Night-time temperatures frequently fall to -35°C and rarely climb above -15°C even in the daytime, which is probably a reassuring thing given that you'll be walking on the ice. The trek is possible only in January and February.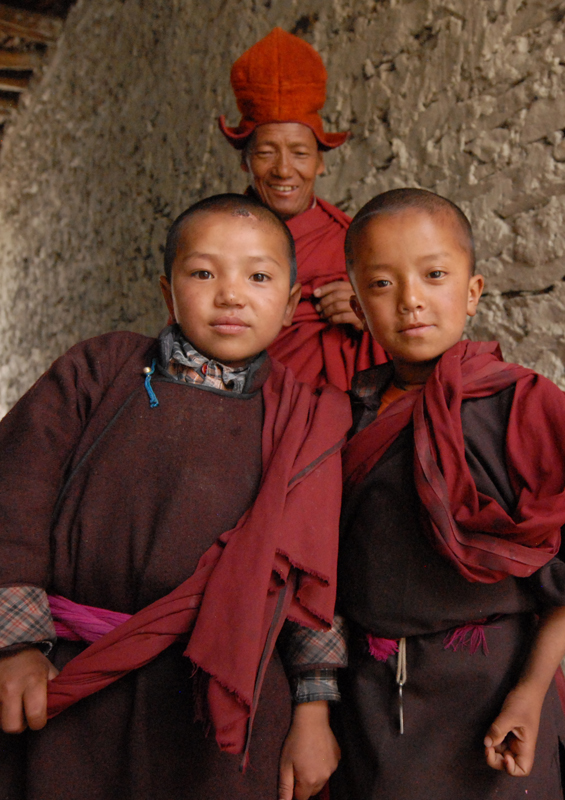 The Chadar trek started out as a practical means for schoolteachers to get back to Zanskar after their Christmas break, the road from Kargil being closed in winter. Chadar means blanket of ice.
Chilling lies 64km from Leh and is really no more than a small collection of army huts near the end of the road. From the very start of the trek you are out on the ice, waddling like a penguin at first and then slowly gaining confidence and learning how to get your boots to grip. Day one requires just an hour of walking to reach the campsite at Tilat Sumdo (3,100m), which lies at, and takes its name from, the confluence of the Zanskar and one of its smaller tributaries.
(Photo: Children at a monastic school – originally, it was schoolteachers and not trekkers using the Chadar trail in wintertime © Maximum Exposure Productions 2013)
On day two you'll cover less than 10km, but it takes a full six hours. In places where the ice is thin (your guide will know how to spot this, and you will swiftly become adept at recognising it too), you will have to keep to the edges of the river where the ice is thickest, sometimes clambering beneath the overhanging rocks, scrabbling on your hands and knees. Your day's destination is the campsite at Shingra Koma (3,170m), which lies directly beneath a steep and imposing rock wall.
The Chadar trek started out as a practical means for schoolteachers to get back to Zanskar after their Christmas break, the road from Kargil being closed in winter. Chadar means 'blanket of ice'.
The trek from Shingra Koma to Tibb (3,225m) is 15km and will take you around seven hours. It is probably the most tiring day of the Chadar trek but also the most beautiful, with the landscape a winter wonderland of frozen waterfalls and solid walls of ice. In the afternoon you pass through narrow gorges that at this time of year scarcely see any direct sunlight: it's bitterly cold and gloomy, but when you reach this point you know that you are only two hours from camp. Rather than pitching on the flat, you'll spend the night sleeping in a natural cave, snug with as many as eight other people.
Day four starts early and begins with a walk amid cliffs and gorges. The highlight of the day is undoubtedly the Nerak Waterfall: prayer flags and juniper bushes signal that you are close, and there's a small wooden bridge nearby. The Nerak campsite (3,390m) is up a small trail from the river. In total today's trek is 12km and takes seven hours.
From Nerak you trek to Lingshed (3,700m), a village that is only accessible when the ice is frozen. Here is there a Gelugpa monastery housing 60 monks; it's an important spiritual centre in the region. Today's trek will again take around seven hours. Camp here overnight.
Only possible in January and February, this challenging trek will test your limits and abilities to withstand the cold.
On day six your destination is Tsarak Do (3,400m). It's a two-hour trek on solid ground from Lingshed back to the river, then a further five to six hours along the ice. There is a homestay in the village, or you can camp. It is possible to walk from Tsarak Do to Zangla (3,491m) via Pidmo (3,429m) in ten hours providing you have the energy and leave very early in the morning, otherwise you will need to split this last part of the trek across two days. Highlights include passing through the gorge at Hanamur, and advancing on Zangla itself, the fort poised high and visible long in advance of your arrival.
If you wish to continue on foot all the way to Padum (3,657m), you will require one more day. The route goes via the village of Pissu (3,550m).