Written by Adrian Phillips and Jo Scotchmer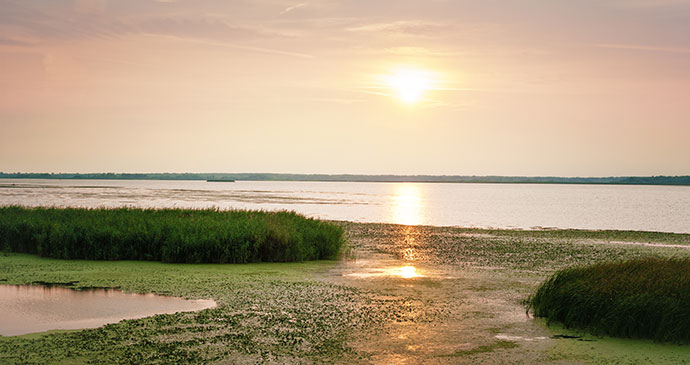 Lake Tisza is one of the best places in the country for birdwatching © waku, Shutterstock
The bird sanctuary at Lake Tisza, to the north of the Debrecen–Füzesabony railway line (and close to Tiszafüred), is technically part of the Hortobágy National Park and is one of the best places in the country for birdwatching and observing the rest of the lake's largely unspoiled flora and fauna. The western half of the reserve is covered in water during summer (the floodgates open in spring, filling the reservoir, which reaches its peak level by June), while to the east the oxbow lakes, ponds, marshes and scrubland form a varied landscape. You should employ a guide to take you to the most protected areas. A good way to see birdlife is with a walk on the dyke at Poroszló as far as Négyes, a stretch that offers decent views over the reserve. Lake Tisza's combination of two very different habitats – the river bed (with its currents attracting fish like the sturgeon) and the atmospheric dead channels and basins (most of which were cut off during the river regulation, and now home to bream, pike and carp) – is unique, and pulls in animals aplenty. Over 147 species of bird nest at the lake, and expert bird guides are easy to find.
In addition, there is a bird rescue centre at the Górés Tanya (tel: 30 515 3463), where you can mingle with recuperating storks; the Egyek-pusztakócs marshland bicycle track (at the Egyek exit of Highway 33) takes in the farm.
Hortobágy is said to be the largest bird migration congregation point in central Europe, and after Lake Tisza was created the same types of birds began to migrate there. It's estimated that 80,000–100,000 birds inhabit Lake Tisza during the spring migration, with over 250,000 passing through. Wild geese are visible in the open areas; shore birds like ruffs, black-tailed godwits, and lapwings are abundant; heron and cormorant colonies are plentiful; ducks, particularly mallards, are everywhere towards the end of the summer; and white-tailed eagles are regular winter visitors. Among the others you might encounter are the osprey, common gull, great reed warbler, kingfisher, common tern, whiskered tern, white-fronted goose, grey duck, golden-eye, tufted duck, little egret, great white egret, greylag goose, black stork, night heron and tufted heron. Don't forget your binoculars!