Written by James Proctor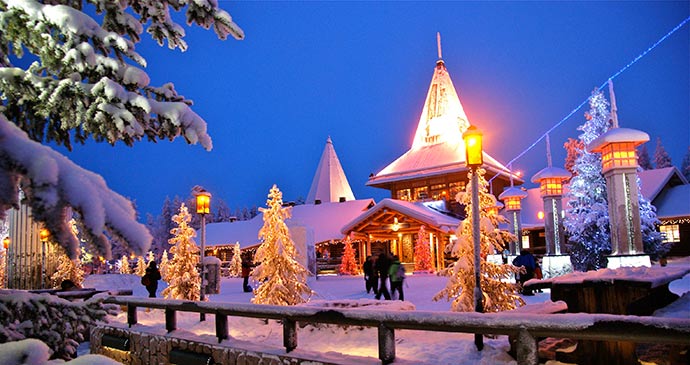 © Tarja Mitrovic
Think what you might about a tourist attraction based around the delights of meeting a child-loving old man with a long white beard dressed in a red suit, the Santa Claus Village (www.santaclausvillage.info), one of Finland's top visitor sites 8km northeast of Rovaniemi, is quite within the realms of decency. Located smack bang on the Arctic Circle, an imaginary line drawn around the globe at latitude 66° 32′ 35″N, it is easily accessible from Rovaniemi along Route 4 or by daily bus 8 which leaves from the railway station and then calls at several stops in town, each emblazoned with an Arctic Circle/Santa Claus logo. The main attractions of the village are a small collection of gift stores, the Santa Claus post office and office, where you can meet the great man, and a reindeer enclosure. It is possible to fix up a short reindeer or husky sleigh ride here.
The first thing most people want to do when they arrive here is pose beside the Arctic Circle sign, between the car park and main entrance, and take lots of photographs. Give yourself over to this indulgence and snap away – it is one of the few signs marking the circle, which is labelled in six different languages, though tellingly, not one of them is Sámi. From here it is a short walk to the main building, Lahjatalo, which goes by the name of the Santa Claus Gift House. Inside, on two floors, you will find a number of souvenir shops selling everything from T-shirts to reindeer skins in addition to a couple of cafés serving coffee, cakes and light snacks.
The low building with a central tower immediately behind the gift house is where Father Christmas himself hangs out inside the Santa Claus Office. Here, if you form an orderly queue, you can enter Santa's grotto and come face to face with the big guy with the beard. Whether you have children in tow or not, it is actually quite a fun thing to do – even if it is only to marvel at how the Finns have pulled off this masterpiece of self-promotion.
Having placed your order for a new Ferrari next Christmas, head out the door to your left across the courtyard to the other building with a tower, the Santa Claus Post Office (www.santaclaus.posti.fi), where you can leave your name and address for the dubious pleasure of receiving a Christmas letter from Santa. If you still haven't had your fill of Santa, you can head off to the Christmas Exhibition (www.christmashouse.fi), in the building immediately behind the post office, where there's more information than you could ever hope to digest about Christmas traditions, Christmas in Finland and, of course, about Lapland and its most famous inhabitant. Hidden among the trees behind the Santa Claus Office, you will find a reindeer enclosure where, if you've just jetted in, you are likely to get your first sighting of Lapland's best-known animal – though only between early December and early January.
The inventive Finns, seemingly never content with the range of tourist attractions at the Arctic Circle, are forever dreaming up new temptations to delight and entertain (or relieve of cash, depending on your viewpoint) the planeloads of people who descend on Rovaniemi every winter; some ventures stay the course, others go bankrupt after just a couple of seasons. The latest attraction is a giant igloo, known as Arctice, which contains an art gallery of ice sculptures as well as a bar serving soft and alcoholic drinks from glasses made of ice. Outside there's what can be best described as a helter-skelter made of snow and ice.