Written by Louise Schofield and Sean Kingsley
© Stefano Ember, Shutterstock
One is hard pressed to think of any other European country whose archaeological landscape remains so enigmatically terra incognita. Because Montenegro has for centuries comprised the periphery of empires and nations, historically its cultural heritage has tended to be neglected. In terms of potential, however, it is overripe for the picking. Currently only 25 archaeologists operate in the country, of which 70% are prehistorians.
The adjacent edge of this double-edged sword is the consequent worrying absence of enforced political legislation capable of protecting the country's ancient cultural heritage. Not surprisingly, complete ancient settlements have simply disappeared in recent times. This is the case with Risan, an Illyrian settlement that evolved into a medium-sized Hellenistic and Roman town, which has a rich history. In the Risan that Arthur Evans surveyed in the 1870s, Roman roads, an aqueduct and a Hellenistic grave were still visible across the landscape. A field with coins strewn across its surface enabled Evans to identify the town as a source minting issues under Prince Ballaeos. During excavations at depths of some 3m Evans 'layed bare the basement floors of houses and the pavements of narrow streets, while Roman remains, inscriptions, coins, pottery and glass abound'.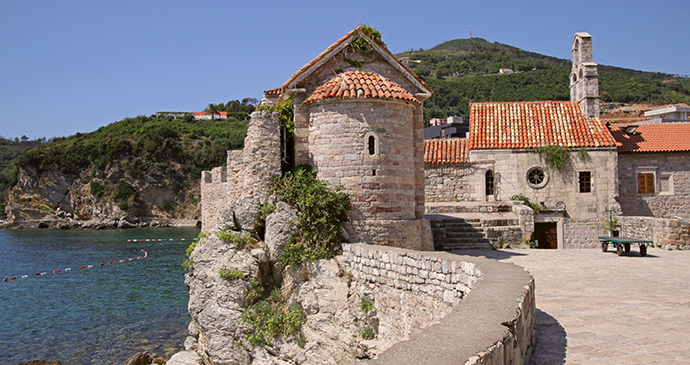 The churches of Santa Maria in Punta and Saint Sava, Budva © Evgeniya Fashayan, Shutterstock
Budva, a bustling medieval coast town straight out of an improbable Hollywood film backdrop, is situated on a picturesque promontory, with a double harbour on either side. Although it has experienced a similar fate to Risan, rescue archaeology seems to have been more successful in documenting the vanishing past. Hellenistic and Roman Budva is largely sealed under a maze of narrow stoneflagged streets and small squares, but traces of its monumental past emerge as you wander its alleys, with columns, architrave blocks and funerary markers scattered in dark corners, in the shadows of pizza shops.
Perast houses a museum full of important archaeological information © Evannovostro, Shutterstock
Local archaeologists retain immense pride in their cultural heritage and continue to protect and document the country's archaeology with the limited resources available. Perast Museum houses extremely important inscriptions from the Risan region, as well as shipwreck finds; a new museum, with a Roman street tastefully incorporated into its basement, [opened in 2006] in an elegant old town house in Budva; at Stari Bar, the 'medieval Pompeii of Montenegro', local artisans work with great dedication and a small United States Agency for International Development (USAID) grant to sensitively conserve a site that really ought to be a UNESCO World Heritage Site. Down on the coast a rich collection of sculpture, pottery and armour is displayed in the newly renovated King Nikola I Museum, an opulent royal palace built in 1885.
The archaeology of Montenegro currently stands at a critical crossroads. Social reform and economic development are pushing the country away from the political disruptions and associated insecurities of the 20th century and setting it on a road towards European Union membership. For the first time in decades the country now holds the potential for overseas investment, development, and for the initiation of international scientific projects. On the other hand, without formal recognition of Montenegro's cultural heritage at governmental level, and associated legislative protection, there can be little doubt that its coastal archaeology will be eradicated in a short period of time.
This article is abridged from a feature in Minerva, the International Review of Ancient Art and Archaeology, November/December 2003 issue. It is reproduced with kind permission.
Bradt Guides Collections
Enjoy huge discounts on a series of our books – up to 40% off!