Written by Bradt Travel Guides
In 1997, CNN compiled the 'definitive' list to the world's greatest natural wonders, and it contained all the big hitters you'd expect – the Grand Canyon, Mount Everest and the Great Barrier Reef just to name a few. As we're big fans of championing lesser-known places, we thought we'd compile an 'alternative' list of our favourite spectacular natural phenomena. How many of these are on your travel list?
Wadi Rum, Jordan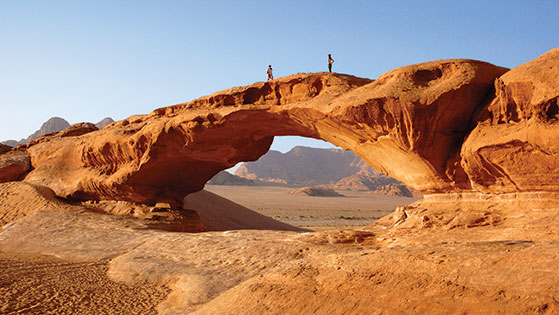 © VisitJordan
There's nothing quite like being surrounded by nature in the vast, serene desert of Jordan's Wadi Rum. It has towering limestone and granite mountains, deep canyons and dry, unimaginably beautiful sandy plains. On first impression you could be forgiven for thinking that animals and plants couldn't possibly survive here, but you would be wrong. It has a unique ecosystem that supports a vast number of species, some of which are endangered. It is the ultimate experience if you crave getting away from it all, where you can explore canyons on foot, climb towering mountains or take a tour by camel caravan across the desert. It might be a cliche, but it really is the experience of a lifetime.
Ngorongoro Crater, Tanzania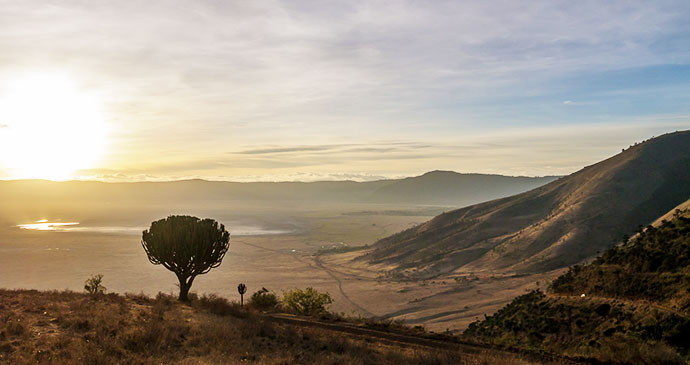 © A_Peach, Wikimedia Commons
The world's largest intact volcanic caldera is a serious contender for any global shortlist of natural wonders – not only for its inherent geological magnificence, but also because its verdant floor serves as a quite extraordinary natural sanctuary for some of Africa's densest large mammal populations. There are few places where you can so reliably see such large concentrations of wildlife all year round, and your game viewing (and photography) will only be enhanced by the striking backdrop of the 600m-high crater wall.
Jökulsárlón, Iceland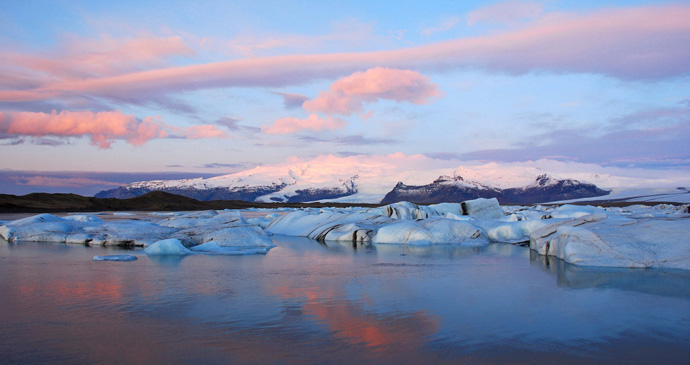 © David Sam, VisitSouthIceland
Iceland is full of natural wonders, but Jökulsárlón is perhaps the most magnificent. It is the most photographed location in the country and has become the iconic Arctic backdrop for magazine covers and Hollywood (so far, five blockbusters have been filmed here). Jökulsárlón is also the lowest point in Iceland (technically), since the land beneath the ice is 200m below sea level owing to the weight of the glacier. In warmer weather, the icebergs tumble off and melt quickly; in winter, the lagoon freezes and locks the icebergs in place until the following spring. The ice, sand, and water form a unique ecology – no fish live in the lagoon except for those that get pulled in from the sea by the tides. Happy seals congregate at the entrance to the lagoon to dive for fish among the icebergs – quite a sight to behold.
Makgadikgadi Pans, Botswana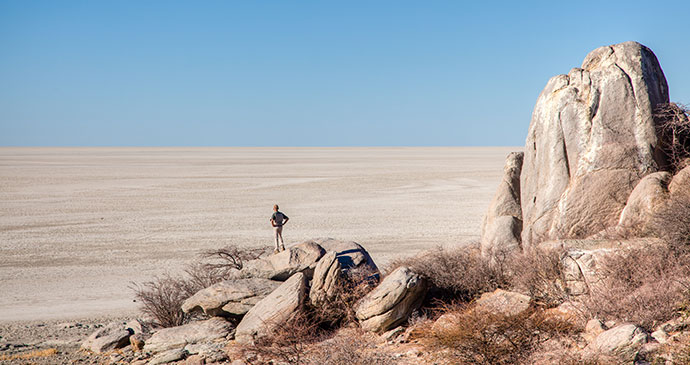 © Jandrie Lombard, Shutterstock
These are amongst the largest salt pans in the world and have few landmarks. So you're left to use the flat, distant horizon as your only line of reference – and even that dissolves into a haze of shimmering mirages in the heat of the afternoon sun. During the rains this desolate area comes to life, with huge migrating herds of zebra, wildebeest, and occasionally (if the pans fill with water) pelicans and millions of flamingos. A couple of odd outcrops of isolated rock in and around the pans add to their sense of mystery, as well as providing excellent vantage points from which to view the endless expanse of silver, grey and blue.
Kaieteur Falls, Guyana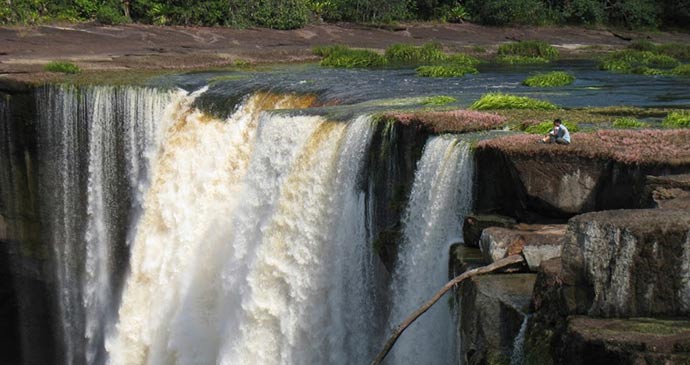 © Wilderness Explorers
Within Kaieteur National Park is Guyana's most celebrated, and highly touted, natural wonder. Although perhaps lesser known than Victoria or Igauzu Falls, Kaieteur has been recognised as the crown jewel of Guyana's vast ecosystem. During its peak, some 30,000 gallons of water cascade over a 741ft-sheer drop, making Kaieteur Falls one of the world's largest and most powerful single-drop waterfalls (the falls measure 822ft to the bottom of the gorge; five-times the size of Niagara Falls).
Sibebe Rock, Swaziland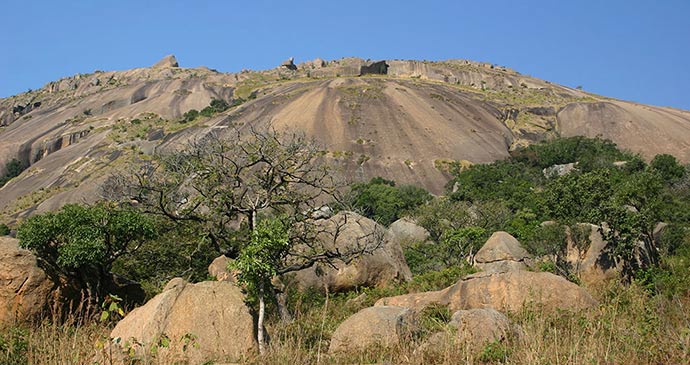 © Swaziland Tourist Board
This is one of southern Africa's most impressive geological features. This immense three-billion-year-old volcanic slab, which rises to a height of 1,488m and covers some 16,500ha, is the world's largest granite dome. It is hard to appreciate the scale of Sibebe from below; the best way to see it is to climb it. Steep trails wind up the bare rock face, leading to a wonderland of huge sculpted boulders and gleaming slopes of exfoliating granite.
Mesopatamia Marshland National Park, Iraq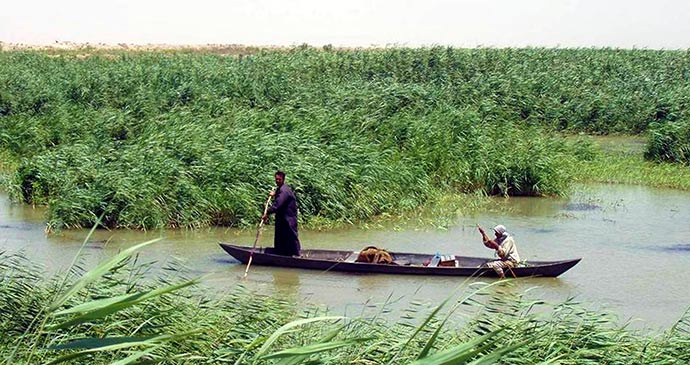 © lovestock
This made the list mainly due to its location. In a historic first, Iraq announced the creation of its first national park in July 2013. The Mesopotamia Marshland National Park is a unique wetlands complex rich in wildlife located in southern Iraq, considered to provide an ecological bridge between the Africa region (termed the Arabic region of the African plate) and the Eurasian region. It is an important resting and feeding site for millions of migratory birds. With its unique confluence of water and land plus the sheer size of the wetlands, it has a richness of birds and other wildlife, as well as a high ecological value.
---