Written by Kathleen Becker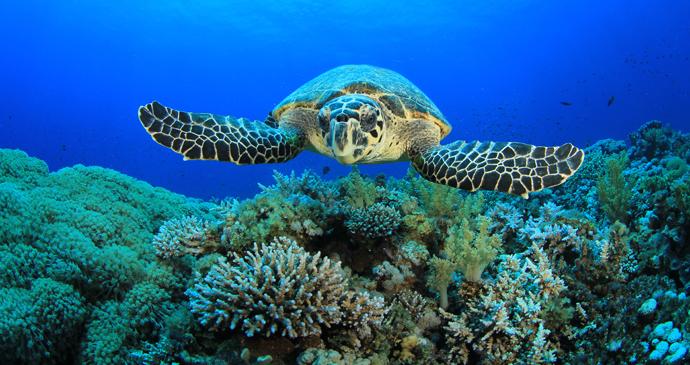 Heading into the beautifully clear waters around São Tomé is an incredible experience, and you might even catch sight of a hawksbill turtle © Rich Carey, Shutterstock
With thanks to João Santos, Tropic Venture
With their warm and usually clear waters, and no crowds, the islands are an excellent place to kick-start your diving career. After too many divers had paraded their underwater shots on their cameras at dinner, I was ready to take the plunge myself. The best preparation you can do for the PADI Discover Scuba Diving is to go for a few snorkelling sessions, mergulho livre, until you're comfortable keeping your head under water for a while, looking around to enjoy the wildlife.
Practise diving straight down a metre or so pinching your nose tight and unblocking your ears – you need to know how to do this when scuba diving, otherwise you could do serious damage to your eardrum. Then you'll be in a better position to enjoy your first mergulho com garrafa, 'with bottle'.
My Discover Scuba Diving session took place on a beautiful clear January day, with the calmest of seas. At the diving centre there was a brief theory session and a questionnaire about safety, medical conditions and legal issues. You also get to put on the mask and practise breathing through the tube – this might sound basic, but some people fail at that stage. One of the first things you have to learn then is the sign language: unlike in day-to-day life, where making the thumbs-up sign means 'everything OK!', under water it means quite the opposite: that you want to head up to the surface. It's a habit difficult to lose!
Next we head out to Ilhéu das Cabras by boat, where the first big surprise awaits: the way you unceremoniously enter the water. Basically you secure your mask with your hands, cross your legs and are tipped into the sea backwards.
The second surprise is just how noisy it is underwater: every exhalation seems amplified, resulting in a myriad of noisy bubbles, instead of the zen tranquillity I'd somehow expected. The first breaths might be nervous and hectic, but as I began to start floating along, hands linked with the instructor, I began to calm down.
With their warm and usually clear waters, and no crowds, the islands are an excellent place to kick-start your diving career.
Then come the exercises. At only 2–3m below the surface, you have to kneel on the ocean floor and practise taking your mask off and putting it back on, and – the Big One – take out your mouthpiece. These are vital skills to have; if the fins of a fellow diver or a rock knocks off your gear, you need to know how to rectify the situation without panicking.
I can't be the only one to feel this: it requires a real leap of faith to take out the mouthpiece, exhale slowly with your lips puckered, and retrieve the piece the right way, without panicking or getting entangled in the oxygen lead. With the next exercise, tapping your diving buddy for oxygen, I finally understood that you'll always have access to oxygen even if your own supply fails – resolving an irrational fear that had stopped me taking the plunge for many years.
That sorted, we head out to one of the sunken ships in Ana Chaves Bay for the fun part. Going down, going down … trying to regulate my buoyancy by breathing in different ways, I make out sea snakes, fluffy and colourful, grumpy-looking moray eels in their lairs, spherical balloon fish, starfish and many kinds of other marine life crowding around the rusty metal structure. It's a truly magical experience.
When João taps on his watch, which says '12', I'm thinking it's midday and we need to go up. But no, it's to say that we're down to 12m, which is the maximum depth you should go on a first dive. What a thrill that is. Slowly we make our way up to the surface, stopping at intervals to decompress, and when we emerge, the grin on my face reaches from one ear to the other.
My next step was the Open Water course, at the end of which you receive a card that you can show at PADI centres all over the world to prove that you know the basics. Instead of the crash course that is the baptismo de mergulho, this is 3–4 days of picking up the basics – and who knows, with the chance of seeing barracuda, dolphins, a turtle even!