Written by Tim Locke
Whether you're a foodie, a petrolhead, a history buff, a book worm, a culture vulture or greenfingered, Sussex will probably have a festival to suit you. Here is our selection of some of the best.
Eastbourne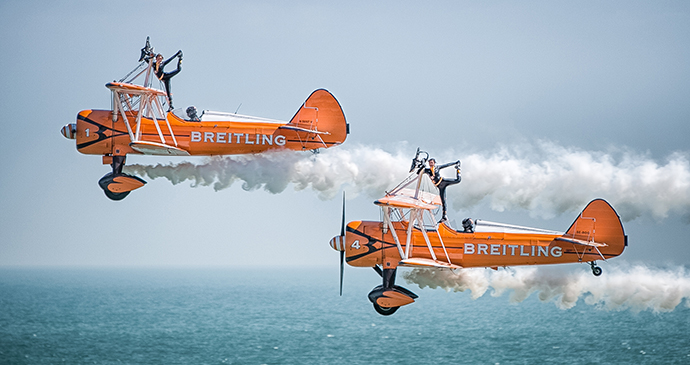 Wingwalkers above Eastbourne © Graham Huntley
During mid-August Eastbourne hosts Airbourne, a four-day air fest of historic craft, military planes, Red Arrow displays and parachuting displays; you can see it from miles around, but the seafront between the pier and the Wish Tower and Beachy Head are particularly fine vantage points, or you can splash out on a helicopter ride from Beachy Head.
Goodwood
The Goodwood Estate hosts the annual Festival of Speed, which sees Formula One racing on the park driveways. The Goodwood Revival has historic racing cars, with their owners and fans dressed up in period costume, on the original racetrack, a former airfield on the Chichester side of the estate. Goodwood racecourse, the venue of the July meeting that has been dubbed 'Glorious Goodwood' and was a favourite haunt of Edward VII, is high up on the Downs.
Brighton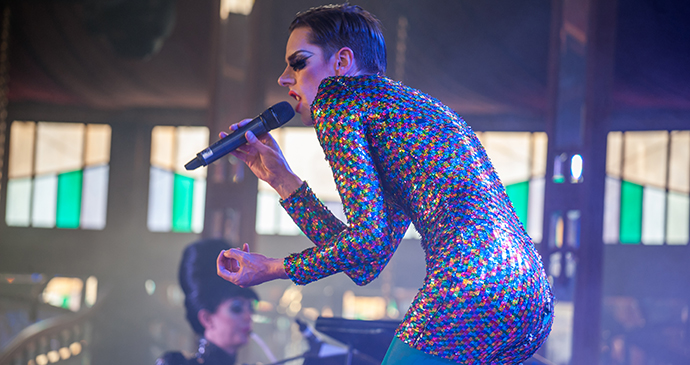 A performer at the Brighton Festival and Fringe © James Carey
Brighton Festival and Fringe takes place throughout May and is one of Britain's leading art festivals. Visit during that month and you can hardly avoid stumbling into something arty. As the undisputed gay capital of Britain, Brighton hosts each August the biggest Pride festival in the country, and there's plenty in the way of gay pubs and clubs, and gay-friendly accommodation.
Bentley Wildfowl & Motor Museum
In mid-September, the Bentley Woodfair takes place in the grounds. This huge three-day festival celebrates the use and importance of wood, from forest to final form with all things wood: there are hedge-laying and other demonstrations, story-telling, local food, tree-climbing, children's activities, seminars and the chance to meet a host of people from wood designers to archaeologists – all enough for a very full day.
Coombes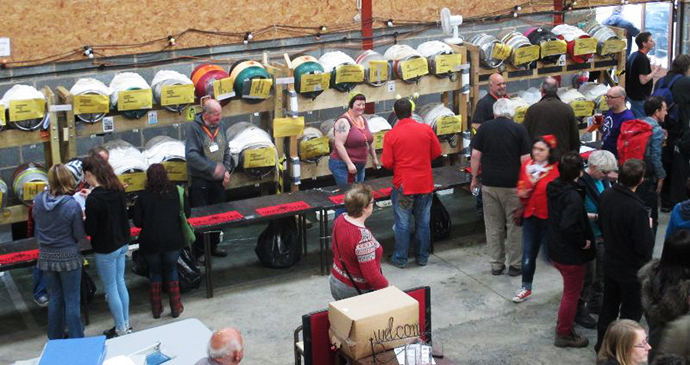 Plenty of different beers to sample © Alex Hall, www.cask-ale.co.uk/beerfestival
Church Farm in Coombes hosts the Glastonwick Beer Festival, on the first weekend of June, with music, poetry reading and other entertainment in addition to 80 real ales and numerous real ciders.
Glyndebourne Opera House
In 1934 Glyndebourne opened its first theatre, built on the former kitchen garden; its successor, sublime both acoustically and aesthetically, is a fitting venue for one of the great opera festivals in the world. The summer festival (May to August) features long intervals when opera-lovers dressed in evening finery set up lavish picnics in the grounds; tickets are horribly hard to come by.
Rye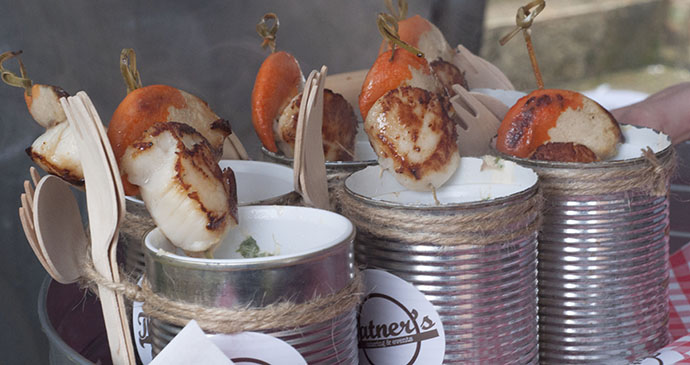 There are plenty of ways to try scallops in Rye © Oliver Campion
In the last week of February, Rye hosts the Scallop Festival. The town's literary and artistic connections account for a thriving Arts Festival – featuring some big-name speakers and tantamount to a mini-Hay – over two weeks in September.
Arundel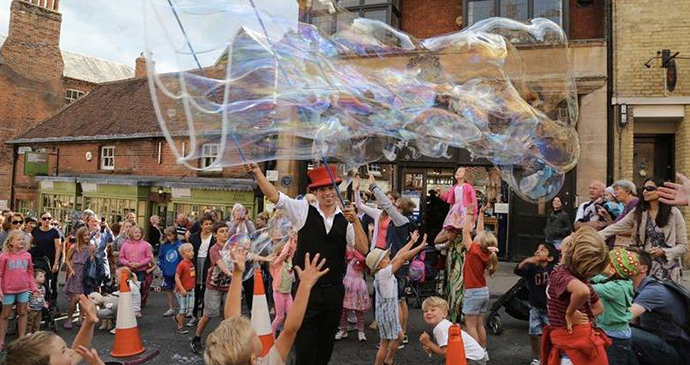 A performer delights children with a huge bubble © Arundel Festival
At Arundel Castle there's a Tulip Festival in April and May, with a blaze of 30,000-odd tulips in bloom, and an Allium Extravaganza during May and June. In late May the castle grounds stage a dramatic castle siege, while in the third week of July there's a jousting and medieval tournament with an international team of armour-clad knights on specially trained horses, and competitors in hand-to-hand combat, medieval style. As well as these goings-on, Arundel's big moment is the Arundel Festival in late August, with more than a week of arts-related events culminating in outdoor performances of Shakespeare in the castle grounds.
Weald & Downland Open Air Museum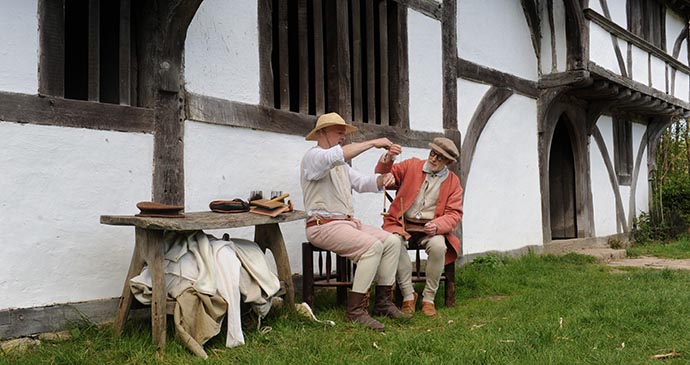 A taste of the past in Sussex © Weald & Downland Open Air Museum
The first weekend of June alternates between the Heavy Horse Show (even-numbered years; various working horses from the museum and ones brought in by a loyal band of enthusiasts) and the Wood Show (odd-numbered years), while the third Sunday of July sees a Rare Breeds Day, followed by a Steam Festival in mid August and a Countryside Show in October.
Herstmonceux Castle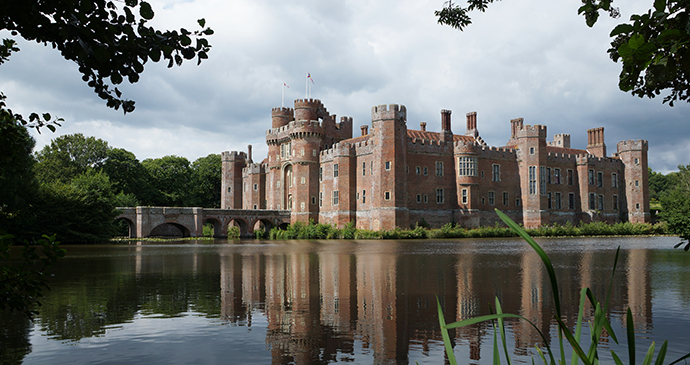 Herstmonceux Castle © Maciej Olszewski, Shutterstock
The whole place comes to life very entertainingly each August bank holiday weekend with a huge medieval festival featuring cannon-firing, knights in armour, archery, falconry, a traders' market and medieval food and ales.
West Dean
In August the ever-popular Chilli Fiesta features salsa dancing, fiendishly spicy food, Mexican minstrels and puppetry.
---
If you now feel inspired to visit Sussex, pick up a copy of our guide with a 10% discount!