Written by Tim Burford
Valparaíso's most distinctive feature is perhaps its ascensores or elevators, built over a century ago to link the flat harbourside district with the residential hills. There were once over 30, carrying 12 million passengers a year. More recently they became very rundown, with many abandoned and the rest expected to go the same way; in 1996 the World Monuments Fund listed them among the world's 100 most threatened monuments, raising first publicity and then funds for repairs, and in 1998 the government listed them as national monuments.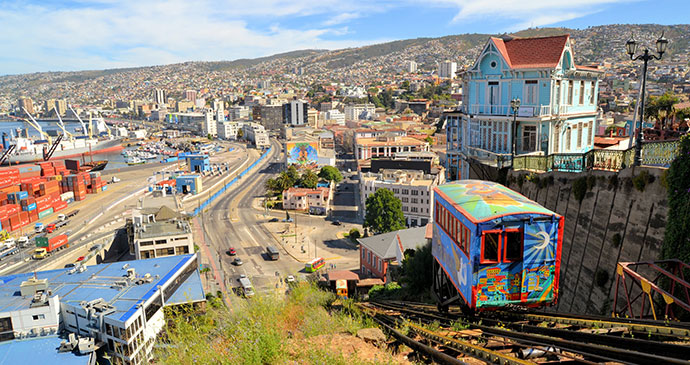 © flocu, Shutterstock
Nevertheless almost all are now closed, but thankfully not those most needed by tourists. The oldest (and still the most profitable) is the Ascensor Concepción (or Turri), built in 1883, only a few years after braided steel cables became available; it rises 70m to the Paseo Gervasoni viewpoint on Cerro Concepción. Nearby, the Ascensor Reina Victoria (built in 1902) gives the city's best urban view. Also very popular is the Ascensor Artillería (1893), which takes visitors up to the Naval Museum. Others you may use are the Ascensor El Peral (1902) to Paseo Yugoeslavo, and Ascensor Cordillera (or Serrano, 1887) to Cerro Cordillera.
Some are private and others are municipally owned and there are a variety of fares and working hours (roughly 07.00–23.00 daily), although none costs very much. There's been discussion for years of the government buying the private ones and restoring them, and of restaurant developments to bring more foot traffic, but so far nothing has happened.
Strictly speaking they are all funicular railways except for the Ascensor Polanco (1916; reached by a 150m tunnel from Calle Simpson), which is a genuine elevator. It can take just eight passengers and there are only two others like it in the world – in Lisbon and in Stockholm.