Prospero would have felt at home on St Helena. So, too, would Macbeth's witches three, for this tiny vestige of the British Empire has all the feel of an enchanted isle. But what enchantment! Step onto the wharf in Jamestown, and you'll find yourself on an ancient volcano, its roots firmly on the sea bed some three miles below, its verdant head 820m up in the clouds. In between, as the narrow roads twist and turn through a landscape formed millions of years ago, you'll move almost seamlessly from one world to another. From rolling hills grazed by sheep to dauntingly high cliffs that drop straight down to the ocean; from multi-coloured volcanic rocks worn smooth over millennia to forests of eucalyptus that plunge down the hillside; from balmy pinewoods beloved of fairy terns to the pinnacle of the island: a rolling series of deep-green valleys and ridges that stretch out to the sea, endless sea. So much for the setting, but like all good plays, it needs characters: enter the Saints. The people of St Helena may have their roots in many countries, but one thing they share is an innate friendliness. Walk through Jamestown at any time of day and you will be greeted on all sides with a friendly nod, a quick 'good morning', a genuine smile that is of itself immensely welcoming. The shops may not have the latest goods, you may struggle to find apples, or cereal, or decent Wi-Fi, but somehow it doesn't matter on an island where people live in the here and now.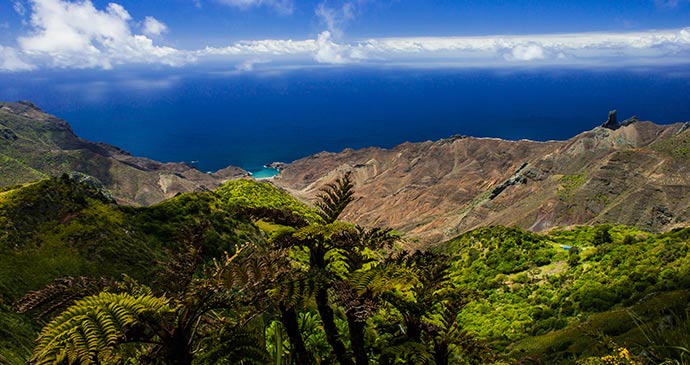 The view over Sandy Bay © Paul Tyson, St Helena Tourism
These are the people who now find themselves on the cusp of change. By the end of 2016, their island lifeline, the RMS St Helena, will be no more, swapped for a Boeing 737 that will whisk visitors to them in five hours, not five days. For the first time, it will be possible to spend a week's holiday exploring St Helena, rather than the three weeks that is currently a necessity. The island will at last be open to those for whom downtime is finite. So why would you go to St Helena? Would it be for the scenery, the walking or the endemic plantlife? The diving or the fishing? Napoleon, or the Saints? Arguably it's all of these, and none, for St Helena is a bit like a mosaic: each piece forms an important part of the whole, but not until the last piece is in place does the picture come to life. So if you've always thought that the island was only worth visiting by sea, then think again. St Helena will still be remote; you'll just get there a little faster. And if you're taking the first steps towards considering the island for a week's holiday – why not make it a fortnight? The very things that make St Helena special are not going to change overnight – and, airport or no, it's not a place to be hurried.
Authors' story
In 1985, Sue's husband made a ship's journey from Avonmouth in the UK to St Helena, stopping briefly at Tristan da Cunha before continuing on to Cape Town. Finally, in 1997, along with their two young children, they were able to make the trip as a family. It wasn't until the manuscript of Sue's guide landed on my desk in 2001 that I, too, became intrigued by St Helena. What was so special about this place that she was prepared to make the long journey en famille? That the tiny population – barely enough to make up an English village – could leave such a deep impression? That you could leave after months wanting to go back? Sue realised there was something unique about St Helena the moment her ship anchored in James Bay and she saw how many people had gathered to welcome its passengers. Now, I and my husband have experienced that welcome: the natural greetings, the friendly chat in the street, the invitations into family homes. With St Helenian guides we have explored the island, from the volcanic grandeur of the coastal scenery and the verdant central ridge to the mist-covered hills where Napoleon must have vented his frustration. We've stood on the top of Diana's Peak, marvelled at plants that we'll see nowhere else in the world, and explored beneath the surface of James Bay. And we, like Sue, are hooked.