Written by José Pizarro
José Pizarro shares a recipe for squid meatballs with saffron & almond sauce from his new cookbook BASQUE.
Squid meatballs with saffron & almond sauce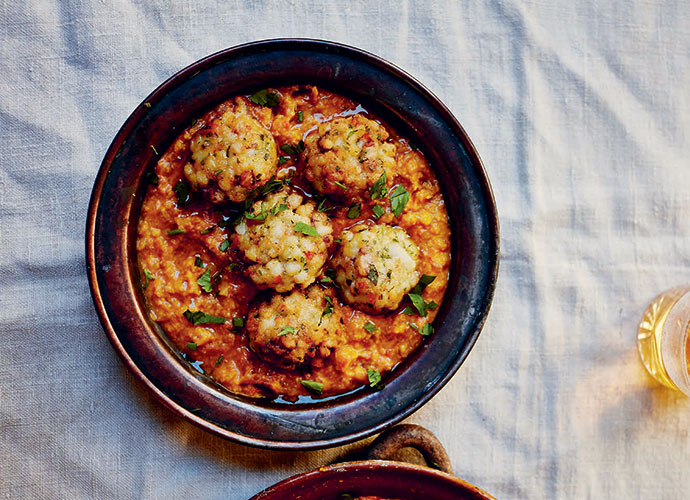 I took inspiration for this recipe from the traditional albóndigas that you'll always see in tapas bars and from the Ibérico pork meatballs that we serve with a cuttlefish sauce at my restaurants – but I have made the squid the star here. The most important thing to remember when serving squid or cuttlefish is to cook it either very quickly or very slowly, otherwise it becomes tough and chewy. For this recipe, I've cooked it quickly, to ensure it's really tender.
Serves 4
600 g (1 lb 5 oz) fresh squid, cleaned
1 red chilli, finely chopped
1 garlic clove, finely chopped
50–75 g (2–2. oz) dry breadcrumbs
handful of coriander (cilantro), finely
chopped
1 free-range egg
sea salt and white pepper
plain (all-purpose) flour for dusting
olive oil for frying
chopped parsley for garnish
For the sauce
2 tablespoons olive oil
1 banana shallot (echalion), finely
chopped
1 small onion, finely chopped
1 garlic clove, crushed
5–6 ripe tomatoes, skins and seeds removed
750 ml (25 fl oz) fresh fish stock
good pinch of saffron
50 g (2 oz) ground almonds
sea salt and freshly ground black pepper
Finely chop the squid and mix with the chilli, garlic, breadcrumbs, coriander and egg. Season well with the sea salt and white pepper.
Lightly oil your hands and roll the mixture into small balls, about 30 g (1 oz) each. Chill in the fridge while you make the sauce.
Heat the oil in a pan and gently fry the shallot and onion for 10 minutes until lovely and soft. Add the garlic and cook for a minute more, then add the tomatoes and stock and simmer for 20 minutes to reduce to a thick sauce.
Soak the saffron in 2 tablespoons hot water for a few minutes, then mix with the ground almonds to form a paste and add to the pan with plenty of seasoning. Simmer for 5 minutes to thicken. Set aside.
Dust the squid in flour. Heat a good amount of oil in a non-stick pan and fry the squid for 2–3 minutes, turning until golden brown. Drain on paper towels.
Add the squid meatballs to the sauce and heat through gently, then scatter with parsley and serve.