Written by Bradt Travel Guides
There are over 500 reserves or protected areas in which to look for southern Africa's wildlife, ranging from vast national parks, spanning thousands of square kilometres, to municipal botanical gardens. Each of the seven countries in the region has a different combination of habitats, with distinct wildlife attractions.
Not sure where to go for the best experiences? We've whittled them down so you don't have to.
Chobe National Park, Botswana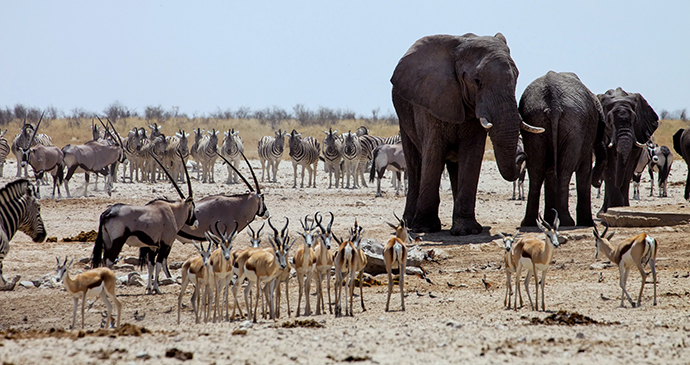 Chobe is known for its huge elephant population © Peek Creative Collective, Shutterstock
Covering 11,700km2 in the north of Botswana, Chobe is the country's premier national park, contiguous with the greater Okavango region to the west. It is justly famous for the huge elephant herds that congregate in the dry season along the Chobe waterfront, and this is the most popular part of the reserve – easily accessible from Victoria Falls or Livingstone, just across the nearby borders with Zimbabwe and Zambia respectively. Among the usual large herbivores are a few less common antelope, including red lechwe, Chobe bushbuck (a local, more boldly marked race) and puku – found nowhere else south of Zambia. Enormous herds of buffalo, sometimes thousands strong, draw lions on to the floodplains, while other predators include leopard, spotted hyena and wild dog. Baboons raid the campsites, while hippo, crocodiles and, with luck, Cape clawless otters, can be seen in the river.
Gorongosa National Park, Mozambique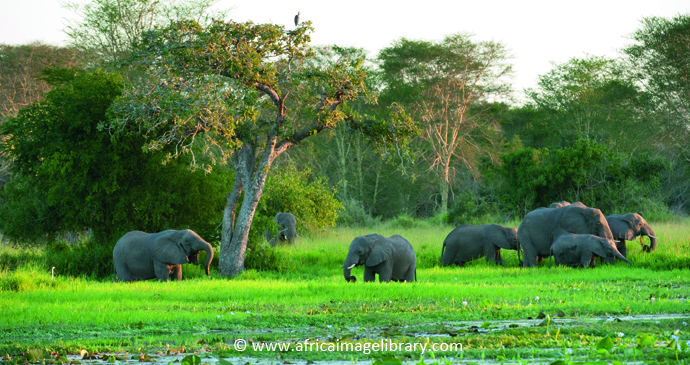 After being devastated by the war, Gorongosa and its wildlife has made a heartening recovery © Ariadne Van Zandbergen, Africa Image Library
This was once Mozambique's premier wildlife-viewing destination, rivalling the likes of the Serengeti for its prodigious concentration of wildlife. Sadly devastated by the war, the park's impressive rehabilitation programme has seen the recent recovery of antelope populations, including sable, impala and oribi, the return of lion and elephant, and the reintroduction of zebra and buffalo. And if most safari-goers might need a little persuasion to give Gorongosa a try, birdwatchers should have no such qualms: the park's tangled bush and mesmerising waterways are literally teeming with avian activity, and there is the added bonus of potential day visits to nearby Mount Gorongosa and its eagerly sought endemic race of green-headed oriole.
Etosha National Park, Namibia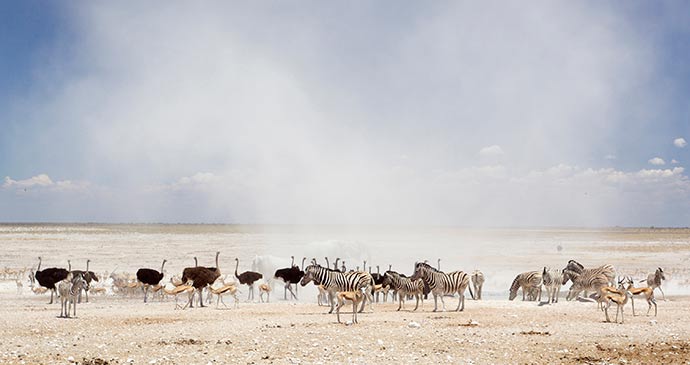 The country's premier nature reserve is dominated by the vast Etosha Pan © Yathin S Krishnappa, Wikimedia Commons
Namibia's best-known nature reserve dominates this region and centres upon the huge 6,000km2 Etosha Pan – a blinding white expanse of dry clay. As the dry season wears on, animals gather at the waterholes and springs that fringe the pan. Peak-season game-viewing can be spectacular, and continues into the night at floodlit waterholes beside the camps. Most of southern Africa's large mammals occur here. Burchell's zebra, springbok, blue wildebeest, giraffe, kudu and elephant are particularly plentiful, along with eland, red hartebeest, roan, mountain zebra (to the west) and abundant predators such as lion, leopard, cheetah and spotted and brown hyena. Etosha specials include Damara dik-dik and black-faced impala, and it is probably the easiest place in Africa to observe black rhino at close quarters.
Kruger National Park, South Africa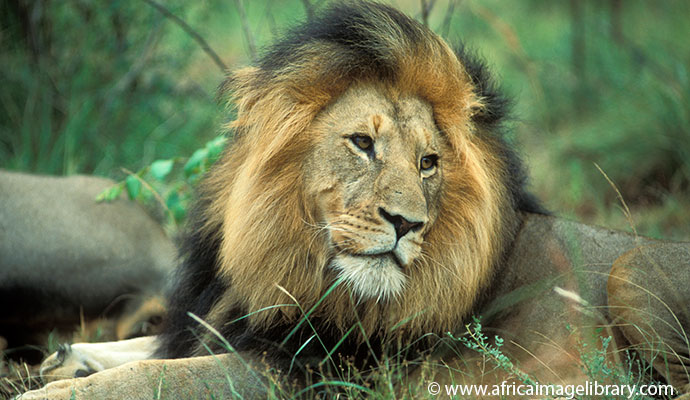 Kruger is home to Africa's largest lion population © Ariadne Van Zandbergen, Africa Image Library
Kruger Park is South Africa's conservation flagship, and protects roughly 22,000km2 of bushveld in the country's northeastern corner along the border with Mozambique. Its diverse habitats include granite hills, knobthorn-marula savannah, mopane woodland and lush riverine forest, and with at least seven major rivers, it can guarantee a year-round water supply. The Kruger claims to protect a greater biodiversity than any other park in southern Africa, and certainly there is little that isn't found here. Elephant number over 10,000, white rhino have proliferated since their reintroduction from KwaZulu-Natal and the small black rhino population is expanding. Other major herbivores include abundant buffalo, hippo, zebra, giraffe, wildebeest and impala, as well as kudu, waterbuck and many other antelope. The Kruger has southern Africa's largest lion population, along with plentiful leopard and spotted hyena, and stable cheetah and wild dog populations. Many smaller nocturnal mammals can be seen on night drives, while over 500 species of bird have been recorded, with the complete bushveld spectrum being supplemented by more tropical species in the northern Pafuri district. The park also boasts 117 species of reptile and more species of tree than the whole of Europe.
The trouble with the Kruger, some argue, is that it's too developed, too regulated and too popular; not a 'true wilderness' by comparison with parks elsewhere. Certainly it is intensively managed, and has a network of roads and camps large enough to handle an annual quota of over 900,000 visitors. However, it is still easy to lose yourself in the remote back routes and byways of the Kruger, and the heavily oversubscribed three-day wilderness trails offer an outstanding wildlife experience on foot.
Hlane Royal National Park, eSwatini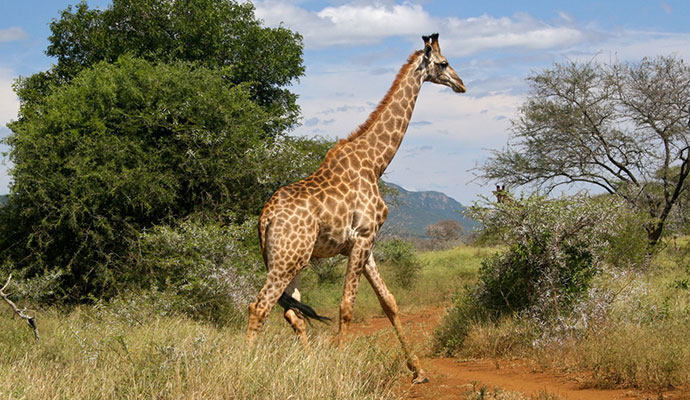 Hlane is home to a good population of giraffe © Mike Unwin
eSwatini's hot, dry lowveld harbours several reserves that have gone some way to restoring the great game herds of yesteryear. Hlane Royal National Park, in the northeast, was proclaimed to protect eSwatini's last free-ranging wildebeest and impala. It now also has white rhino, elephant, hippo, giraffe, numerous antelope and – reintroduced into an enclosed area – the country's only lions. Hlane forms part of the Lebombo Conservancy, which extends into the Lebombo Mountains along the Mozambique border. This wild and scenic region also includes Mlawula Nature Reserve, where rugged trails offer sightings of wildebeest, zebra, impala, nyala and baboons, and the beautiful little Mbuluzi Game Reserve, which has all these, plus giraffe and a small population of hippos in the Mbuluzi River. A few shy leopard and spotted hyena roam throughout the area, though generally only their tracks are seen. Crocodile, python and black mamba are all common, while the prolific birdlife includes martial eagle, African finfoot and Africa's most southerly marabou storks.
Hwange National Park, Zimbabwe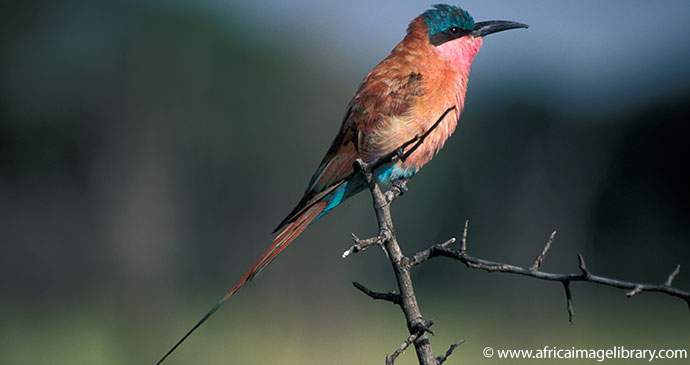 Over 400 species of bird have been listed in Hwange © Ariadne Van Zandbergen, Africa Image Library
Hwange National Park, in the northwest corner of the country, is Zimbabwe's best-known reserve – on a par with Kruger or Etosha – and comprises 14,650km2 of teak forest, thornveld and mopane woodland, with scattered dolomite hills in the northwest. This hot, dry land forms part of the broader Zambezi basin and is contiguous with the Chobe area of neighbouring Botswana, much of whose wildlife it shares. Hwange is a genuinely year-round game park, although the summer months are best suited to birders rather than visitors who want to see large concentrations of game. Generally the dry winter months, especially August– November, offer by far the best wildlife viewing, but game can put on some spectacular shows throughout the year. Despite a history of poaching, both rhino species retain a precarious foothold, and all the major predators occur, including wild dog. Sable are a Hwange speciality, while brown hyena, bat-eared fox and occasional gemsbok all reflect the Kalahari influence.
---
For more information of wildlife and safaris in southern Africa, take a look at our guide: