Written by Bradt Travel Guides
Planning a staycation this summer and not sure what to do? Fear not. Britain has so much to offer than just beaches and fish and chips – if you're in to secluded cottages, llama rides and giant gooseberries, this list is for you.
Swim in a Sussex lido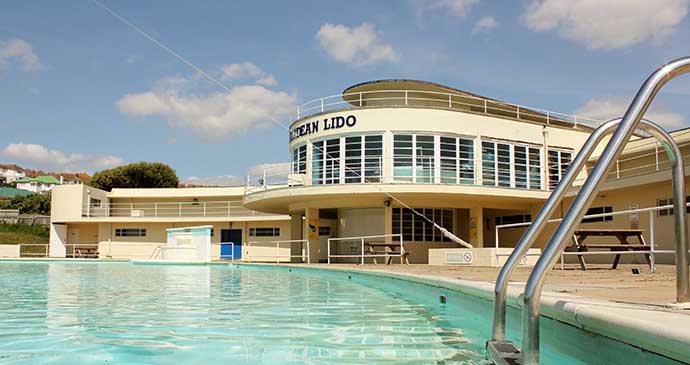 Art Deco architecture © Saltdean Lido
Saltdean Lido is the greatest example of its kind to survive. Built in 1935–38, this was perhaps inspired by the De La Warr Pavilion in Bexhill. Designed by R W H Jones, it has two storeys, with a café with curved metal windows on the upper storey, very much in the spirit of contemporary airport design. It was arranged with changing rooms below and sun terraces above, and has recently been awarded a multimillion-pound grant by the Heritage Lottery Fund for its restoration.
Hike the Cotswold Way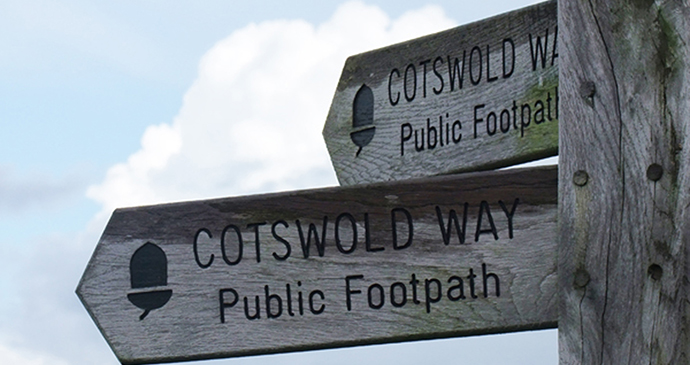 Following the Cotswold Way © Caroline Mills
Beginning or ending in Chipping Campden, the Cotswold Way is a National Trail and runs along the western escarpment of the AONB. A plaque in the town marks the official start. Along its 102 miles, walkers will see a noticeable variation in landscape between the start and the end, finishing at Bath Abbey. The views from the trail are amply rewarding for just about the whole way, mainly because you're on the high Cotswold escarpment, though you do need to be prepared for some steep climbs. The Cotswold Way is so well signposted and well trodden that you barely need a map to follow the route. If you'd like to walk the entire length of this National Trail, but don't fancy backpacking, there are many companies offering walking holidays on the Cotswold Way, both guided and self-guided, and several that will simply carry your luggage ahead for you.
Eat and drink your way through the Shropshire countryside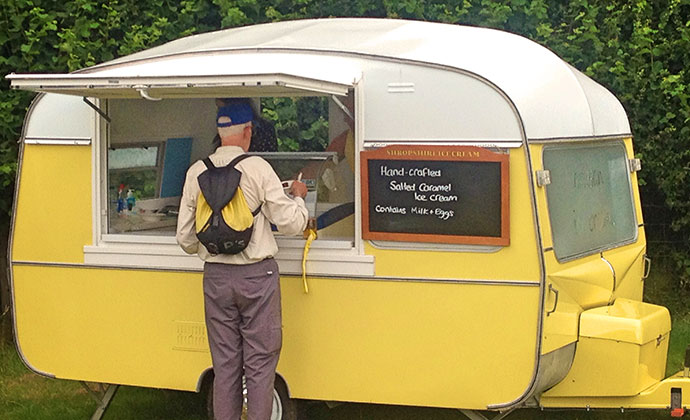 One of the many stops along the Magnalonga © Hugh Collins
This is no ordinary walk through the Shropshire countryside – the annual August Magnalonga integrates local food so that it becomes part of the journey. Starting and finishing in the shadow of Ludlow Castle, the walk takes in a number of refreshment stops en route, where you'll sample cheeses, cakes and cordials made by local producers. It's a good job the last stretch of the walk is downhill – you might be full enough to roll down it!
Overnight in a shepherd's hut in a hidden corner of the Lake District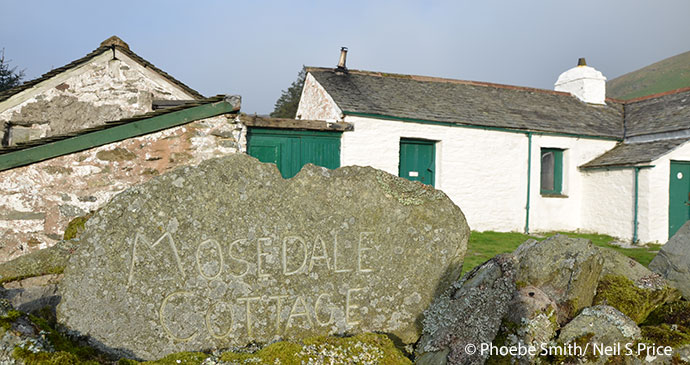 Mosedale is one of the remotest areas of the Lakes, an area so neglected by all but the most hardy of fell-lovers that you could spend an entire weekend walking these peaks and the valley below without so much as passing another human being. Wildlife is abundant though, and you might pass red deer, buzzards, and maybe even England's only golden eagle on your walk to the whitewashed shepherd's hut of Mosedale Cottage. Enjoy the comfort of this luxurious bothy (by outdoor standards), but do take a minute to linger before shutting yourself away between your four walls. Few will get to see the stars come out in this lost Lakeland valley, so make sure you take full advantage of being in this wonderfully wild spot.
Spot beavers in the River Otter
Despite its name, this East Devon river is the best place in England to see wild living beavers. Although largely nocturnal creatures, during long summer evenings they can sometimes be seen along the stretch of river between Ottery St Mary and the sea. Walking south along the public footpaths from Ottery St Mary or either direction from Otterton Mill are good options, but do respect the landowners by sticking to the footpaths and leaving gates as you find them.
Explore the Yorkshire Dales – by llama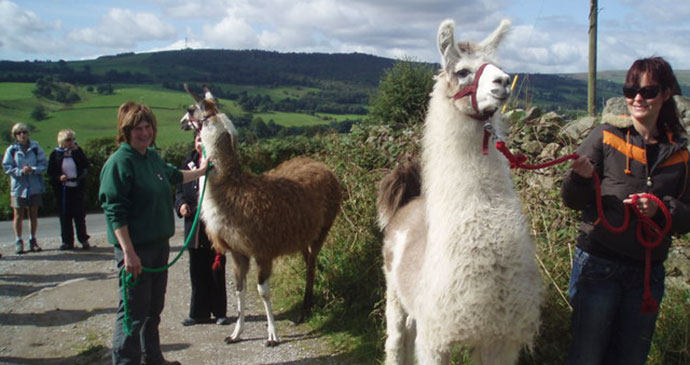 © Paul Gillett, Wikimedia Commons
Nidderdale Llamas is based at Kiln Farm in Wilsill, a tiny hillside village between Pateley Bridge and Summerbridge. It's run by Suzanne Benson who fell head-over-hooves in love with llamas when she discovered their intelligent and loving character. Although you don't ride llamas, you can walk with them and they carry your stuff while they amble along at the pace set by you – and sometimes by them should they find an irresistible blade or two of grass to eat on the way. It's one of the most gentle and sociable ways to explore the countryside, strolling at a pace far slower than you might go during a normal hike across the hills.
Walk along one of Britain's most deserted beaches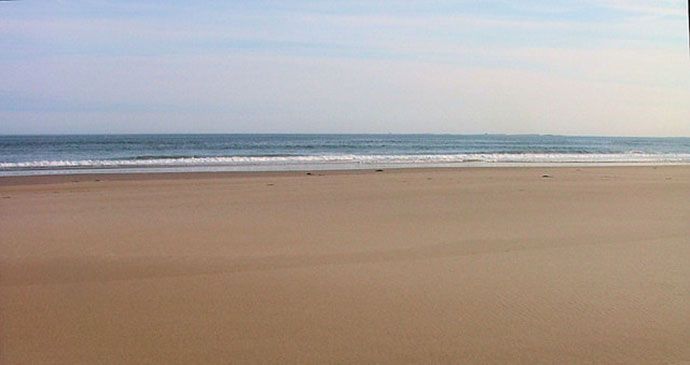 © geograph.org.uk, Wikimedia Commons
The beach at Ross Back Sands is a gloriously deserted spit (even in high summer) that extends for three breezy miles from Budle Bay almost to Lindisfarne. Access is via a mile-long footpath through Ross Farm and across the dunes, which puts off the few travellers who venture to this remote place. Your reward, however, is an unbeatable panorama: all sky, sea and white sands with Lindisfarne Castle at one end and Bamburgh Castle and the Farne Islands at the other.
Race chickens in the Peak District
You may not have a thoroughbred racehorse, but you could 'beg, steal or borrow' a hen to enter the prestigious World Championship Hen Racing Competition at the Barley Mow pub held on the first Saturday in August annually. This may sound like an April Fools, but the race is a very serious business (well sort of). The official World Championship Hen Races have taken place in Bonsall since 1992. Hire a chicken, or just turn up on the day with your hen and register. Be aware though, it's claimed some of the competitors train their hens for months and put them through a rigorous exercise regime to keep them in tip-top condition. Otherwise, just sit back and enjoy the spectacle.
Take a trip on Britain's rarest bus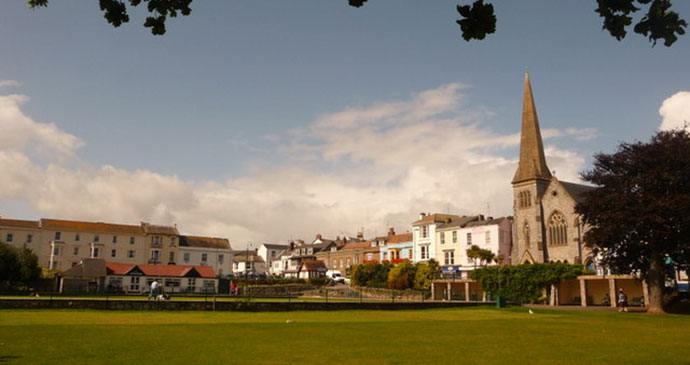 Dawlish – the starting point for the 113 © Chris Downer, Wikimedia Commons
Who can resist a bus that runs on the fifth Saturday of the month, summer only? The 113 from Tavistock to Dawlish in South Devon runs only three times in 2016, but what a journey it is – two hours across the very heart of Dartmoor. It's run by Tavistock Country Bus, a community transport association founded 35 years ago by Tavistock locals who felt that their area deserved better bus services.
Sample record-breaking gooseberries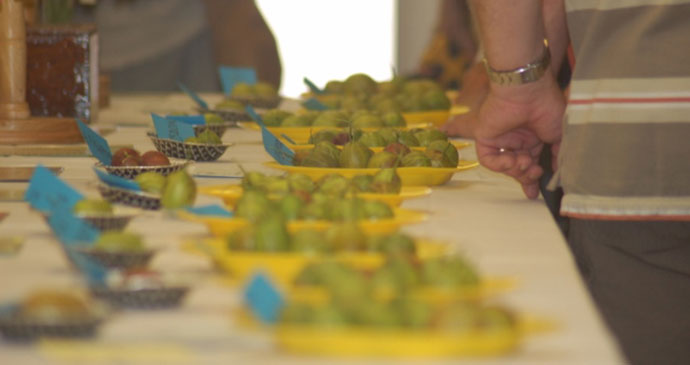 © Egton Gooseberry Show
A world record was broken in the Yorkshire village of Egton Bridge in 2009. It wasn't one that made the national news, but among the soft-fruit growing fraternity, the biggest gooseberry ever seen was a major event. The Egton Bridge Old Gooseberry Society has been holding an annual show on the first Tuesday in August for over 200 years, making it the oldest in the country. Come along in the afternoon for public viewing of the 600 or so entries and prizes for the winners. You will learn about reds, whites, yellows and greens and the relative merits of the Lord Derby, Lord Kitchener and Montrose varieties but you're not likely to see the like of Bryan Nellist's monster 35-dram (two and a bit ounces) Woodpecker in the foreseeable future.
Go canoeing along the Broads
The Norfolk Broads have long been popular with boaters, but paddling your way around by canoe is probably the ideal way to get the authentic Broads experience and is one of the best means of sneaking up on wildlife, too. One of the best options is to take a guided canoe trail through the Broads, ideal for beginners. Mark Wilkinson, otherwise known as 'The Canoe Man' offers a variety of guided canoe trails. Guided short, half-day and full-day trails are available every Saturday between Easter and September, and more frequently during the school holidays. One- or two-night guided canoe and bushcraft trails take place about twice a month in the summer with camping or bivouacking on sites arranged with local farm owners ('wild camping' as such is not permitted in the Broads).
---
Fancy a staycation this year? Our British guides can provide all the inspiration you need: