Written by Bradt Travel Guides
Whether you want one of the world's most stunning beaches to yourself; to clamber up a mountainside steeped in rare plants and buffalo; to step on to a former slave island; or to walk in a dwindling rainforest – it's all to discover in Sierra Leone. Such a feast of picture-perfect moments is miles from what people might expect from a 'war-torn' country but things have long since changed here and its beautiful wilderness and extraordinary culture is sure to change perceptions.
Relax on pristine beaches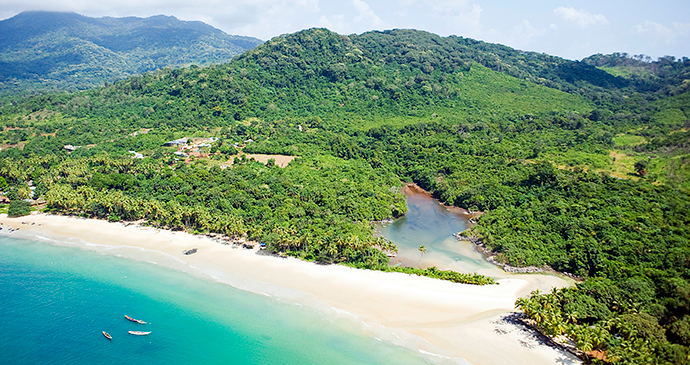 Go surfing on Bureh beach, where palm-fringed shores are well-established with surfers in search of the perfect wave © National Tourist Board of Sierra Leone
Beach, beach and more beach. Visitors can spend a week hopping from one cove to the next; from family-friendly shores to deserted stretches of sand, there's a beach for everyone. Watch daily life unfolding on Freetown's Lumley Beach, take a boat to Banana Island to go snorkelling and eat fresh lobster, camp on the sands of John Obey and spend a night at luxury resort The Place on the whitest sands of Tokeh. Pure relaxation.
Immerse yourself in the chaotic capital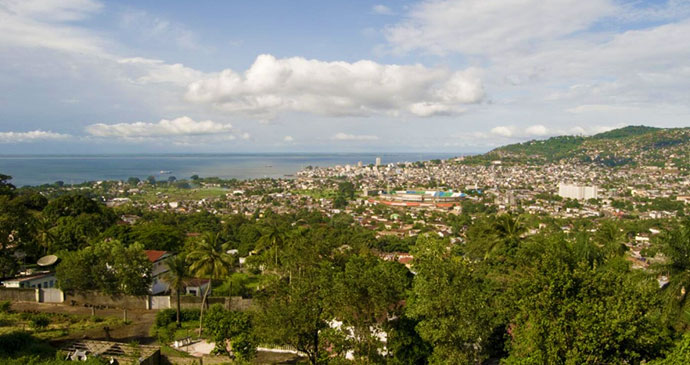 The streets of Freetown are a colourful hotch-potch of architecture © National Tourist Board of Sierra Leone
Set amid jungled mountains and a sweep of beach, Freetown has among the most improbable layouts of capital cities, all tangled roads snaking back and forth and wandering ramshackle around the coast. While there are a few 'sights', the real draw of the capital is its atmosphere – sometimes almost suffocating in its hectic pace and dazzling in its brightness. Hit the dancefloor at the city's non-stop party scene, catch a football match or get lost in the chaotic streets of downtown where you can buy everything from traditional medicine to cloth to pirate DVDs.
Track wildlife in Gola rainforest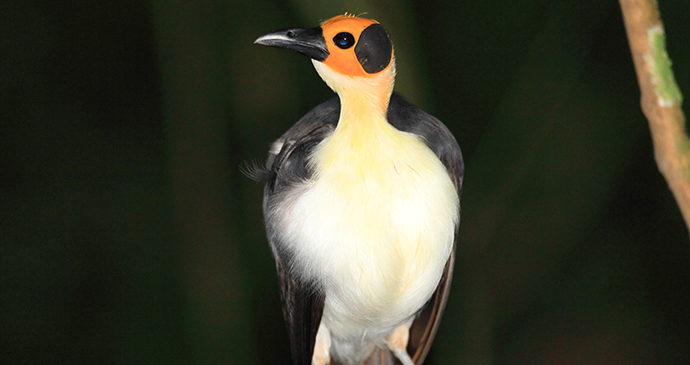 Classified as Vulnerable, the white-necked picathartes is a top sight for birding enthusiasts © feathercollector, Shutterstock
Dive deep into Gola National Park, the last genuine area of rainforest left in Sierra Leone and home to one of the country's most diverse wildlife populations. Across its 750km², the most recent surveys show the presence of 50 mammal species, 2,000 different plants – including 77 orchids – and a staggering 333 species of birds. And it is the birdlife that really sets the heart racing in Gola, with 14 of the species found here listed as vulnerable or endangered worldwide visitors can hope to spot the white-necked picathartes, the rufous fishing-owl and the endangered Gola malimbe.
Visit a former slave island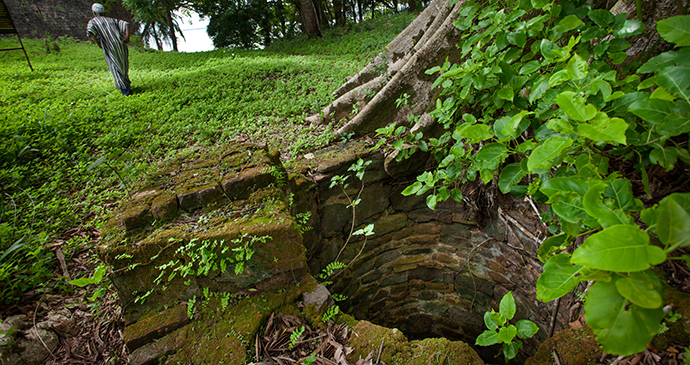 Sierra Leone suffered greatly during the slave trade and icons of the past such as Bunce Island's fort serve as a reminder of this dark time © robertonencini, Shutterstock
Pay a visit to the rundown slave fort at Bunce Island, which exported more than 50,000 slaves to North America and is therefore a key site for African Americans today. The island is sorely in need of preservation, with nothing in the way of explanation, but the powerful history of the site is hard to ignore. For many, the experience of stepping among its crumbling walls amid an eerie silence, having to imagine how it might have been, is harrowing enough to stay with them forever.
Get up close with chimps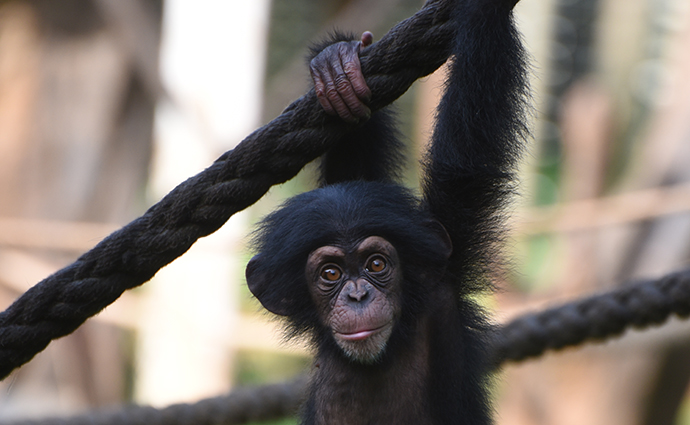 The sanctuary guarantees a glimpse of chimp behaviour up close © Izzy Hirji, Tacugama Chimpanzee Sanctuary
About 80 primates have found safe haven at Tacugama, swinging from branches, hooting with happiness, throwing things at passers-by with the petulance of children, nuzzling each other with the tenderness of mothers attending to newborns, and picking bugs out of each other's fur with the attention of Madonna's manicurist. Even the least animal-friendly of visitors gets sucked into the magic within moments of starting a tour with one of their knowledgeable guides and with on-site accommodation looking out onto the green forest canopy, this is a must for any Sierra Leone itinerary.
Climb Mount Bintumani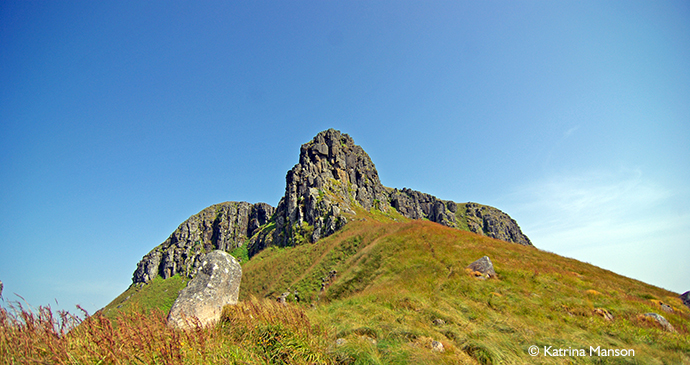 Look out for Mount Bintumani's namesake female spirit on your ascent © Katrina Manson
Allow a week to climb Mount Bintumani, West Africa's highest peak. There is more than one way to climb it: you can scale the beast in a day if you're dead set on speed; or seven, if you're keener on taking your time, camping out in the wilderness, spotting herds of buffalo and trekking through rainforest that even the rebels didn't reach – but in all cases reasonable fitness and an unflagging desire to keep going is needed much more than skill. Look out for chimpanzees, bongo, baboons and unique birds as you ascend.
Explore the diamond industry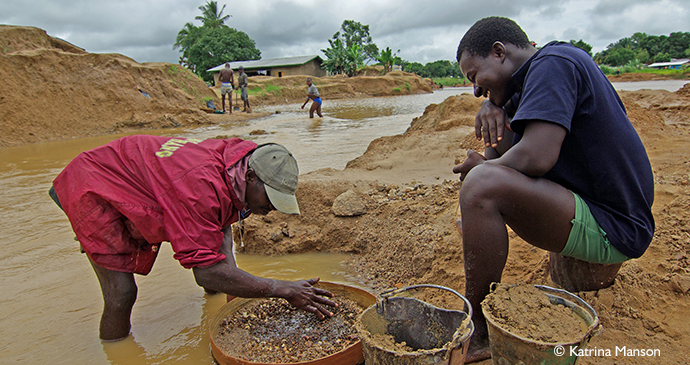 The east is diamond country, home to the gem that has made Sierra Leone infamous © Katrina Manson
If you're lured by the thrill of seeking out a stone, or immersing yourself in the seedy underbelly of the business, you should head for Kenema, the diamond-buying capital, with a surreal buzz born of judging carats and clinching deals. Head to the mining town of Koidu and you'll see the hard graft that goes into hunting down the mythical big find, usually without success. Both are fascinating, urgent, and occasionally nasty places, bumping along the poverty line; home to sweat and greed and cowboy dashes at once-in-a-lifetime riches.
---
If you've been inspired by what Sierra Leone has to offer, check out our new, updated guide: