Written by Tim Clancy
Bosnia and Herzegovina still counts as an emerging destination for tourists. More than two decades after the end of the devastating war that saw Bosnia gain independence from Yugoslavia, many potential visitors are not sure what awaits them. Little by little, tourism is catching on in Bosnia. Here are some ideas for what not to miss if you are lucky enough to visit.
Hiking unspoilt trails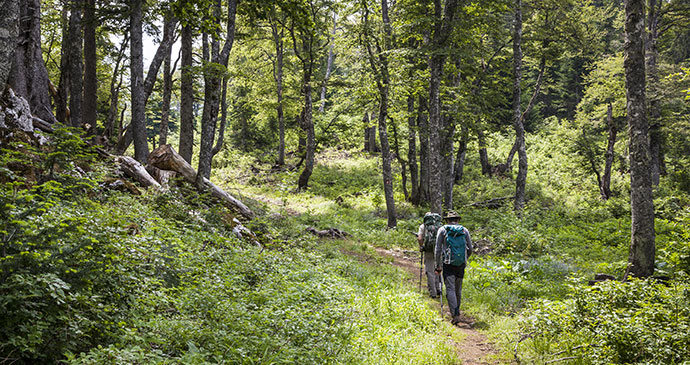 Sutjeska National Park is one of the best places for hiking in Bosnia © Mapraest, Shutterstock
One thing people seem to notice and appreciate in Bosnia and Herzegovina is the will to walk and it is rare to find a country that offers such diverse beauty and harmony of limestone mountains, lush valleys, centuries-old forests, crystal-clear rivers and green mountain lakes. The Western Balkan region is positioned deep in the heart of one of Europe's most unexplored and wildest mountain ranges – the central Dinaric Alps – and a new long-distance hiking trail, the Via Dinarica, has been developed to allow visitors to explore the landscape. The region is a paradise for adventurers, nature lovers, and those seeking an experience that is at once thrilling, extraordinarily beautiful and affordable.
Authentic village tourism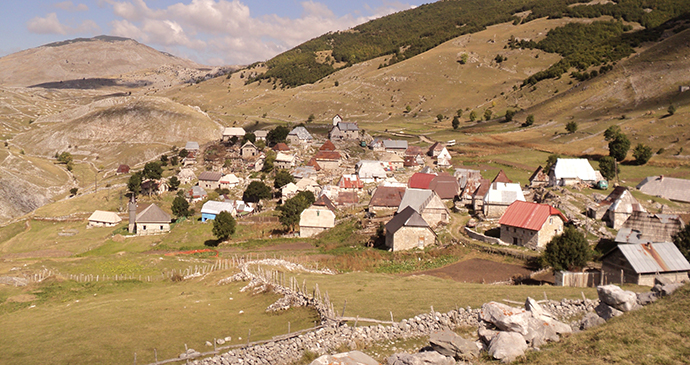 The village of Lukomir is one of the most remote in Bosnia © Tourism Association of Canton Sarajevo
There isn't quite a culture of 'tourism' in many of the villages in BiH but there is a long tradition of providing any visitor with an incredibly warm welcome. A taste of Old World Europe – old farming methods, handmade tools and machinery, organic food, and a traditional lifestyle that has long since died out in the rest of Europe – all await the visitor.
The Bridge on the Drina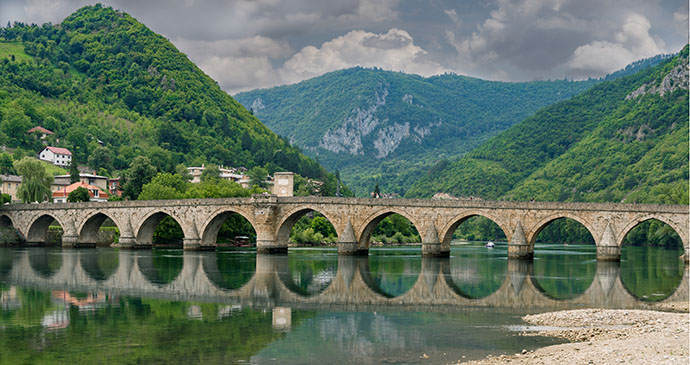 Višegrad's famous bridge, spanning the Drina © 369_photo, Shutterstock
Nobel Prize winner Ivo Andrić's famous novel The Bridge on the Drina is set in the town of Višegrad. The Mehmed Paša Sokolović bridge (a World Heritage Site), which spans the Drina River, was built during 1571–77. For the wandering soul it's an interesting place to sit on the bridge and soak up the energy of the waters racing below. The villagers may look at you with a bit of suspicion at first but after the first rakija you'll have made some new friends.
Olympic skiing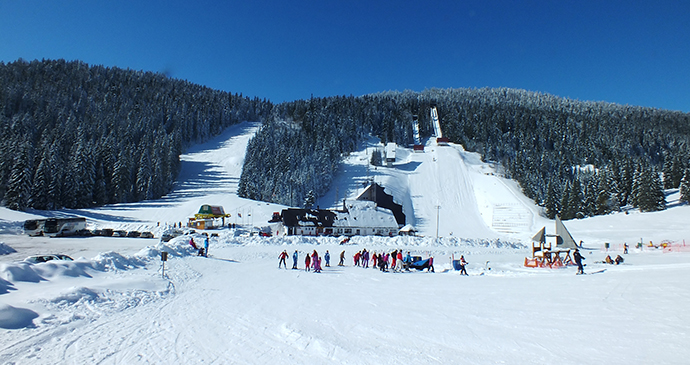 The chance to ski on an Olympic slope is hugely appealing to winter sports enthusiasts © Tourism Association of Bosnia and Herzegovina
Sarajevo hosted the 1984 Winter Olympics. While there was considerable damage to Bjelašnica and Igman mountain ski centres, Jahorina went largely untouched – and all three centres offer great skiing and snowboarding for a mere fraction of the cost of ski resorts in the West. The lifts are not high tech and there aren't many posh alpine villas, but no-one can dispute the quality of the slopes, snow and fun to be had skiing on these Olympic mountains.
Beautiful handmade souvenirs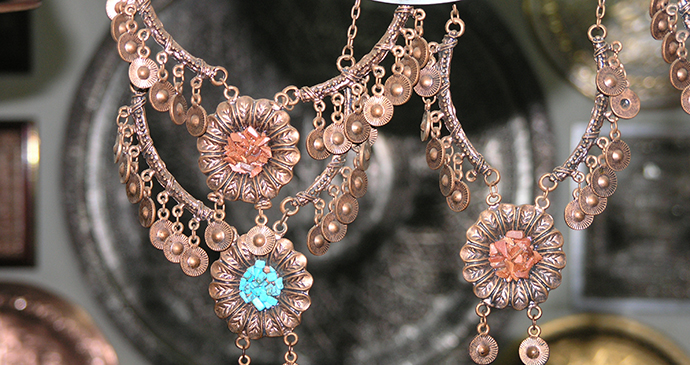 Coppersmithing is just one of the local crafts in Sarajevo's Baščaršija © Tourist Association of the Federation of Bosnia and Herzegovina
The art of handmade goods, called stari zanati, has a long tradition that mainly took form during Ottoman times. As Sarajevo expanded into the administrative centre of Ottoman rule in Bosnia so did its volume of trading with faraway lands. By the end of Ottoman rule over 70 trades are mentioned in historical records, as Sarajevo developed into the largest trading town in all of Bosnia and Herzegovina. Jewellery, gold, copper and bronze tea and coffee sets, and metal plates with oriental design can be found in most čaršije (old Turkish quarters) throughout the country.
Succulent ćevapi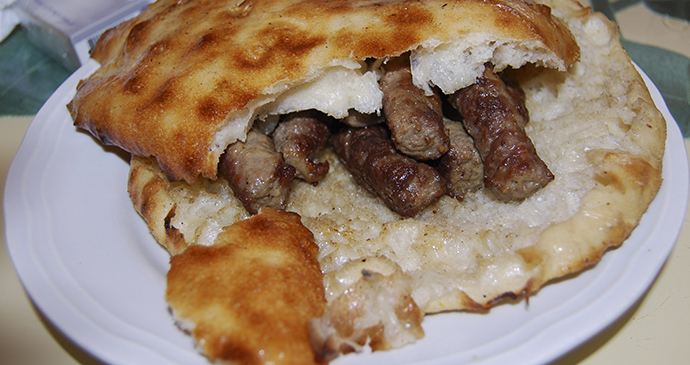 Ćevapi from Travnik © Brenda Annerl, Wikimedia Commons
Ćevapi are small meat sausages of lamb and beef mix. They are usually served with fresh onions and pitta bread on the side and are a good way to go for a tasty lunch that is cheap, quick and yet still gives you a quality meal. No Bosnian town would be complete without its ćevapi. Although Sarajevo and Travnik both boast the best ćevapi in BiH, Banja Luka ćevapi are certainly in the running for the top spot too.
Enchanting mosques, monasteries and churches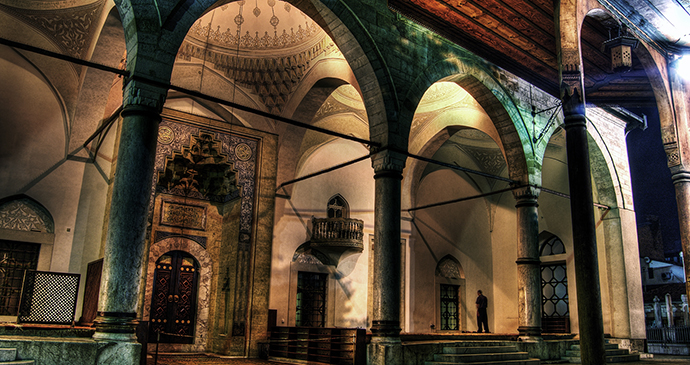 The atmospheric Gazi Husrev Begova Mosque in Sarajevo © Deni Drazic, Tourism Association of Canton Sarajevo
Western travellers not accustomed to Eastern and oriental faiths will find the mysticism of Christian Orthodox monasteries and Ottoman mosques an enchanting experience. Ancient mosques and Orthodox monasteries line the hilly countryside of the Upper Drina River Valley in particular. The country is also home to Franciscan monasteries where the monks are very welcoming to visitors.
---
If you want to experience all of these things and more, start planning your trip to Bosnia with our new guide. Here is a 10% discount: