Written by Bradt Travel Guides
A poem by E E Cummings starts: 'I am a little church no great cathedral' and we make no secret of the fact that it is East Devon's little churches that tug at our heart-strings, while the grandeur of the likes of its great cathedral is appreciated on a more intellectual level.
The Cathedral Church of St Peter in Exeter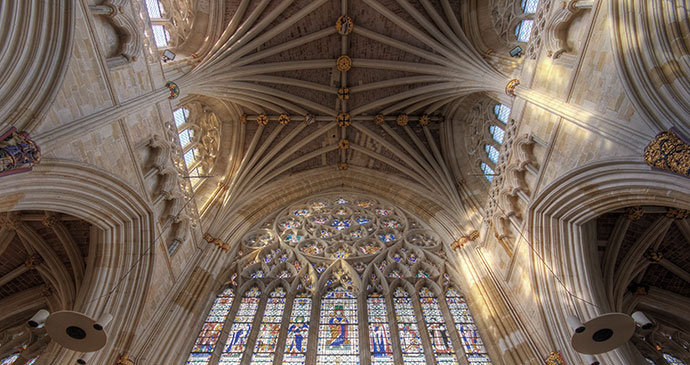 Exeter Cathedral's dizzyingly high ceiling © Heart of Devon
It's hunkered solidly there on the green, the weight of centuries pressing it into Exeter's earth, yet when you step inside the door your eye swings immediately up to the space and grace of its amazing roof: the longest unbroken stretch of Gothic vaulting in the world.
When you've recovered from the impact of its size and grandeur, you can focus on small, intimate details: the individual faces of the figures on the towering frontage, animals on the choir stalls, sweet-faced angels playing musical instruments, sad swans with entwined necks, intricate roof bosses, a little 13th-Century carved wooden elephant – so many, so absorbing, and such a personal glimpse into centuries of human history.
St Giles & St Peter, Sidbury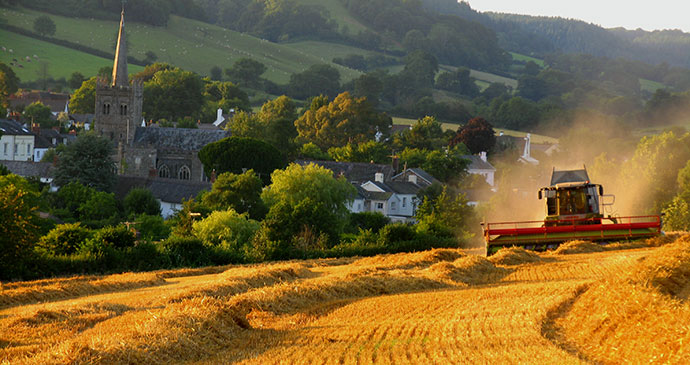 Harvest time in Sidbury © Heart of Devon
Sidbury's great treasure is what's believed to be a Saxon crypt in the apparently 12th-century church of St Giles & St Peter. One of only six known in England, it was discovered in 1898, and a guided tour of it and the church is given on summer Thursdays; otherwise it is closed to the public. The church tour starts at 14.30 and reaches the crypt at around 15.30. I found the tiny, plain underground chamber unexpectedly moving; who knows what Saxon voices may have echoed there some 1,400 years ago? The church itself has Norman features (the tower is 12th century) but in fact is a mixture of styles, having been much altered over the years. It has some fragments of medieval wall painting, a painted gallery, some good Victorian stained glass and seven green-man carvings in the roof. Rather surprisingly, gunpowder was stored above the porch during the Napoleonic wars.
St Olave's Church, Exeter
Situated on Fore Street, this is a Saxon church with a separate Saxon tower. It was originally a chapel and was possibly built for King Harold's mother, Gytha. St Olav was an 11th-century Viking king who converted to Christianity. In fact Harold had given him the choice of either converting or being beheaded, so he took the more comfortable option – but then died in battle anyway. After his death it is said that his nails and hair continued to grow and a stream of clear water gushed out from his grave, hence the sainthood.
St Martin's Church, Exeter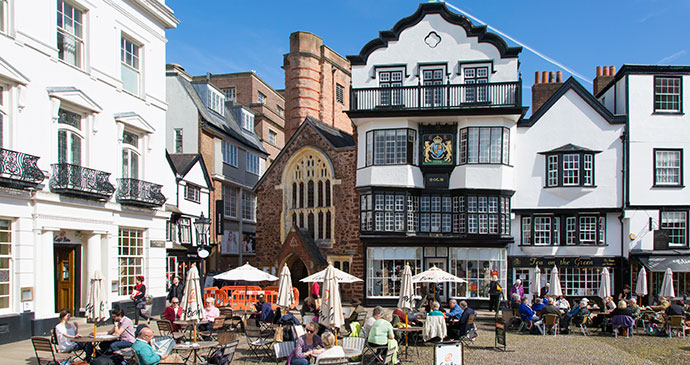 St Martin's Church tucked in the corner of Cathedral Square © Heart of Devon
This beautiful little church is squashed into a corner of Cathedral Close. The original church, consecrated by Bishop Leofric in1065 and one of the oldest in Exeter, was rebuilt in the 15th century, in red Heavitree stone; some masonry and features from the old church are thought to have been reused. With so little space available, the east end was built at a skewed angle and the tower was added later, on a piece of rented land. The dramatic front window (of Beer stone) and other windows date from the 14th century. Its parish area is tiny, a mere 1.75 acres (0.7 hectares), yet in 1821 it held 329 residents, in houses that have long since gone. Towered over by the so-called 'Mol's Coffee House' next door, St Martin's is now well cared for by the Churches Conservation Trust.
The Church of St Mary, Ottery St Mary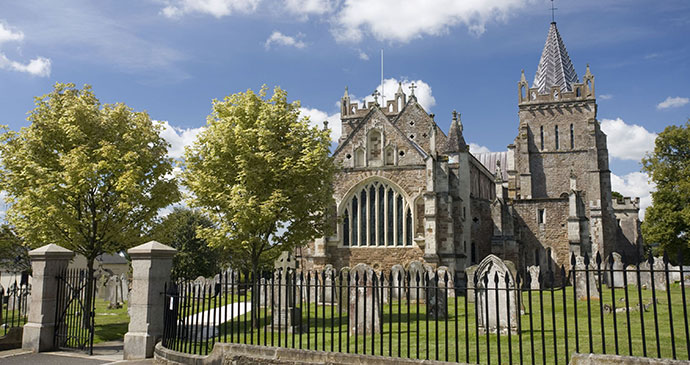 The Church of St Mary, Ottery St Mary © Tony Howell, Heart of Devon
The church of St Mary is undoubtedly what draws visitors to the town. The manor of Ottery was given to the cathedral of Rouen by Edward the Confessor, and wrested back in 1334 by Bishop Grandisson who set about rebuilding the church, modelling it on Exeter Cathedral. It was added to in the 16th century and in the Victorian era. And repainted in 1977. No one can miss the two monuments to the Grandissons who lie on each side of the aisle under elaborately carved canopies. Sir Otho de Grandisson was the bishop's younger brother. He died in 1359 and lies there in full armour, with his luxuriant moustaches draped over his breastplate. He has the knight's usual lion at his feet, symbolising strength, although it has lost its head. His wife, Lady Beatrix, looks as uncomfortable in death as she probably was in life: her hair is incorporated into a square headdress which has the effect of a pair of blinkers; this, along with the high collar of her dress, must have ensured that she faced life looking straight ahead at all times. Two little dogs nuzzle each other at her feet, their liveliness contrasting with their poor inanimate mistress.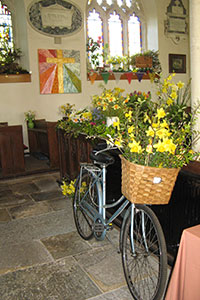 The Church of St Michael, Shute
Shute's attractive little 13th-century church of St Michael was first built as a chapel, and is thought possibly to be on the site of an earlier Saxon place of worship. It has been much refashioned over the years but retains some attractive decoration (much of it in Beer stone), roof bosses, effigies and panels. There's a touching memorial to Sophia Anna, wife of Sir William Templer Pole, who died in 1808 aged 20: Her disconsolate husband, who no less tenderly loved her person than adored her virtues, unfeignedly lamenting his irreparable loss here consecrated this monument to her memory. St Michael's is a busy, active church with a strong sense of community. We have visited it for two flower festivals, which include a great many cream teas and slices of cake as well as a blaze of flowers, and always people have come up wanting to tell us proudly about their church.
(Photo: A floral bicycle on display in Shute church © Hilary Bradt)
St Petrock's Church, Exeter
Devon has 17 churches dedicated to St Petrock or Petroc, who visited the area in the 6th century. This one on Exeter's High Street may possibly date back as far as the 7th century in some form or other, although no Celtic traces remain. Part of its north wall dates from the 12th or 13th century. Extensions were patched on to various bits of it over the centuries, until historian Nikolaus Pevsner described its interior as being 'among the most confusing of any church in the whole of England'. Today it has been divided in two: the more recent parts are used as an office for the St Petrock's charity which does much-needed work among Exeter's homeless. It's also a campanology centre, with permanent displays and information about local and national bell-ringing societies.