Written by Gail Simmons
In 1874, the lovesick author Robert Louis Stevenson stepped off a train at High Wycombe station on the first leg of a three-day journey across the Chiltern Hills to Tring. Almost 150 years later, Gail Simmons took to the hills in his footsteps, chronicling the world of her childhood before the construction of HS2 brings commensurate destruction to this ancient landscape.
Entwining personal memories with impassioned interviews and extracts from Stevenson's 'In the Beechwoods', Gail portrays the poet's 'Country of Larks' from prehistory to the present day. To discover what lies beneath, read on…
---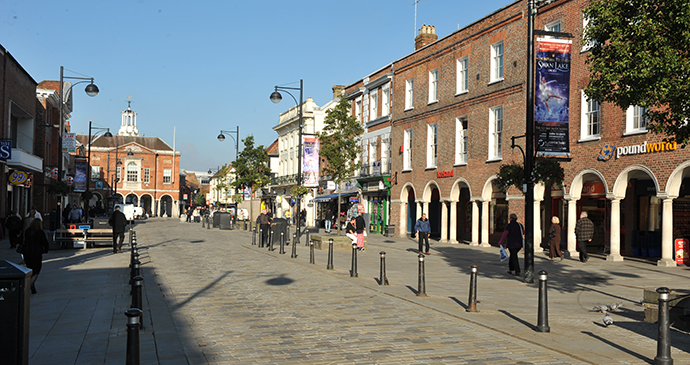 Gail imagines how much Stevenson's view as he stepped off the train would have resembled modern High Wycombe © Visit Buckinghamshire
In October 1874, a slender young Scotsman carrying a rucksack stepped off the London train onto the platform at High Wycombe station. He was twenty-four, suffering from poor health and in the throes of an unhappy love affair with an older, married woman. Having based himself in London over the summer to be near the object of his affections, and to immerse himself in literary life, Robert Louis Stevenson was now procrastinating over returning to Edinburgh to resume his university studies.
Wearing his favourite velvet jacket, and with his wispy moustache and unkempt hair, the aspiring author must have cut a strikingly bohemian figure in High Wycombe. This was, after all, a respectable working town famed chiefly for the chair-making industry that flourished thanks to the beech woodland covering its nearby hills. The daintier crafts of lace-making and straw-plaiting also thrived here, but from the late eighteenth century it was chairs – particularly good, solid Windsor chairs – that concerned the town's inhabitants. Passing through in 1822, William Cobbett described Georgian High Wycombe as 'a very fine and very clean market town'. By the time that Stevenson alighted here some fifty years later, the rows of terraced workers' cottages had already begun crawling up the steep slopes of the Wye Valley.
Now, almost 150 years on from Stevenson's arrival, I too alighted the train at High Wycombe station. Built in the Chiltern vernacular style of knapped flint with brick dressings, the station had opened just twenty years before Stevenson turned up. This was the heyday of Victorian engineering, a time dominated by names such as Isambard Kingdom Brunel and Robert Louis' own grandfather, the Scottish civil engineer Robert Stevenson.
---
Read more in Gail Simmons's new book: