Written by Sean Connolly
There's perhaps no finer destination in West Africa for purveyors of the arts than Senegal, and the music scene has produced luminaries recognised the world over. To a certain extent, this cornucopia of cultural expression can be traced back to the first president, Léopold Sédar Senghor, whose aggressive promotion of the arts led to the creation of dozens of dance troupes, artists' workshops, theatres and concert venues around the country (all listed in the relevant chapters). Today that funding has for the most part long since dried up, but the passion for the creative arts among the Senegalese remains wholly undiminished.
Art
As in other cultural pursuits, Senegal's visual art scene is a leading light on the continent, and one only need look at the sheer number of galleries in Dakar and Saint-Louis for proof. In both traditional and modern arts, Senegalese painters, sculptors, carvers, potters, weavers, fashion designers, photographers and others are widely recognised in their respective disciplines, and it's a rare display of art from the continent that doesn't include a Senegalese contribution.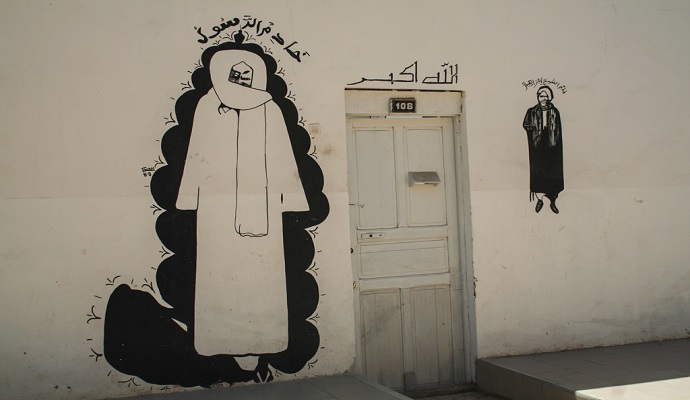 You'll see murals of Sheikh Ahmadou Bamba all over the country © Marco Muscarà
Perhaps the most widely recognised Senegalese visual artist is the former physiotherapist and sculptor Ousmane Sow, who's known worldwide for his evocative, larger-than-life sculptures – some in bronze, others using organic materials like straw, mud and jute – detailing human forms with startling precision and emotion, and taking on subjects ranging from the battle of Little Big Horn to Senegalese wrestlers and the Zulus of South Africa. He curated the Galerie Le Manege in Dakar until his death in 2016. As for painting, there are dozens of galleries in Dakar and Saint-Louis where you can see works from some of the region's most heralded artists, but the first art you'll see in Senegal will almost certainly be the innumerable murals of Mouride brotherhood founder Sheikh Ahmadou Bamba (1853–1927) painted on shops, cars, walls and seemingly any other available space across the country. With his face half-obscured in a white shawl, this beloved and endlessly reproduced visage is based on the only extant photo of Ahmadou Bamba and has become an icon for Mourides everywhere.
La lutte – traditional wrestling
With roots in Serer, Diola and Lebou religious ceremonies, traditional wrestling, or la lutte as it's known in French (and làmb in Wolof), is Senegal's national sport and widely beloved, particularly among the youth. With the wild theatrics and outlandish characters of pro wrestling, but minus the made-for-TV fakery of its North American counterpart, la lutte's combat style remains fiercely traditional and a typical match doesn't last more than a few minutes. To start with, the two competitors, typically dressed in nothing but loincloths and a normal person's weight in gris-gris, are daubed with protective powders, lotions and other trade secrets, all designed to confer strength and protection in the ring. More modern fights allow the competitors to strike one another with their hands, but in its most traditional form you've got to pin or throw your opponent by grappling and throwing alone; in either form, if any part of your body except your hands or feet touches the ground, you're out.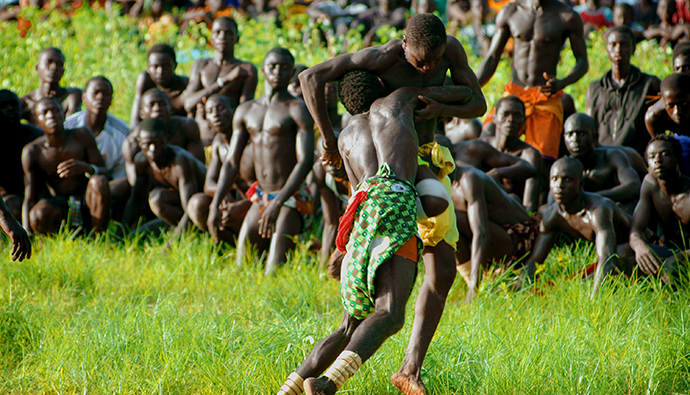 Traditional wrestling is Senegal's national sport © Eduardo Huelin, Dreamstime
The biggest stars are known around the country and found stamped on to t-shirts, painted on to shop walls and flexing their super-sized muscles for all manner of product endorsements. The biggest matches unsurprisingly take place in Dakar, usually between November and July at Stade Demba Diop, and posters are glued up all over town promoting the next clash. You'll get super bonus points chatting with kids if you know some of the stars – Bombardier, Ballou Gaye II, Tapha Tine, Modou Lô and Eumeu Sène are all names to look out for. For a truer-to-its-roots display of la lutte minus the celebrity sponsorships, there's no better place than the xulam festival in Oussouye, held annually in September.
Music
Unlike growing swathes of Africa that seem to be more interested in the latest Rihanna single than what their home-grown artists are producing, Senegal possesses an easy self-assurance in the superiority of its own culture and music, and given the embarrassment of riches on offer to any music fan, they're entirely justified in the sentiment. Make no mistake, plenty of Western sounds are still to be found, but nothing fires up the crowds here like a good mbalax beat, and with one of the most dynamic hip-hop scenes anywhere on the continent, the Western influences that do arrive are refreshingly reworked and reinterpreted for a local context.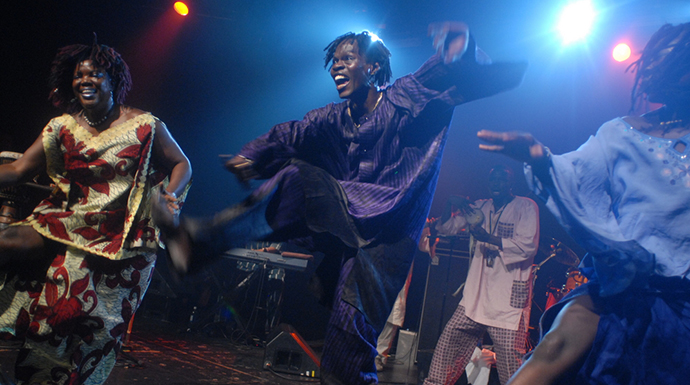 Baaba Maal is probably Senegal's most famous musician © Sergei Bachlakov, Shutterstock
While Senegal has always been incredibly fertile ground for the birth and reinvention of new genres, there are just as many artists here who defy easy categorisation. Foremost among them is perhaps the hometown hero guitarist from Podor, Baaba Maal, who has been releasing music that shares as much in common with Youssou N'Dour's mbalax-pop fusion as it does Ali Farka Touré's moody desert blues since the 1980s, and who has, much like Youssou, fearlessly explored the linkages between the music of West Africa and its descendants worldwide, like hip-hop, reggae and even dance.
Textiles
Senegal is home to a number of talented artisans working in textile design, the most dramatic example of which is the Manufactures Sénégalaises des Arts Décoratifs in Thiès. A centre totally unique in West Africa and probably beyond, since 1966 (set up by Senghor – who else?) this collective of artisans has been producing stunningly elaborate woven textiles based on Senegalese motifs and paintings, and they're sold for princely sums the world over – their largest production took two artisans three years to complete and today hangs at the UN in New York. Batik is another popular medium here and, while much of what you'll see hawked at the tourist markets is rather derivative, some excellent pieces are to be found if you look hard enough. Mamadou Cherif Diallo at Afrika Batik in Ziguinchor is a celebrated designer, and he's more than happy to show you the batik-making ropes as well.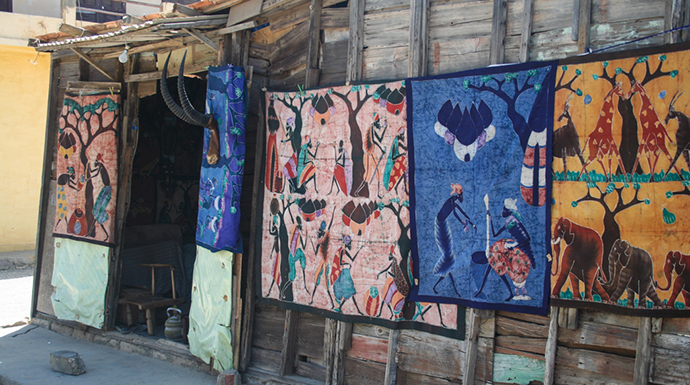 Batik is another popular medium in Senegal © Marco Muscarà
And as for the wearable kind of textiles, the Senegalese are snappy dressers, and perhaps none more so than the Podorois doyenne of design, Oumou Sy, whose collections have been paraded on Parisian catwalks since 1982. She's also the founder of the annual Dakar Fashion Week, where you can see the younger generation of fashion designers like Rama Diaw, Selly Rabe Kane, Cole Ardo Sow and dozens of others bring out their latest in haute couture.
Cultural villages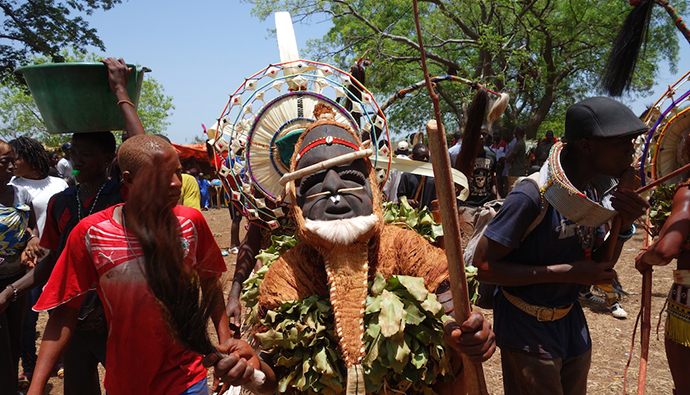 Initiation into adulthood involves long and elaborate ceremonies for the Bassari and Bédik peoples © Sean Connolly
The area surrounding Kédougou is populated by a unique ethnic mix of Fulbe (Peul), Bassari and Bédik people, the latter two of which live only here and in nearby villages across the border in Guinea. Indeed, the cultural landscape here is so unique it's been protected as a UNESCO World Heritage Site since 2012. The natural environment is equally spectacular, and several of the Fulbe (Peul), Bassari and Bédik villages surrounding Kédougou are working together as part of the Dindefelo Community Nature Reserve, an ecotourism collective founded in co-operation with the Spanish branch of the Jane Goodall Institute and recognised as an Important Bird Area in 2015 (it's the only place in Senegal to spot the colourful Narina trogon). All offer rustic accommodation in bungalows typical of the region, most without running water or electricity (though many have limited solar options). All can arrange meals, waterfall visits and a large number of circuits through the region. If you're here in April, don't miss the annual Bassari initiations.
---
For more on Senegal's eclectic arts scene, take a look at our guidebook: