Written by José Pizarro
José Pizarro shares a recipe for sardines marinated in cider or Txakoli vinegar from his new cookbook BASQUE.
Sardines marinated in cider or Txakoli vinegar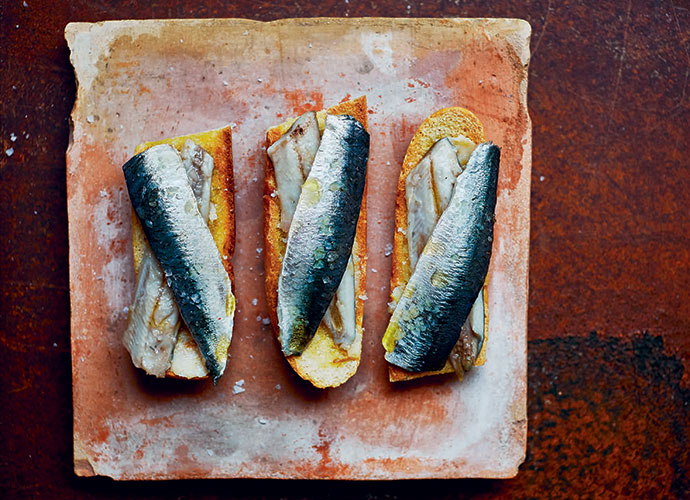 My love of sardines goes back as far as I can remember. My mum used to come home from the market every Tuesday with sardines in her bag. That strong fresh fish flavour will stay with me forever, as will a glass of fresh milk straight from the cow.
The simplest way to prepare sardines is to remove the scales, fillet them, then eat them raw. I wanted to give some extra flavour to this dish, as not many people will eat them raw. This marinade is very quick, which means you will keep almost all of the flavour as well as the freshness of the fish.
Serves 4
1 bulb garlic
olive oil
500 ml (17 fl oz) Txakoli or cider vinegar
1 small French shallot, finely chopped
5 black peppercorns
5 pink peppercorns
1 bay leaf
few sprigs of tarragon
25 g (1 oz) caster (superfine) sugar
8 super-fresh sardines, filleted
toasted baguette to serve
extra-virgin olive oil to drizzle
flaky sea salt
Preheat the oven to 170°C (340°F/Gas 3).
Drizzle the garlic with oil and roast for 30–40 minutes until really tender. Squeeze the pulp from the skins and mash into a paste. Set aside.
Gently heat the vinegar with the shallot, peppercorns, herbs and sugar until the sugar has dissolved, but not until it boils. Lay the sardines skin side down in a dish and pour over the hot vinegar. Leave for a couple of minutes, then drain.
Spread the toasted baguette with some of the garlic paste. Top with the marinated sardines, drizzle with extra-virgin olive oil and sprinkle with the flaky sea salt.