Written by Murray Stewart
With the trade winds providing a remarkably steady force 5 to 6 in winter falling to a gentler force 3 to 4 in summer, wind is never lacking, and Cape Verde has become an international windsurfing and kitesurfing destination.
Sailing
Sailing around the islands is still quite unusual. At any one time there might be 20 or more boats moored in the main harbour of São Vicente, and a few more to be found in those of Sal and Santiago. A promised new marina project in Praia has not materialised. Facilities are far inferior to the Azores or Canaries, but there are beautiful anchorages at Murdeira Bay on Sal, at the remote Fajã d'Água on Brava and at Tarrafal in north Santiago. In fact, each island has some sort of shelter but it may be a long trek to get provisions and an even longer one if you need spare parts.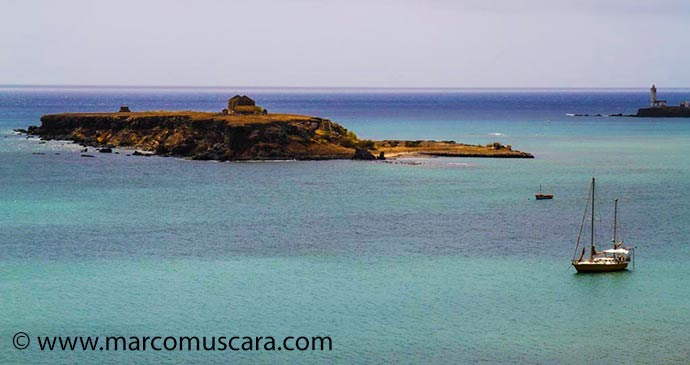 Sailboat near Ilhèu Santa Maria, Praia © Marco Muscarà
There are many day excursions in large sailing boats and powerboats on Sal but less available on other islands. Yachts can also be rented, with or without skipper, in São Vicente. The Itoma (www.itoma.at) is a 23m (70ft) motor-catamaran with room for 16 passengers; its owners organise cruising, diving and windsurfing tours.
Surfing
Cape Verde has 965km of coastline, spotted with reefs and points and steady wind throughout the year, and its reputation as an international windsurfing, kitesurfing and surfing destination is growing. The water is warm and the swell from the open Atlantic, during the winter, can be big. It is similar to the Canaries and the Azores in the kind of swell it picks up – but it is warmer. The Barlavento – the islands in the north – are in the best position for winter surf, while the Sotavento – southern islands – pick up summer, tropical swells and swells from far away in the south Atlantic. The wind is strongest in the winter and calmest from May to September.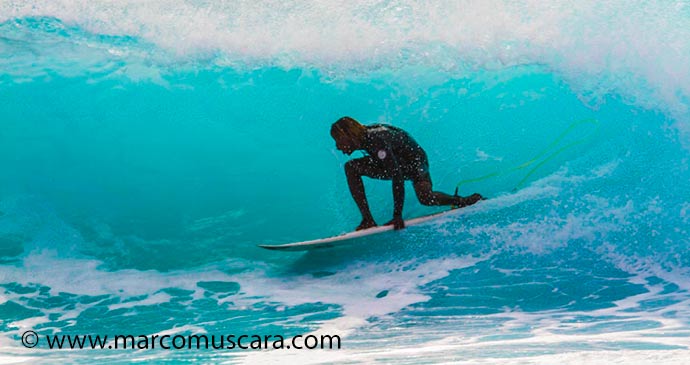 Surfer inside the tube at Ponta Preta, Sal © Marco Muscarà
The winter swell season runs from January to March and at this time the average deep-swell height is about 1.8m. The swells tend to hit the western coasts of the islands and wrap around into spots heading south. The result is off shore conditions with northeast winds.
The best-known island for surfing is Sal, whose most famous wave is at Ponta Preta – a long, classic right-hand reef with 200m rides. There are also surfing spots on Santiago – Tarrafal, and the coast in the southeast, south of Ponte de Lobo. The surf is mostly reef breaks but there are some beach breaks. Boards are available for hire in Sal, São Vicente and in Tarrafal on Santiago.
Windsurfing
Cape Verde is a popular destination for windsurfers from Europe to Hawaii, and regularly hosts championships. The two main islands for windsurfing are Boavista and Sal, with São Vicente and São Nicolau offering a lot of potential but little as yet in the way of facilities.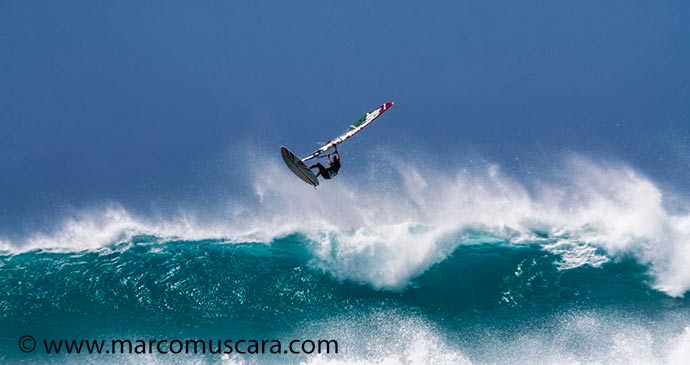 Windsurfer at Ponta Preta, Sal © Marco Muscarà
November to the end of May is the windy season. During this time, the winds range from 18 knots to 22 knots and are good for both intermediate and advanced riders. Even during the windiest times there will be days that are good for beginners. If you want to avoid strong winds, the best time to learn is during the summer. Sal has a dedicated kitesurfing bay and also has Ponta Preta, whose huge breakers, kicked up by a strong offshore wind, led to the venue being added to the World Wave Circuit in 2007 and the
Professional Windsurfers Association World Cup
in 2008, 2009 and 2010. In São Vicente, in the bay of Mindelo, the average wind speed between January and June is 16 knots, with gusts of up to 30 knots. Round the coast in São Pedro Bay, world windsurfing speed records have been set and the current record is over 40 knots.
---
Ready to plan a trip? Here's 10% off our Cape Verde guide: