Written by Brian McEwan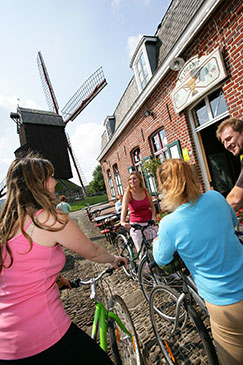 Cycling in France is a joy, even when you're soaked. There's always a gîte with a hot shower and a change of gear followed by French cuisine with a warming glass of rouge and the odd cognac or two. In other words, your Tour de France is just that – taking in the wide-open spaces, the forests, the rivers, and the sleepy villages. Indeed, you can soak up the whole culture of a magical and civilised land which, moreover, is right on your doorstep. It really doesn't matter where you choose to go; you'll find the local tourist info totally primed to provide you with off-road cycleways whether they be centuries-old country lanes, canal tow paths, defunct railway track beds or dedicated cycle paths and, practically at every turn, there will be a village brasserie for lunch and a gîte where you can crash out after a stunning regional dinner washed down with superb regional wines.

In short, France has it made when you talk about provision for cyclists. Not surprising really when you realise that the Scandinavian countries, Germany, the Netherlands, Belgium, France and their immediate neighbours have recognised cycling as an integral part of leisure and transport for decades. Thanks to Sustrans, the UK is finally beginning to catch up but has a long way to go to compare with the 'off-piste' delights of northern France which make cycling such a wonderful way to see a country and its people.
Although various tour operators provide ready-made packages with cycling routes, hotels and baggage transport, the real fun is planning it yourself with the French IGN map series (www.ign.fr).
Probably the best way to get going on a cycling trip to France is the good old cross- Channel ferry. Depending on whether you wish to take off as soon as you land in France or get to your starting point further inland, either use car cycle racks or rail to get to your embarkation port, or carry on by car or rail at the other side to your starting point. It really is that easy, so saddle up and start pedalling.
(Photo: A group of cyclists admire the Steenmeulen Mill from a local restaurant © Samuel Dhote, Nord Tourism)