Written by Janice Booth
On April 7th 2014, Rwandans commemorated the 20th anniversary of the start of the 1994 genocide. My friend Chantal wrote to me from Kigali:
"Today is a special day, other African Presidents have come here for the ceremonies and even the Secretary General of UN. We are happy that now at least the world recognises what happened to us. It is very hard too, remembering our lost families, but it's good that we mark the anniversary. We can remember also all the people who played a big role in the rehabilitation of our lives. Imagine, after the genocide we were a destroyed country with no hope, but today other countries come to us to learn about unity and reconciliation. And me, I was desperate, with no family, with just nothing, believe me nothing, and now I am a mother and a professional. It is a miracle!"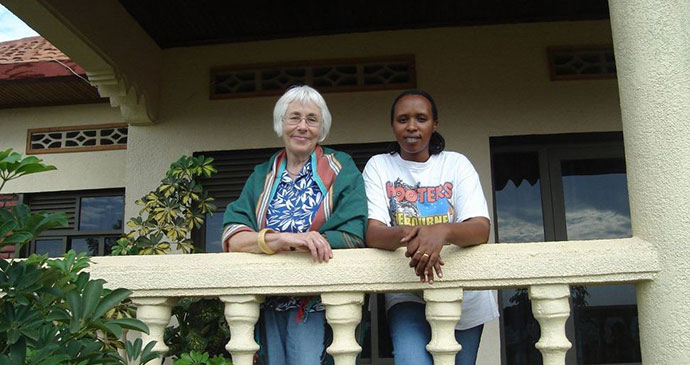 Janice and her friend Chantel © Janice Booth
In fact this 'miracle' has been achieved through a huge amount of hard work, courage, vision and determination. Somehow, survivors whose families were slaughtered are living harmoniously alongside villagers who took part in the killing. Somehow, in only two decades, the damaged and desolate Rwanda of 1994 has become a safe, modern, clean and technologically advanced nation with a brisk and well-organised tourism industry, offering a genuinely warm welcome to visitors. Somehow, survivors like Chantal (who as a teenager watched her sister and cousins being killed and was made to dig their graves) have not only restarted their lives successfully but are optimistic about the future. It is an amazing – and humbling – country.
I first went there in February 2000, to search for news of a Rwandan friend from whom I'd heard nothing since the genocide. I assumed he had died, but hoped some of his family might have survived. Western media at the time were painting a grim picture of the country: volatile, inhospitable and dangerous. 'Don't forget to see the mountain gorillas,' the Rwandan ambassador in London urged me as I collected my visa, but I wasn't expecting an enjoyable visit. However, the tourist office in Kigali was half-heartedly open (its staff were completely demoralised, barely meeting my eyes) so I bought a gorilla permit – and of course fell under their spell. I and a Swiss couple, visiting friends in Kigali, were the only trekkers that week, whereas now there can be up to 80 in one day. We had to press ourselves back against the vegetation beside the track as the group walked by, so close that I could feel their warmth; and a female rested her knuckles on my shoulder in passing as if I were a tree-stump, her leathery almost-human fingers just brushing my skin.
The trip to Volcanoes National Park gave me a glimpse of how stunningly beautiful it is, this 'Land of a Thousand Hills' tucked away in the heart of Africa. Cross-country public minibuses were ancient and battered but seemed to be functioning, so I set off to explore. At every bend of the twisty roads new landscapes unfolded: valleys, lakes, rivers, banana groves, farmland, forest, clusters of thatched huts – and everywhere the hills, whether stretching mistily into the distance, towering steeply above the road or glowing gently pink in the sunset. People were reserved but polite, clearly still scarred by what had happened. Inside the minibus they sat quietly, not chatting. Someone explained to me: 'You just don't know what your neighbour may have done.' Sadness was everywhere, but Rwanda had already been a tourist destination (because of the gorillas) and I felt it had potential for a guide. Hilary Bradt agreed, luckily Philip Briggs was available to cover the wildlife sections, and between us we researched and wrote the first edition – to the astonishment and disbelief of Rwandans, who doubted that tourists could ever be persuaded to return. It was published in 2001, and (entirely in Philip's hands now) remains the only dedicated English guidebook to post-genocide Rwanda.
We know – and guidebook writers aren't always lucky enough to have this satisfaction – how big a part it has played in Rwanda's recovery. Before the genocide, tourism was the country's third most important source of foreign exchange, after coffee and tea, and regaining this income was vital. The guide reassured travellers and international tour operators that the country was safe and had enough tourist attractions on offer – including, of course, the gorillas. Gradually the number of tourists increased, from a trickle to a steady flow; so more hotels and tourist attractions opened, which in turn brought more visitors. Today, tourism has become the country's most valuable 'export'; in busy months there's a waiting list for gorilla-viewing permits, and growing numbers of Rwandans have jobs in the tourist industry. Additionally – and crucially – about 5% of the income from tourists' park entry fees is used locally to benefit rural communities living around the parks, paying (for example) for school equipment and income-generating activities such as bee-keeping or market gardening. So tourists buying their permits are indirectly helping the 'small people', rural Rwandans they may well never meet but for whom this support is a lifeline.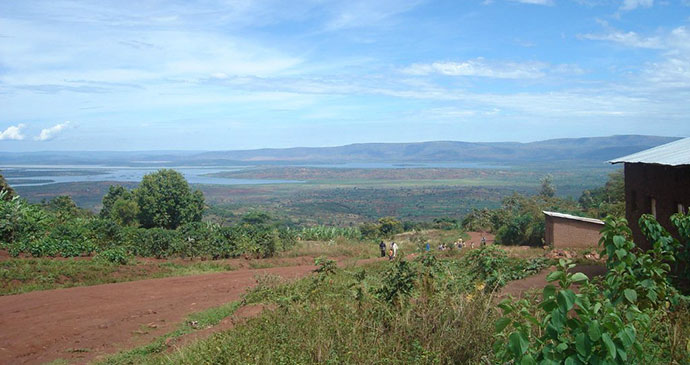 Rwanda is now seen by many as one of the greatest destinations in the world © Janice Booth
In December 2013, the UK's Rough Guides named Rwanda among its top ten travel destinations worldwide, citing the 'dizzying natural assets' of its parks; and National Geographic places Nyungwe National Park among its top ten destinations for 2014. There are ten habituated groups of mountain gorillas in the Volcanoes National Park now, and some impossibly cute youngsters have been born. Many more tourist attractions have opened, including the 227km Congo Nile Trail (walking, cycling or 4×4) following the length of Lake Kivu, and visitors can join in traditional activities. Kigali is a safe, clean, sophisticated capital, with high-rise buildings and some striking modern architecture. Unusually, the World Bank's Doing Business Report names Rwanda as the second easiest country in Africa in which to do business, beaten only by Mauritius. School attendance is at its highest ever, and the country even has its own contributory health insurance scheme. Only very faint traces remain of the vulnerable and shell-shocked nation I encountered in 2000.
Of course no one forgets. Every town has its genocide memorial, there is an annual period of mourning in April, and Heroes' Day in February recognises some of the many acts of personal heroism that occurred amid the carnage. Rwanda takes seriously its responsibility to pass on to the world the stark and urgent message of 'Never Again'; the dignified and moving Genocide Memorial Centre in Kigali has informative background material for visitors who want to understand more.
My friend was indeed killed in 1994, as were his father, brother, sister, wife and baby daughter, but I traced other members of his family – including Chantal, who now has three little daughters of her own – and we remain in touch. I hope to visit them later this year. Their older children will graduate from college soon, while the younger ones are part of Rwanda's new, post-genocide generation that will carry the country forward into the future. In only twenty years, Rwandans have achieved an unimaginable amount. I feel so privileged to have been involved.
Want to find out more about Rwanda? Check out our guide to the country:
---
To learn more about Rwanda, explore our comprehensive travel guide: