Written by Chris McIntyre
Greater protection for the rhinos in Botswana, although by no means watertight, has ensured that the Delta's new rhino population has suffered considerably less than rhinos elsewhere in southern Africa.
Until the middle of the 20th century, the white rhino was common in northern Botswana, while the less populous black rhino was still holding its own in the area around the Kwando and Chobe rivers. However, protection was inadequate, and with illegal hunting spurred on by the value of rhinoceros horns on the world market, the animals' presence was increasingly threatened. By 1992, the area's population of black rhino had been wiped out, declared 'locally extinct', and white rhino numbers were down to a critical 19. The future looked bleak.
In response, an anti-poaching operation was set up by the Department of Wildlife and National Parks, backed by the Botswana Defence Force. As a result, the remaining white rhino were removed to wildlife sanctuaries so that they could be protected until the time came when they could safely be released back into the wild.
Then, in 2001, in a collaborative venture between Wilderness Safaris (www.wilderness-safaris.com), the Department of Wildlife and National Parks, and the Botswana government, the Botswana Rhino Relocation and Reintroduction Project was born. Under its auspices, four white rhino were reintroduced on to Chief's Island on 9 November 2001: two females and two males. Over the next two years, a further 16 animals were reintroduced, and as this founder population settled, so the first calf was born. Despite setbacks, the project has paid off, and a healthy population of white rhino is now firmly established both in the Moremi Game Reserve and elsewhere in the Delta.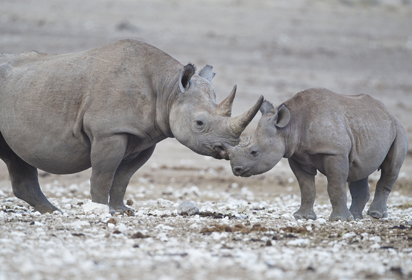 Conservation efforts are working to keep the black and white rhinos from extinction © Yathin S Krishnappa, Wikipedia
Next it was the turn of the black rhino. Almost two years after the project started, in November 2003, four black rhinos were released to roam in the Delta for the first time in well over a decade. This population has also bred but remains small, with sightings very rare. Future reintroductions of animals from either South Africa or Zimbabwe are expected to bolster this breeding nucleus and help build up numbers here as a meaningful conservation initiative.
As both species gain ground, and without being constrained by fences, some are moving away. With the aid of tracking devices, these migrations are being carefully monitored. While for security reasons the location of individual animals is not divulged, it is known that a small group of white rhinos has wandered quite widely and established itself in the Makgadikgadi Pans National Park – where Desert and Delta Safaris has played an active role in introducing an additional animal and monitoring the population. Such movements have prompted the establishment of the Botswana Rhino Ecology Project, with a view to gaining a greater understanding of the distances travelled by both species of rhino, the importance of individual habitats, and their preferred choice of vegetation. In turn, this will provide key information for those engaged in similar projects in the future.
Poaching, though, remains a serious issue. According to Wilderness Safaris, over 700 rhino were killed for their horns in South Africa in 2013 alone. Greater protection for the rhinos in Botswana, although by no means watertight, has ensured that the Delta's new rhino population has suffered considerably less, with just two animals poached – in 2003 – but vigilance remains crucial.