Written by Philip Knowles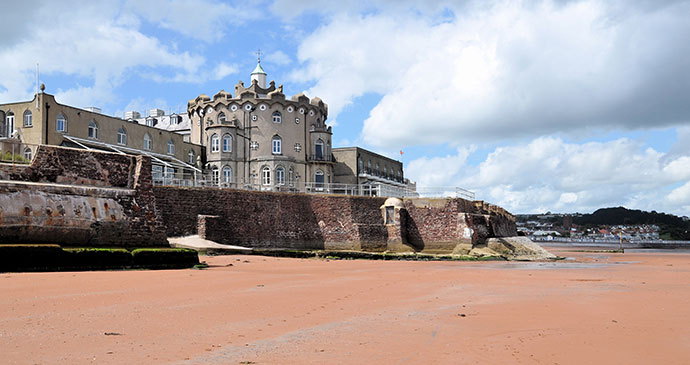 © Ron Ellis, Shutterstock
On the seafront where Paignton ends and Preston begins, the Redcliffe Hotel was built as a private residence in 1856 by Colonel Robert Smith. He had found success in India, and to mark the fact he built in the Indian style – or a fantasy version of it, known as Hindoo. It's a great grey confection of Eastern arches, exotic turrets, pointed windows and Arabesque crenellations.
The Hindoo style stems from the Mughals of central Asia, descendants of Ghengis Khan who founded a golden age of science, arts and architecture; one of their greatest achievements was the Taj Mahal. Mughal architecture uses columns and courtyards, marbles and mosaics, arches, domes and turrets. To the Western eye it is romantic, evocative and elegant but in Torquay Smith's creation must have shocked and bemused the locals.
When Robert Smith started work on his grand design in the 1850s Paignton was a small fishing village. He took an early 19th-century coastal defence tower set on an outcrop of red sandstone among the dunes and marshes and turned it into a sumptuous new home, Redcliffe Towers, with 23 bedrooms and five acres of gardens.
After Smith died aged 86 in 1873 the property changed hands; it was owned for a time by Paris Singer, whose father built nearby Oldway Mansion, and it took in troops during the Boer War. Smith lived an exotic life and left us an exotic legacy. A Torquay amusement arcade is perhaps the only other local example of the Hindoo style. Its proximity is surely no coincidence.