Written by Luciano Di Gregorio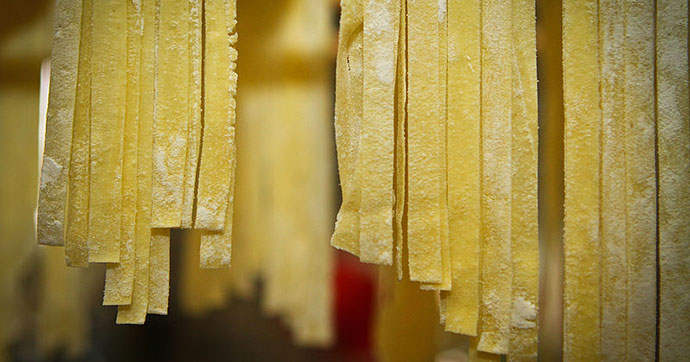 Pasta is a staple part of the local diet © Nan Palermo/Wikimedia Commons.
Pasta is close to the heart of every Abruzzese: not only because it is a daily staple but also because Abruzzo is home to one of the largest pastamaking industries in the country, competing with Liguria, Tuscany and the southern regions of Campania and Puglia. The region boasts no fewer than 13 pasta producers, the largest concentration of which are found in the province of Chieti.
The small town of Fara San Martino is home to Di Cecco and Delverde, two of the nation's largest pasta producers, as well as Pasta Cocco, which makes pasta for the Vatican City.
Generally when pasta is produced on an industrial scale, it is dried at high temperatures to make the pasta rigid and allow it to keep well in packets. In Abruzzo, the most common process is to use bronze drawing blocks that dry the pasta slowly and gently at lower temperatures for as long as 50–60 hours. This helps the pasta develop a slightly rough surface that will hold the accompanying sauce better.
---
Do you want to find out more? Here's a 10% discount on our Abruzzo guide: