Written by Bradt Travel Guides
It's that time of year again when we're preparing to don our salopettes and hit the slopes. Although the resorts in western Europe are great and understandably popular, we like to get off-the-beaten track here at Bradt, so we've created a list of our favourite alternative skiing destinations.
Bosnia & Herzegovina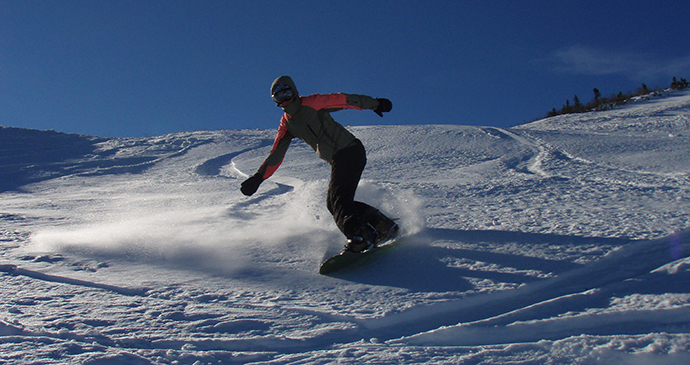 On the slopes in Bjelašnica © Tourist Association of Bosnia & Herzegovina
For some, Sarajevo reminds them of its glorious debut as Winter Olympic Games host of 1984. The glory days have passed for now, but the Olympic-style skiing most certainly has not. While there was considerable damage to Bjelašnica and Igman mountain ski centres, Jahorina went largely untouched – and all three centres offer great skiing and snowboarding for a mere fraction of the cost of ski resorts in the West. The lifts are not high tech and there aren't many posh alpine villas, but no-one can dispute the quality of the slopes, snow and fun to be had skiing on these Olympic mountains.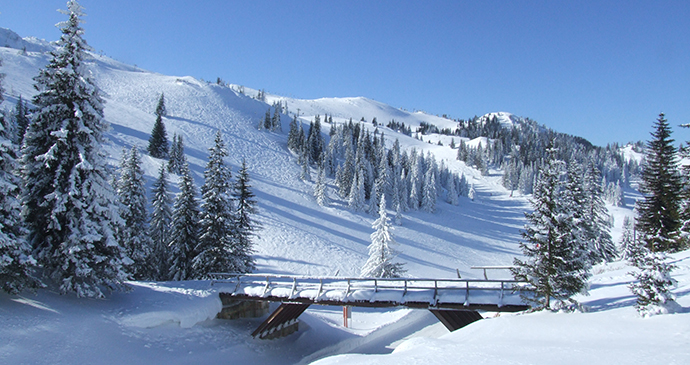 The snowy slopes of Jahorina © Tourism Association of Bosnia and Herzegovina
One of the beauties of skiing in Sarajevo is the proximity of the mountains to the city centre. If you prefer to stay on the mountains, by all means do so, there is a growing selection of excellent accommodation facilities, on Jahorina Mountain in particular. But if you'd like to combine your ski holiday with a Sarajevo getaway, all three ski centres are no more than a 45-minute drive from the city. As the sun sets at between 16.00–17.00 in winter, it's a great opportunity to get the best of both worlds and pop into the city for dinner, a film or a play, or just bar hop before hitting the slopes the next morning.
Bulgaria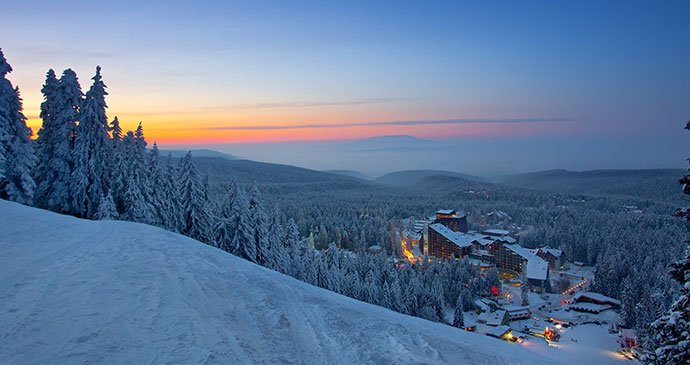 © Borovets Ski Resort
The northern part of the Rila Mountains is the location of the oldest winter resort, Borovets, where there are views across to Mount Musala, the highest peak in the Balkans. Snow cover is generally good from mid-December until April. Now a busy package holiday resort, Borovets has 58km of runs varying in length and difficulty, with something for beginners, intermediates and advanced alpine skiers. There are three main ski areas: Sitnyakovo (1,350–1,780m), Yastrebets (1,340–2,369m) and Markudzhik (2,144–2,550m). The runs at Yastrebets are considered the best and this is where international competitions are held. There are also 35km of cross-country tracks.
Friuli Venezia Giulia, Italy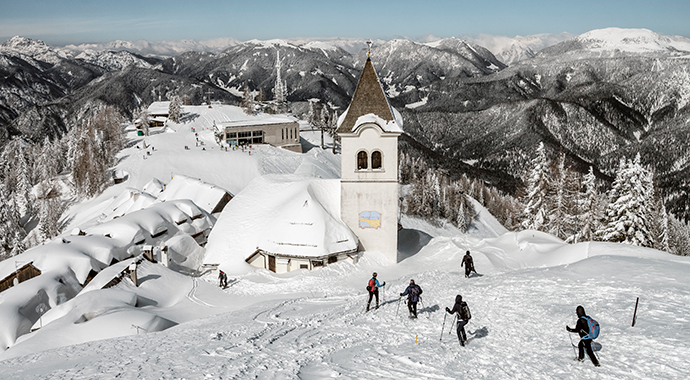 There are 30km of cross-country skiing trails around Tarvisio and 25km of downhill ski runs © Luciano Gaudenzio
Up in Italy's northeast corner, renowned for its pristine cross-country and snowshoeing trails, Tarvisio is the resort queen of the Valcanale – the only valley in Europe, they say, where four languages are spoken (Italian, Friulano, German and Slovenian). Tarvisio stands at the centre of the Foresta di Tarvisio, one of the largest forests in Italy. It's beautiful country, perfect for every sort of mountain activity, and Tarvisio itself, in an open, sunny corner of the valley, makes a perfect base. Dog sledding is particularly popular, and the International Mushing School can arrange lessons and tours. There is also the possibility for snowmobile tours into the wilds, and Tarvisio offers snow park/playgrounds for young children.
Georgia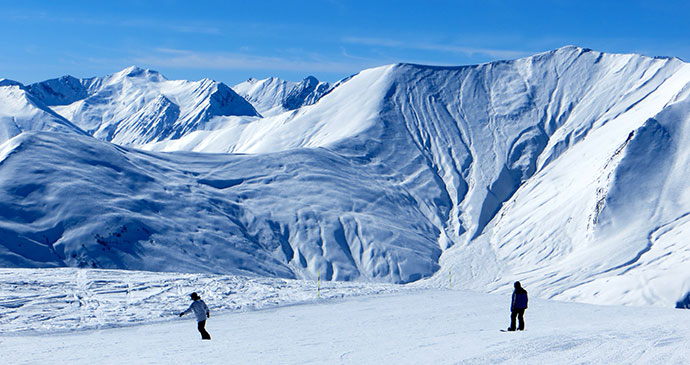 Bakuriani is one of Georgia's best ski resorts © Maria Oleynik
Close to Borjomi in the Trialeti Mountains, Bakuriani is one of the country's best ski resorts with 8km of runs (2.4km easy, 3.8km intermediate, 1.8km difficult) in three main areas. There's a 1.3km run (very difficult at the top) on Kokhta Gora (Pretty Hill; 2,255m) and also ski jumps. You can also take a 3.5km run from the top of Mount Tskhra-Tskharo (2,711m) and from Mount Imerlebi (2,500m). The new Didveli slope is 3km to the southwest (GEL8 by taxi) at the end of Davit Agmashenebelis.
Iran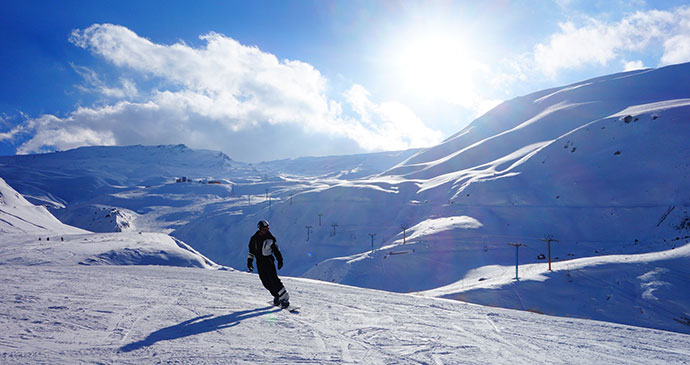 Iran has some wonderful ski slopes © Maria Oleynik
Although renowned for its ancient ruins and fascinating culture, there are numerous mountain-hiking areas and ski resorts in proximity to the Iranian capital , where you can easily spend a full day walking or even stay overnight if you decide not to return to Tehran the same day. The northern suburb of Velenjak is home to Tochal ski and hiking. Known as Bam-e tehran, 'the roof of Tehran', Tochal (3,964m) is the most popular and central Tehrani hiking spot. Getting here requires a taxi ride (up to 180,000 rials) to the corner of Velenjak Street and Daneshju Boulevard. Consider this the '0' station. From here it is a short walk through the parking lot and past a cafe area to where you can take a bus (5,000 rials) or walk around 2km to the first station. From here, yet again you can walk 3.5km up or take the cable car to the second station, where you need to change and purchase another ticket if you wish to continue on to the final, seventh station.
Kosovo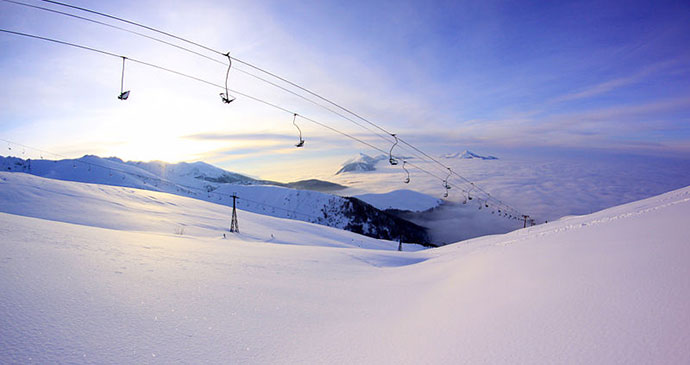 © Snownjeri, Wikimedia Commons
Kosovo's premier ski resort, the Brezovica Ski Centre was built for the 1984 Olympics in Yugoslavia and still provides the best skiing in the country for cheap prices. A manager of a Western ski resort might suffer a heart attack at the absence of safety arrangements as the crowds congregate right on the pistes intermingled with sleds and teenagers shooting down the slope out of control on pieces of plastic. The operating slopes include one beginners' slope and one steep black/red run on the front of the double chair and a red on the backside. The pistes are neither marked, nor groomed. For all these reasons and the absence of snow patrols, helmets are a good idea and while there is great off-piste skiing to be had, small avalanches are not unheard of. Go with a friend and bear in mind that there is no real rescue service and limited health care.
North Macedonia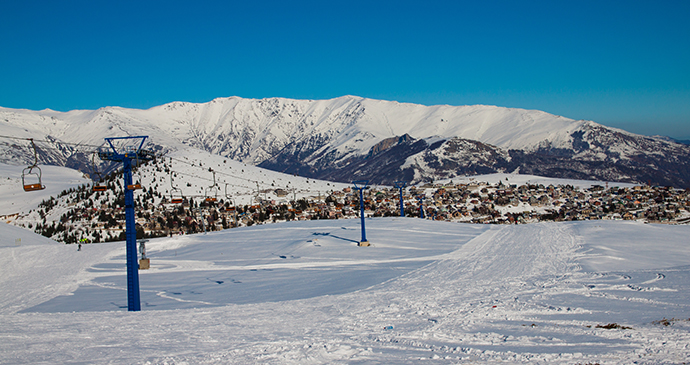 There are many fabulous skiing opportunities at Popova Šapka, one of North Macedonia's most popular resorts © IvanStojmirov, Wikimedia Commons
Popova Šapka lies to the west of Tetovo, 1,000m above the town. In days gone by it was the most successful ski resort in North Macedonia, but it suffered during the conflict years for being in the heart of the predominantly Albanian region of the country. Now, however, facilities are improving and it remains one of the cheapest bases for skiing in Europe. Even if you don't ski or snowshoe, the views of the Vardar Valley from the drive up to Popova Šapka are outstanding. At the top is the new Church of Sv Naum Ohridski Čudotvorec. For skiing, the resort offers 20km of groomed ski runs and over 35km² of terrain for off-piste skiers.
Romania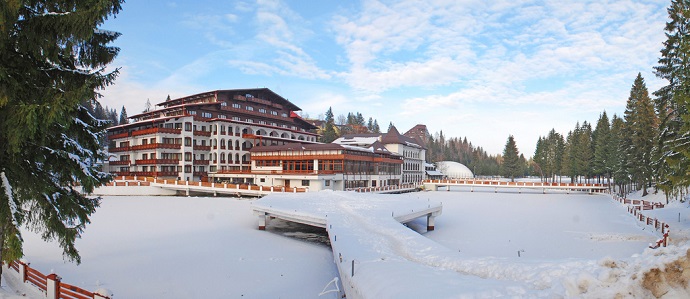 © Fu-Rui, Wikimedia Commons
Located at the foot of Mount Postăvarul, Poiana Braşov in Transylvania is the best-equipped ski resort in Romania. Modernisation in 2010 expanded the ski area and lengthened the slopes. The resort is an excellent destination for families with young children, who can learn to ski on the gentle Bradul slope. Beginners soon progress on to the main ski area and, by the end of the week, most will be skiing all the way back to the village on the long, confidence-building blue run from the top of Christianul Mare. Romanians adore children and this is the perfect, and well-priced winter break destination.
Serbia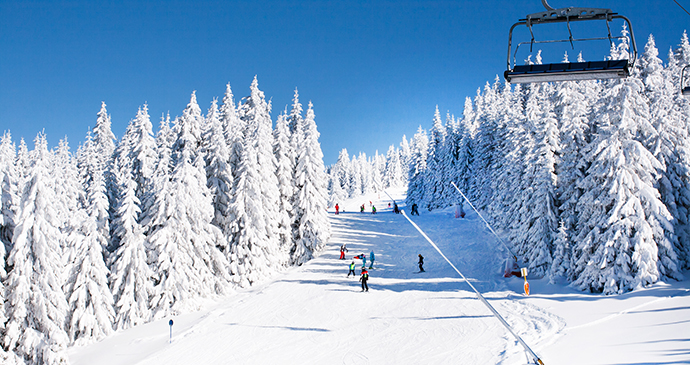 Kapaonik is Serbia's premier ski resort © Nataliya Nazarova, Shutterstock
Serbia's best resort for skiing, Kopaonik provides a total of 44km of runs, with 22 chair lifts and drags. The resort is at an altitude of 1,770m and the highest station reaches 2,017m. There are four nursery slopes. Of the main slopes, 12 are designated 'easy' runs; five, medium; while two are considered difficult. The longest ski run is 3.5km long and the maximum vertical rise is 521m. As well as the vertical ski runs, there are also around 20km of cross-country tracks.
Uzbekistan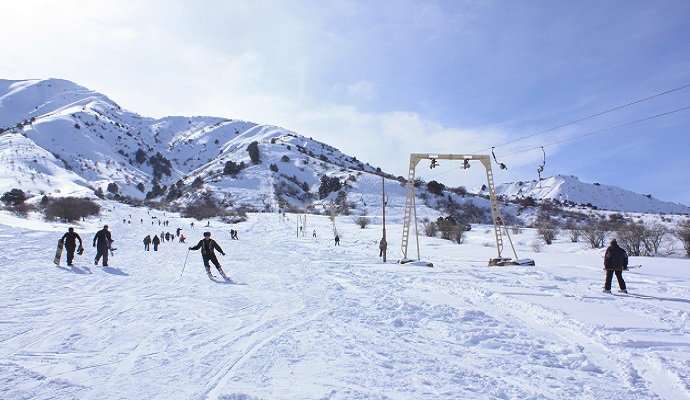 © TwoWings, Wikimedia Commons
From December to March, the Chimgan Ski Resort is packed each weekend with Tashkent's beautiful people and a host of foreign adrenalin junkies. Though not comparable to European resorts in scale (there are only half a dozen or so slopes, none more than 1,500m in length), it's a popular excursion nonetheless and a cheap place for beginners to develop a taste for the powder. The majority of skiers take the chairlift up Great Chimgan (3,309m), the highest peak, to race down the Kumbel track, but it is also possible to fly up to 3,000m and be deposited on virgin snow. Asia Adventures has heli-skiing packages from US$500 per day but, if your budget won't stretch quite that far, a day's lift pass is a snip at US$10. Ski and snowboard gear is available to hire. Central Asia's premier winter sports festival takes place here, and attracts a mixture of professional and amateur skiers, snowboarders and mountaineers.
Gulmarg, The Kashmir Valley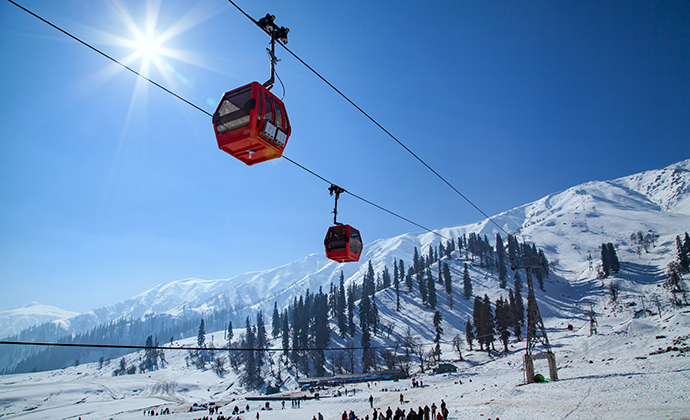 Gulmarg is an increasingly popular destination for budget ski holidays © ImagesofIndia, Shutterstock
Gulmarg is India's winter sports capital and if you're heading there in the winter, the chances are that you are coming to ski. Ski passes are a fraction of the price of those in Europe, the ski season lasts until April and the snow is very reliable, the slopes are gloriously uncrowded, and you can start from a dizzying height of 4,267m. Even if you're a pro, tuition by the Indian Institute of Skiing and Mountaineering might prove tempting given the low prices. Heli-skiing is also increasingly popular in the resort, and surprisingly affordable (though make sure you are adequately insured).
---
Start planning your alternative ski holiday with 10% off all our guides: