Written by Jonathan Scott
"You have to pick the person you share your story with, they have to earn the right to hear your story – otherwise you tell them your story and they zap you – people don't understand, they think you are a whack job." Carole Wyman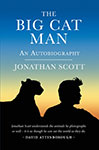 It is one thing to write an autobiography, quite another to figure out why you wrote it. Isn't it an indulgence to think that your memoir is of interest to others? Isn't it rather like imagining that anyone might really like to see your holiday photos? Even if you think you have a good reason to write a personal history – to inspire people to follow their dream perhaps – it would be foolish not to dig a little deeper, to try to identify the less obvious reasons for wanting to share the intimate details of your life with strangers. As our friend Carole Wyman noted: "You have to pick the person to share your story with…..otherwise they zap you!" Some people write for the money. Others because they enjoy the discipline of putting pen to paper: remember when writing a letter was an everyday part of life, the joy of sharing news with loved ones or distant friends, of spinning a yarn? And me? Becoming an author, let alone writing an autobiography, never seemed likely for someone who barely scraped 'O' Level English and to this day has no sense of grammar. While I could draw like an artist from an early age, writing and spelling came late and then only with a good deal of cajoling from a Godmother who had been a teacher. When I failed the entrance exam to Christ's Hospital, the famous "bluecoat" school in West Sussex that my father, aunt, sister and godfather had all attended, family and friends rallied round to ensure I did not stumble a second time.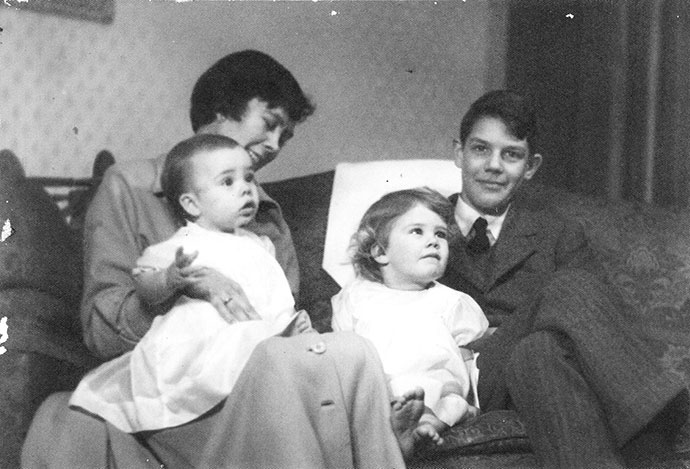 Jonathan as a child, far left.
One thing I did know was that England was not for me. As a born chatterbox, the famous English reserve left me cold, as did the prevailing work ethic of "lean on your shovel and let someone else do the work, mate". I wanted a life of adventure combined with a window on to wilderness. That meant Africa, preferably careering around in the bush looking for big cats just as I had seen Armand and Michaela Dennis doing On Safari on the telly. Having graduated with a decent degree in Zoology from Queens University in Belfast and spent a year exploring the North American landscape, I signed up for a fourteen week overland journey from London to Johannesburg in 1974. Six thousand miles later – and having sold my onward boat ticket from Cape Town to Sydney – I spent an idyllic few weeks living on a luxury houseboat (the Sitatunga) stationed in the Okavango Delta, a wildlife wonderland known as the jewel of the Kalahari. During my time on the Sitatunga I had the good fortune to meet the author Wilbur Smith who has a deep affinity and love for Africa. Forty years later while writing The Big Cat Man I came across a wonderfully eloquent commentary on his craft in which he quotes the advice of Charles Pick, his first publisher and mentor who became his literary agent:
""Write only about those things you know well." Since then I have written only about Africa… He said, "Do not write for your publishers or for your imagined readers. Write only for yourself." This was something that I had learned for myself. Charles merely confirmed it for me. Now, when I sit down to write the first page of a novel, I never give a thought to who will eventually read it. He said, "Don't talk about your books with anybody, even me, until they are written." Until it is written a book is merely smoke on the wind. It can be blown away by a careless word. I write my books while other aspiring authors are talking theirs away. He said, "Dedicate yourself to your calling, but read widely and look at the world around you, travel and live your life to the full, so that you will always have something fresh to write about." It was advice I have taken very much to heart. I have made it part of my personal philosophy. When it is time to play, I play very hard. I travel and hunt and scuba dive and climb mountains and try to follow the advice of Rudyard Kipling: "Fill the unforgiving minute with sixty seconds' worth of distance run." When it is time to write, I write with all my heart and all my mind."
I certainly achieved a flying start with my first real book, The Marsh Lions (1982), co-authored with Brian Jackman, who at the time was an award-winning wildlife and travel correspondent with the prestigious Sunday Times. The Marsh Lions was based on my meticulous notes covering five years in the company of the Maasai Mara's big cats that had been my obsession since childhood. It was Brian who tutored me in the rudiments of becoming a scribe: "You need structure: a beginning, middle and end", he counselled. And it was Brian who helped temper my tendency to want to delve in to the finer details of animal behaviour at the expense of the narrative flow. He questioned whether I was writing for my chums at the Serengeti Research Centre at the expense of the general public, my primary audience. Learning to integrate the science with the narrative was something that took time for me to embrace.
Another person who played a pivotal role in making me believe I could become a writer was Harold Hayes, who for 17 years wrote for Esquire magazine, ten of them as editor. Hayes had written a natural history classic called The Last Place on Earth. In this, Hayes followed in the wake of Dr Bernhard Grzimek of Serengeti Shall Not Die fame as he cut a brisk pace across East Africa, searching for answers as to how man and beast can survive in a world where humans demand ever more space. He was a masterly storyteller, deftly juggling the different strands and balancing his own personal journey of discovery with details of his day-to-day existence, all the while unravelling the mysteries of science and cajoling sound bites from his human subjects. He made the story of the Serengeti a parable of life on earth, a catalyst encouraging me to try to see the bigger picture – the whole landscape, the one visible to the human eye as well as the landscape within.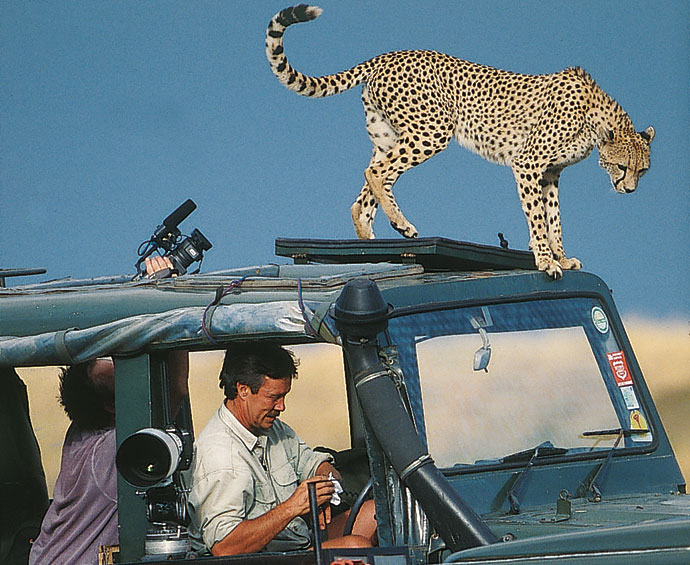 The infamous moment with Kike © Jonathan Scott
I first met Hayes in Nairobi and then on one of his visits to the Maasai Mara while I was working on The Leopard's Tale (1985). After the success of The Marsh Lions I was determined to author my next book on my own. Hayes was full of encouragement, saying that all I really needed to do was to write as I talked, with emotion as the essential ingredient binding the words together. He knew that I had a unique story unfolding right before my eyes. Listening each evening as we chatted around the campfire, witness to the excitement in my voice as I recounted what I had seen, he assured me that there was no reason to ask someone else to write the book for me. "This is your story as much as it is the leopards'. Draw on all your passion and love for your subject – own it."And so I did.
While I have grown to love writing natural history narratives about animal characters that Angie and I have followed over the years such as the Marsh Pride of lions, the leopards Chui and Half-Tail, along with the cheetahs Kike and Honey and Honey's adorable cub Toto of Big Cat Diary fame, telling my own story would be to grapple with a very different beast; an attempt to gain greater clarity as to the nature of the person I really was – or thought I was. I had battled with an obsessive fear of dying in the wake of losing my father when I was two years old, bringing a darkness to my otherwise optimistic demeanour that would hold me prisoner for 30 years. Nothing could shake that fear, no matter how many medical tests and consultations I put myself through. Coming to terms with that reality would be far more challenging than anything I might face in the African bush, whether a charging elephant or angry leopard. Perhaps my story might help others bedevilled by nervous suffering to seek help.
Writing my story was just the beginning. Finding the right publisher proved to be an elusive creature best left to the professionals. My faithful literary agent Jonathan Pegg dug deep to source the right match after initially encountering a high level of resistance. The majority of the publishers Jonny approached felt the combination of autobiography and inspirational memoir too awkward in the marketplace. The problem it seemed was that the autobiography I wanted to write was a more fulsome account of my life than my celebrity as a wildlife author and presenter of Big Cat Diary merited. People knew me as "the bloke the cheetah crapped on" from my encounter with Kike the car-climbing cheetah of Big Cat Week 2003; surely my potential audience wanted to hear stories of derring-do among large and dangerous wild creatures rather than of growing up on a farm in Berkshire. One thing I do know is that at 67 I had reached that time in life when I was eager to give back, to make the transition from following my personal dream of living with wild creatures to trying to find a fulfilling role as a conservationist and spokesperson for Africa's wild places, in particular the Maasai Mara National Reserve in Kenya and the Serengeti National Park in Tanzania. I wanted to acknowledge in a tangible way the gift that Angie and I had received in being able to spend so many years living and working in the Mara-Serengeti; to try to ensure that this last great wild place might survive the pressures that are currently threatening its very future.
Fortunately, Managing Director Adrian Phillips and Commissioning Editor Rachel Fielding at Bradt Travel Guides believed there was a book in there somewhere, and they worked hard to ensure it came to fruition. The generous support of our sponsors at Canon Europe enabled the team at Bradt (along with our son David, who created the Design Concept) to produce a truly elegant and beautiful book.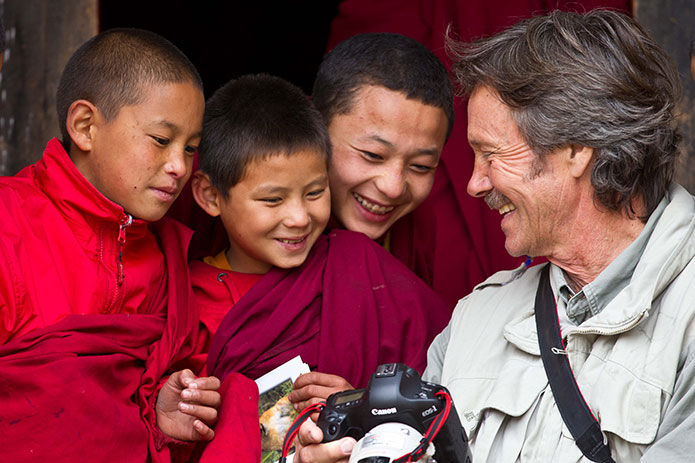 Novice monks in Bhutan admiring photos of themselves © Jonathan Scott
Roderick Haig-Brown noted in Measure of the Year that "When all is said and done, a writer can have no more serious purpose than to stir echoes in his readers, to touch thought and ideas that might otherwise have remained idle and forgotten at the back of the mind. It is a rare book that changes a life, a poor one that adds nothing to it." And in Michael Katakis' introduction to Sacred Trusts: Essays on Stewardship and Responsibility, he says: "We all have a sacred trust to the future to stir those echoes in ourselves and others and, perhaps most importantly, to inspire" – whether through the written word or tales told around the campfire.
Click here to buy Jonathan's The Big Cat Man.