Written by James Lowen
Sprawled on the floor of a Kent woodland, elbows scratched and knees soiled, I admire a beautiful lady. Quite the Victorian dame, she wears a white petticoat, fringed magenta, and her face is shaded by a burgundy bonnet. A lady orchid, at her finest.
Between 50 and 60 orchid species grow in Britain; the number varies with the rhythm of disputed taxonomy. Wherever the true figure lies, it is manageable: sufficient variety to get us hooked, without being overwhelming. As a first step into the plant kingdom, orchids excel.
Wasp orchids are a variant on their bee counterpart, with long, narrow tapering lips and elongated sepals © James Lowen
For a start, orchids are widely distributed. You can see them from Cornwall to Orkney and the Western Isles to Sussex. They grow in beautiful places. Visit chalk downlands to enjoy pyramidal orchid, heathland mires for bog orchid, Chiltern beech hangers for violet helleborine and Caledonian pine forests for lesser twayblade.
Diversity peaks in May–July, but orchids can be seen across most months. Dorset's first early spider orchid may bloom as early as March, and Berkshire's final autumn lady's-tresses whirls through September. Orchid gatherings can be immense: 50,000 green-winged orchids transform Kent's Marden Meadows into a purple haze.
Orchids vary enchantingly in size, shape and colour: be mesmerised by a bonsai musk orchid just 5cm tall or by a lissome lady orchid topping a metre. Inspect an orchid flower spike closely for a treat. You may discern florets resembling monkeys, bees, spiders or lizards (in addition to Victorian ladies). This is pure evolutionary and ecological wonder: some orchids exaggerate features of insect pollinators to coax them into 'mating'.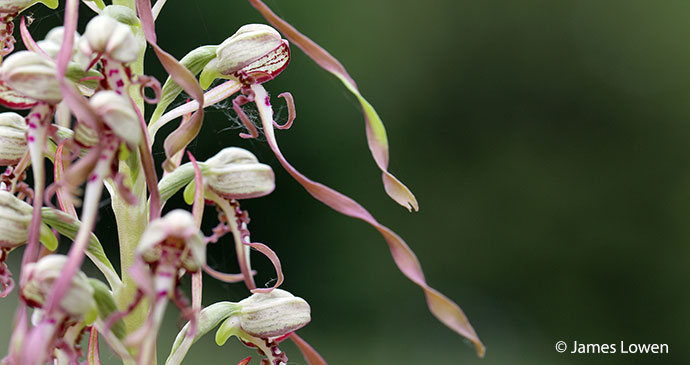 With its reptilian tail and odour of goat, the lizard orchid is one remarkable plant © James Lowen
Erotic and exotic in equal measure, orchids are also steeped in mystery. How did the sawfly orchid – a Mediterranean plant – discovered in Dorset during 2014 get there? (It is not as if flowers can fly!) When, if ever, will ghost orchid flower again?
Several species have distinctive variants. None is more dramatically different than the 'wasp' orchid, a rare and graceful take on the bee orchid. Indeed, rarity caps orchids' undoubted allure – often to their detriment, as collection remains a live threat. Fen orchid now survives in just a couple of areas. The tropical-looking lady's slipper has been introduced to Lancashire's lime pavements to alleviate visitor pressure on the two remaining wild plants. Go see them, and rejoice.
Want to know where to find a beautiful lady? Find out in James Lowen's new book, A Summer of Wildlife.