Written by Bradt Travel Guides
Oman has a long silver-smithing heritage. The material has been used for centuries, and expertly handcrafted into articles of jewellery and ornaments, perhaps the most famous of which is the khanjar, a curved dagger, worn by men. In the past, Omani men as well as Omani women wore decorative silver. They carried keys on fine chains, had silver money holders, tweezers in silver cases, silver toothpicks and ear cleaners on silver chains.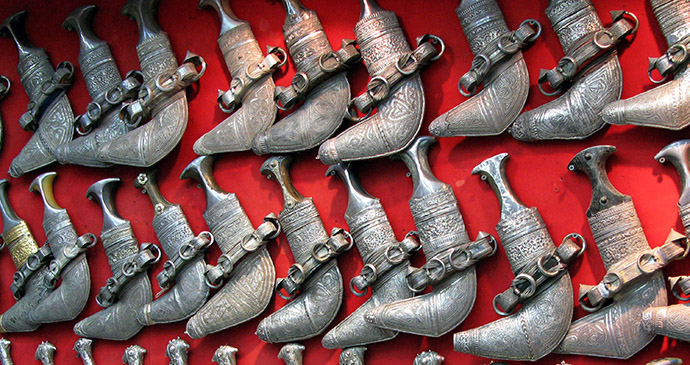 Khanjars for sale in Mutrah's suq © ChameleonsEye, Shutterstock
Most of the old silver was unfortunately melted down before traders realised the value of antique silver pieces, so there is remarkably little genuine old silver left. Experienced Omani silver dealers can tell whether a piece is from Al Batinah, Ash Sharqiyyah or Dhofar. Headpieces can be very heavy, weighing 2kg or more, and are worn on special occasions, usually when seated. Dhofari bracelets are adorned with coral beads and spiky silver washers threaded on to elastic. Women's silver necklaces often display Koranic inscriptions, and amulets, anklets and bangles are all intricately engraved. Other articles fashioned from silver include rose-water distillers, incense burners, trays, small engraved silver boxes (used for storing kohl or jewellery) and coffee pots (also made from copper).
---