Written by John Ruler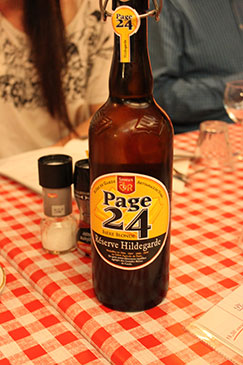 France may be known for fine cheese and wine, but Nord-Pas de Calais is strictly beer country, with the one small wine-producing project near Guines eventually fizzling out. Christophe Noyen's award-winning brewery Brasserie Artinsanale des 2 Caps (www.bieredes2caps.com) promotes the idea of beer complementing certain varieties of cheese (as well as main courses). And in a shrewd move, his four distinctive brands are now sold in conjunction with Phillipe Olivier, whose famous fromageries in nearby Boulogne and Lille reflect 100-plus years (and four generations) of producing cheese.
Located in delightful rural surroundings at Tardinghen, lying between Cap Gris- Nez and Cap Blanc-Nez, the craft brewery is a throwback to the beginning of the 20th century when there were just over 1,000 breweries in Nord-Pas de Calais, of which seven were based locally.
(Photo: Nord-Pas de Calais is strictly beer country © Bradt Travel Guides)
Nowadays a more scientific approach to beer-making is adopted by Christophe, who originally opened the brewery in 2003 using a Belgian brewer, before investing in his own equipment. Born in 1964, he came from rural stock. His father farmed on the site, and his grandfather, who ran a now-defunct alcohol distillery at nearby Audembert, fuelled his idea for a brewery.
But it was not until Christophe was 37 – after working with the giant Dupont company – that he took an eight-month beer-making course at a Belgian university. Gaining experience with small Belgian breweries, he created his own brands which were brewed first in Belgium to test the market. Now with his own equipment, he uses barley from the farm for his four labels. These include: La 2 Caps (6%), a flavoured pure-malt beer for use as an aperitif or to accompany country-style cooking such as mussels, herrings, poultry or stews; La Blanche de Wissant, at 4.5% a weaker white light beer, brewed with soft winter beer and malted barley, ideal for drinking cold in summer and year round with fish, shrimps and shellfish; La Noire de Slack (5.4%), a black beer made from roasted barley with a slight but distinctive taste – it goes well with smoked fish (it is exported to the Danes), oysters and red meat dishes.
Finally La Belle Dalle, bearing the farm's own mark, rates 8%. A high-quality singlemalt limited-vintage beer with a unique recipe and brewing method, it is ideal as an aperitif or after-dinner drink and goes well with cheeses, including the ubiquitous Maroilles. This can be stored as an investment in a light-free cellar with the vintage recognised in much the same way as wine.
Christophe's guided tours provide not just the taste – literally at the end of the visit – but an insight into the character of the Deux Caps countryside.