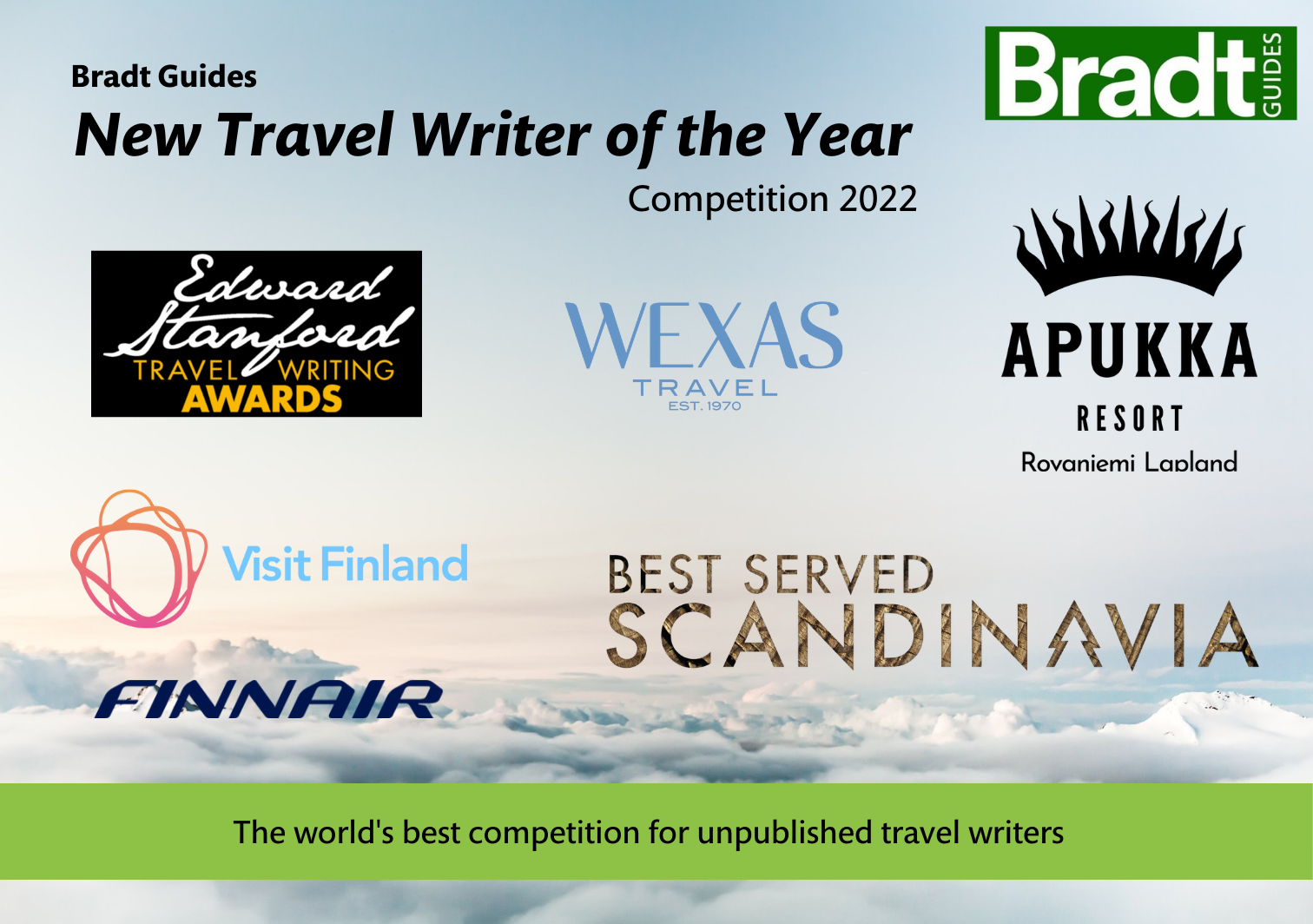 Entries to this year's competition are now closed. Please check our Competitions page for news of the long- and shortlist announcements.
For over twenty years, the Bradt Guides 'New Travel Writer of the Year' competition has been seeking out and championing new writing talent. Previous winners and finalists in the competition have gone on to see their work published in newspapers, travel magazines and books.
As the world is beginning to open up and travel once again seems possible, there has never been a better time to get involved. As previously, we've teamed up with the Edward Stanford Travel Writing Awards to offer this unrivalled opportunity for unpublished travel writers.
The theme
The theme for this year's competition is It was Strangely Quiet. Entrants are invited to submit an original piece of writing of between 600 and 800 words that focuses on this topic. It is not compulsory to include the phrase within the body of the piece itself, but the piece must very clearly adhere to this theme. Please note that 'It was Strangely Quiet' should NOT be the title of the piece – each entry must have an original title.
The piece must be a true story, based on the writer's personal experience and written as a first-hand account, in the first person and in English.
The prizes
Three finalists will be invited to attend the Edward Stanford Travel Writing Awards in London in early 2022.
The overall winner will be crowned our New Travel Writer of the Year, have their piece published in Wexas' Traveller magazine, win a £100 Bradt voucher and a 3-night stay for two at the magnificent Apukka Resort in Rovaniemi, Finland, courtesy of Best Served Scandinavia. This includes:
Return economy flights from London to Rovaniemi with Finnair
3 nights in an Aurora Cabin on a half-board basis
Return airport shuttle transfers
Northern Lights aurora hunt
You can find more details of the prize and when it can be redeemed on our terms and conditions page.
Buy tickets
Click here to buy your entry to the competition and receive a FREE copy of Travel Write, the newly published anthology of previous finalists.
Full instructions on how to enter the competition will be emailed to you on purchase, together with a coupon to redeem your free book.
The judges
Judges for this year's competition include:
Hilary Bradt, founder of Bradt Guides
Adrian Phillips, MD of Bradt Guides
Janice Booth, author of several Bradt guides
Amy Sohanpaul, editor of Traveller Magazine
Jonathan Lorie, travel-writing trainer and author of The Travel Writer's Way
Hugh Brune, head of sales and marketing at Bradt Guides
Before you enter
To give yourself the best possible chance of success, have look at preliminary judge Janice Booth's article about what the judges are looking for from 2016. You can also read all of last year's longlisted entries. Still not sure whether to throw your hat into the ring? Read Jonathan Lorie's article on travel writing competitions.
Am I eligible?
The competition is open to unpublished writers only. We define this as someone who has not previously been paid for a travel-related piece of writing published either in print or online. There are always grey areas with this, so for further clarification please see the competition rules here, and if you're still not sure get in touch.
The small print
Entry fee: £15 (for which you also receive a copy of Travel Write).
Deadline for entries: 28 November 2021.
Full details of how to submit your entry will be sent upon payment of the entry fee. You will also be sent a voucher with which to claim your copy of Travel Write. You can order either the ebook or print edition – NB if you order the print edition you will need to pay a delivery charge on top of your entry fee. You can see our delivery charges here.
For full terms and conditions, see this page.
Expert feedback
Once again we are offering entrants to the Bradt Guides 'New Travel Writer of the Year' competition the opportunity to receive detailed expert feedback on their entry.
Jonathan Lorie is a former editor of Traveller magazine who has written for the Guardian, Independent, National Geographic and Conde Nast Traveller, among many others. As well as running the Travellers' Tales training courses he has been a judge of the Bradt Guides 'New Travel Writer of the Year' competition for many years and will take on the role again in 2022.
Jonathan's book The Travel Writer's Way was published in 2019. This unique, practical 12-step programme has helped readers develop their travel writing through enjoyable creative exercises and expert tuition. It features exclusive interviews on the craft of travel writing from several notable professional writers including Paul Theroux, Robert MacFarlane, Colin Thubron and Sara Wheeler.
Jonathan is offering a half-hour telephone or Zoom call in which he will discuss the strengths and weaknesses of your entry, possible next steps for your travel writing and answer any questions you may have. Price: £35.00 + VAT
For more information and to request feedback on your entry, please contact harriet.solomon@bradtguides.com. All feedback calls will take place after the winning entries have been announced, at a time to be agreed between Jonathan Lorie and the entrant.