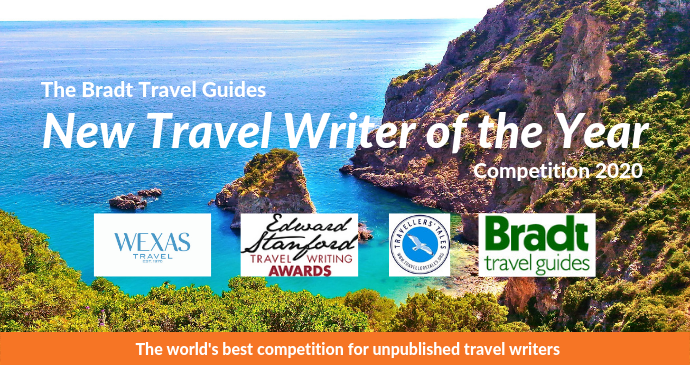 Here they are – the 20 talented writers who've made it on to our New Travel Writer of the Year longlist. Once again, the standard has been very high (we say this every year, but every year it's true!) and it has been a tough job whittling down the large number of entries to just 20. You can read the thoughts of Janice Booth, preliminary judge and Bradt author here.
Longlist
Emma Reed – So I Say Thank You for the Music
Kirsten Braund – Misfortune cookies
Kate Marsden – Snake hunt
Christopher Walsh – Of Straws That Break Camels' Backs
Ruth Elliott – Bridge Over the Amu Darya
Angela Barber – The Sky Beneath
Robin Evans – Ice Spy
Javi Reddy – The Wedding in the Woods
Andrew Macoustra – In pursuit of lithium on the Holy Mountain
Megan Brownrigg – A Curried Favour
Morna Sullivan – Return to Sorrento
Marika Allen – Climbing High
Mairi McCurdy – A Generous Solitude
Amanda Huggins – This is Hope
Deborah Gray – Only in India
Chris Baker – Just Visiting
Andrew Dennis – The Raid
Felton Black – Ode to Joy
Joanna Griffin – The Helsinki Heist
Kirstin Zhang – Closer to Home
What happens now?
Now the judging process becomes even more difficult… The six judges will read and re-read the longlisted entries, and then grade and score them according to various criteria. Apart from the general readability and interest of the story we look mainly for three things: a vivid description of an incident of travel, with a good balance between 'telling' and 'showing'; a well-shaped piece, with strong opening and closing sentences and the stipulated phrase, 'and then it happened', forming some kind of focus; and good use of language, with well-chosen words and careful polishing. And then there's that indefinable something, or 'oomph' that makes a story stand out from the others.
And then we meet in person at Stanfords bookshop for a vigorous brainstorming session, at the end of which we'll have our three finalists. The shortlist will be announced on 10th December, along with the other category shortlists in the Edward Stanford Travel Writing Awards. The three finalists will be invited to attend the awards ceremony at the London Transport Museum on 20th February, at which the overall winner will be announced.
The writer of the top-placed story will win a fantastic break for two, courtesy of Wexas and TAP Air Portugal, as well as a commission to write an article about their trip for Wexas Traveller magazine. All three finalists win a place on the next Bradt Travel-Writing Seminar, run in conjunction with Travellers' Tales.
What if I'm not on the longlist?
Firstly, thank you for entering. We enjoyed reading all the entries and only wish there could be more winners. And, most importantly, don't give up! As already noted, the standard was very high this year, and to have completed an assignment to a deadline is an achievement in itself – exactly the sort of discipline you'll need to succeed as a travel writer. Janice has alluded in her article to certain pitfalls that caught out some writers. A few entrants hadn't taken quite enough time polishing or reading our guidelines, a few were a bit careless with language, and some grafted 'and then it happened' rather awkwardly on to their story. If this was you, you'll know how to come back stronger next year.
Finally, if you haven't yet read The Travel Writer's Way by Jonathan Lorie, one of this year's judges, then you owe it to yourself. And you could also check out our travel writing anthologies, which showcase great travel writing, including some pieces by former winners of this competition. The Bradt travel writing anthologies are: The Irresponsible Traveller, To Oldly Go, Roam Alone, Beastly Journeys and Kidding Around. Don't forget, our Black Friday sale begins at midnight tonight and lasts all weekend. There is 50% off everything on our website, so dive in!
Special Mentions
The following nine entries didn't quite make the longlist, but parts of their entries still caught the eye of the judges. So congratulations to these writers too!
Marie Noonan – The Stars of Heaven
Lindsey Liles – Dusty Dreams
Clare Spruce – Illumination
Lindsay Narey – Untitled
Denise Power – The Accidental Alpinist
Moira Ashley – Hunger Games
Lauren Hatch – Force of Nature
James Patterson – Greyhound
Vanessa McDonnell Garcia – A Witches' Cove