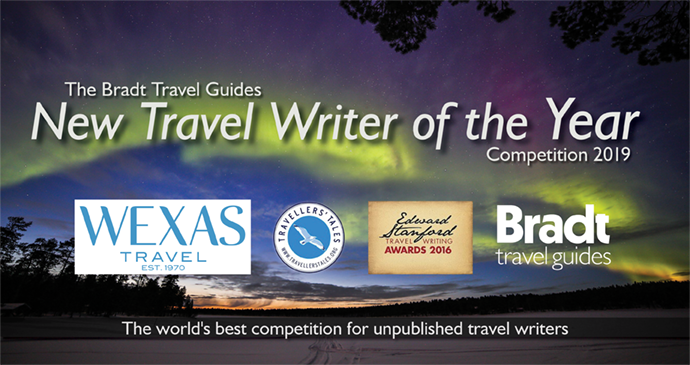 The time has come to reveal the longlist for our New Travel Writer of the Year competition! The standard has been really high this year, and the judging panel had a tough time coming up with this list of 20 entries. You can read some thoughts from Janice Booth, preliminary judge and Bradt author, here.
These 20 entries have successfully reached the final stage of judging, at which seven judges will (with great difficulty!) pick a shortlist of three, who will be invited to the awards ceremony in London in late February, at which the winner will be announced. Already they are carefully reading and re-reading the individual entries in preparation for their meeting next week, and there will certainly be heated discussion as entries and scores are compared and debated. The judges will then grade the 17 non-shortlisted entries as 'Highly Commended' and 'Commended' and they'll appear on the website as such. We've also added the names of a further ten or so entrants who didn't quite merit 'Commended' but whose entries still deserve a mention! The names of the entrants are withheld from the judges until all the judging has been completed, to preserve anonymity throughout, so the longlist below appears with no names, only the titles of entries.
Longlist

SPECIAL MENTION
These ten entrants didn't quite make it into the Long List but their entries all contained good writing that we felt deserved a mention, so congratulations to them as well.
The Trouble with Immortality – Matthew Dawson
The African Sky – Anisa Dhanji
A Morning at the Opera – Thejano Lotha
The Mermaid – Keith Ruffles
Chorus by the Norfolk Seaside – Sally Hewitt
The Will of Poseidon – Mallory Lee
California Dreaming – Kezi Victoria
Por Alli – A Grandmother's Guidance – Ruth Cox
Deep Freeze in the Carpathians – Joanna Griffin
So, what should we say to the entrants who haven't made it into the Long List? First of all, we have enjoyed reading all your entries. Many contained strong, vivid images and absorbing stories, and showed excellent travel-writing potential.
The most common reasons for not coming higher were either not incorporating the theme adequately or not shaping your entry well enough. The theme needs to be relevant to the whole of the story; and a carefully shaped piece should include a strong opening, a systematic general structure and a well-rounded ending. Some entries would have benefited from more vigorous polishing, while others didn't 'paint a picture' to show the reader their location. A few were too much like descriptions taken from a guidebook, and some entrants seemed not to have read the advice and examples of previous winning entries given on our website. But there were far more good entries than poor ones.