Written by Bradt Travel Guides
The three finalists in our New Travel Writer of the Year competition, Joanna Griffin, Alan Packer, and Chris Walsh, joined representatives of Bradt, Discover the World, Timeless Travels Magazine and Travellers' Tales at the Edward Stanford Travel Writing Awards night in London Olympia's Pillar Hall on 1 February.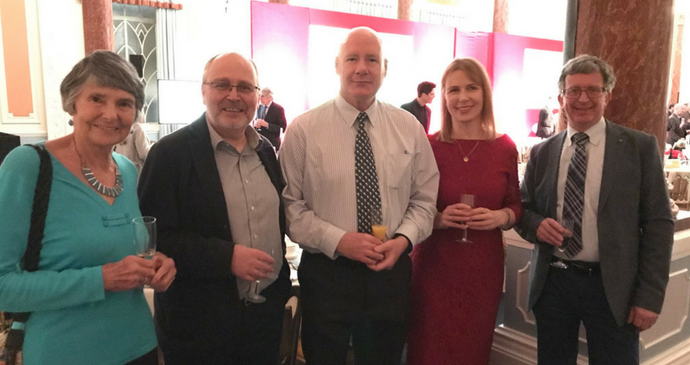 Finalists Joanna Griffin, Alan Packer and Chris Walsh with Hilary Bradt and Travellers' Tales' Jon Lorie. © Fiona Richards
In front of a crowd of industry professionals and famous travel writers, Georgina Hancock, Discover the World's Product and Marketing Director, took to the stage with our founder Hilary Bradt to announce who would be taking home one of the coveted Edward Stanford antique globe trophies.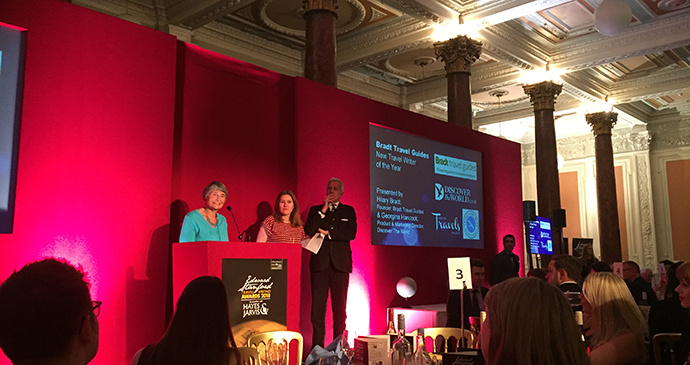 Hilary Bradt and Georgina Hancock revealed which of our finalists would be taking home the top prize. © Bradt Travel Guides
Each of our finalists were hoping to win our top prize of a trip to Swedish Lapland courtesy of Discover the World, but there could only be one winner…
Alan Packer came top of the field this year with his story The Village Sledge Run, which was described by Hilary Bradt as being 'interesting, funny without being laboured, and perfectly shaped'. Here's what Alan had to say about winning the award:
"Until the Bradt New Travel Writer of the Year Competition my writing had been limited to travel notes shared with family and friends. One friend encouraged me to enter the competition and now I am astonished and thrilled to have won! Significantly, the whole process has transformed the way I think about writing and my future; the initiative from Bradt has opened a new exciting chapter of life."
You can read Alan's winning piece, as well as those written by our other shortlisted candidates, here.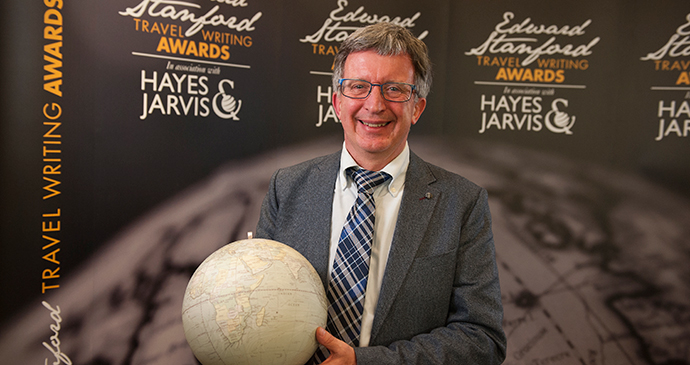 Alan Packer's story of a sledge run in a Kosovan village came top of the pile this year. © Edward Stanford Travel Writing Awards
All three finalists win a place on the Bradt Travel Writing Seminar in association with Travellers' Tales, and Timeless Travels Editor Fiona Richards was so impressed with the high quality of writing that she has agreed to publish not just the winning entry, but the other finalists' pieces too.
Congratulations, Alan!
---
If you're a budding travel-writer make sure you sign up to our e-newsletter to be the first to hear about any future competitions.
For a special offer on a digital subscription to Timeless Travels magazine click here.
If you have any questions about the competition, including the judging process, please contact holly.parsons@bradtguides.com.