Written by Bradt Travel Guides
Earlier this year we ran our My Perfect Day competitions to celebrate the release of two updated titles in our Slow Travel series. Read the winning entries here!
---
My Perfect Day in the Cotswolds

The prize for the My Perfect Day in the Cotswolds was an overnight stay for two at the Three Ways House Hotel, home of the world famous Pudding Club!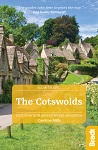 My Perfect Day in the Cotswolds by Penny Roberts
I awake to glorious skies over the Evenlode valley, that patchwork of fertile fields leading to the mighty Thames. I stroll to Longborough's wonderful community shop to buy local eggs, bread, butter, milk and gorgeous honey for breakfast, while enjoying banter with Mary, our lively shop manager and her cheerful volunteers. Such a good start to the day!
Then I am uplifted by Choral Matins in the noble wool church in Chipping Campden where the voices of the choir soar to the rafters. So extraordinary to think the honey-coloured stone houses of this busy town were saved from dereliction by the Arts and Crafts movement. In Stow-on-the-Wold I browse briefly in the Borzoi Bookshop, purchase my 'Slow' guide and have a coffee at Huffkins while I plan my day.
I collect my grandchildren for our favourite walk from the Rising Sun on Cleeve Hill, up the rocky scarp and over to the Sheep Dip above Postlip Hall. As we walk looking for fossils, I pick up a likely piece of limestone and find two miniscule starfish embedded in it. Magic!
The Sheep Dip is a pretty spot where the River Isbourne rises between quarried hills and the water sparkles and chuckles; it is perfect for a picnic with further local goodies: ham, smoked salmon, then Vale strawberries and Donnington cream, washed down with Cotswold elderflower cordial.
Invigorated by a chilly paddle we return and although the climb is steep it is worth it. I am entranced by the fabulous panorama laid out before me, stretching as far as the Malvern Hills, those volcanic stumps of millennia ago. The silver Severn wends its way seaward and I think of how the waves once crashed against the undercliff below me. We return via the stunted trees known as the Three Sisters, a landmark of my childhood riding days.
A visit to Sezincote house and gardens brings a change of tempo – such a contrast to the wildness of the Wold. A touch of the exotic, transported to a gentler place, this 'home of the oaks' replicates a moguls palace. Tranquil lawns and water punctuated by secret places characterise these gardens above the valley floor.
By now I am in need of proper sustenance and I ponder which of the plethora of pubs I should seek out for my indulgence? All are evocative of great camaraderie engendered by the best beer from local breweries. I plump for Joe's Coaches and Horses, my local, where roasted asparagus from the Vale and Mozzarella fish cakes are to die for. Meanwhile I am serenaded by bell ringers practicing in St James' church.
The end to my perfect day comes with a performance of Rigoletto at the Longborough Festival Opera, with a very small indulgent supper and Cotswold gin with tonic, enjoying the ambience of a perfect summer evening during the interval. Afterwards I stroll home through the scented dusk with the moon a mere eyelash in a darkening sky.
---
My Perfect Day in Sussex

The prize for our My Perfect Day in Sussex competition was a two-night stay for two at the Flint Barns, located on the Rathfinny Wine Estate.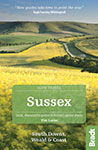 Perfect Day in Sussex by Lindsey Gillespie
What I like about my bit of East Sussex is the way the place plays hide and seek. What you end up seeing is never what you set out to see. The curtain comes up, and the landscape's ready to let you see something you've somehow missed before. Wandering up Chapel Hill from Lewes, skylarks boinging up and down, there's a dip where the Downs drift away, and just where you think you'd glimpse a shepherd's hut, up pops an opera house. Songbirds from everywhere flock to Glyndebourne all Summer-long.
Three miles on lies the tiny village of Ripe – a lurch of cottages and The Lamb Inn where a bottle of local brew Sussex sea cider comes labelled with a Mexican Day of the Dead skull. And it turns out there's a bit of Mexico and a skull right here in the village, under your feet. Tequila bottles mark the spot where the novelist Malcolm Lowry is buried. Gabriel Garcia Marquez said Lowry's 'Under the Volcano', set and written in Mexico, was his favourite book. Lowry, a drinker of hair tonic and aftershave, as well as the usual suspects, died after a bender. His wife Marjorie is buried as far away as possible at the other end of the graveyard.
From Ripe to Golden Cross, and Muddles Green. There's a farm-house here where Picasso used to drop in for lunch back in the fifties (after quite a journey on the Dieppe to Newhaven ferry) with Roland Penrose, surrealist art curator, and his wife, Lee Miller, photographer. Lee was the queen of surrealist cuisine. Arty friends – Ernst, Man Ray, and Miro – would be put to work chopping and peeling, before sitting down to breast of pink cauliflower, or a surrealist mad hatter's all-white tea party, featuring lychees and salt cod. Lee's homely kitchen – formica and 60's spice racks – is still watched over by a Picasso face tiled over the cooker. Maybe it's not so surprising to find a surrealist hangout here in this landscape. It was Lee who first noticed a man lurking outside on the hillside. In summer he's invisible beneath the grass, but by winter you can't miss the outline of a 230 foot naked man – The Long Man – hacked out in Sussex chalk over on Wilmington Hill.
If you loop back to Lewes, the train takes you to another flinty chalk village – tiny Southease. Years ago plaster peeled off the walls of mediaeval St Peter's church and like a reverse tattoo, a 500-year old wall came alive again. Wavy lines from prayers and a crumpled Jesus with yellow hair and a black halo. An emperor in exile – who claimed descent from the Queen of Sheba – and was missing the painted churches of his homeland – paid homage to these new/old murals in 1938. Haile Selassie. And later that day had his photo taken sat on a tuppence halfpenny deckchair on Brighton pier. Surreal.
---
Interested in travel-writing? Why not enter one of our competitions or attend our travel-writing seminar?