Written by James Lowen
'At what point in my evolution as a naturalist,' I demanded of a fellow wildlife-watcher, 'do I resort to moth-trapping to get my kicks?' The answer, I hoped, was never. Nothing seemed duller than moths. Small, drab and nondescript, they were surely the ultimate 'little brown jobs'.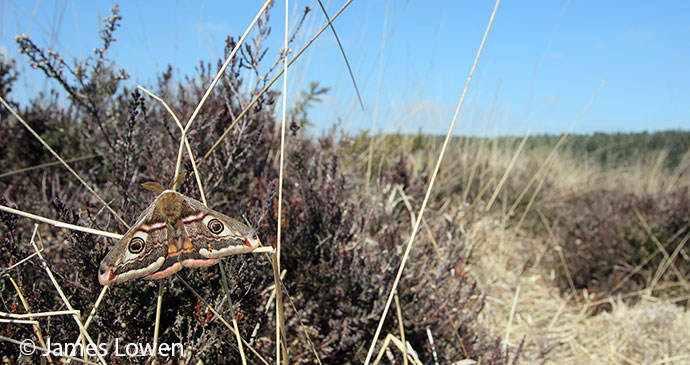 A male emperor moth © James Lowen
In response my friend displayed a poplar hawkmoth that he had enticed into his garden the previous night. My jaw dropped. What a beast! What a beauty! Large, angular, strikingly patterned, sweetly furry and endearingly placid, this was lepidopteran royalty. I was transfixed.
Starting 'moth-ing' was undeniably daunting. Identification uncertainties are compounded by Britain's sheer number of species: 800-plus large moths ('macros') and 1,600 small moths ('micros'). So I trod the path of least resistance – day-flying moths –effectively treating them as surrogate butterflies. This proved immensely rewarding. The summer's highlight was black-veined moth, a sumptuous scarcity restricted to very few Kent downs.
I caught the bug. Investing in a Robinson-style moth trap the following spring, I illuminated my tiny suburban garden, retired to bed and woke early to check the night's catch, the anticipation almost overwhelming. By the time we moved house mid-summer, the whole family was confirmed moth-ers. We were astonished to record 200 different species visiting our London terrace. How many more were hiding in and around our small patch of lawn and flowers? We gasped at the nightly totals: 2,500 moths in one memorable catch (even if 90% were a single species, horse-chestnut leaf-miner). If you can't make it out to watch wildlife, let it come to you!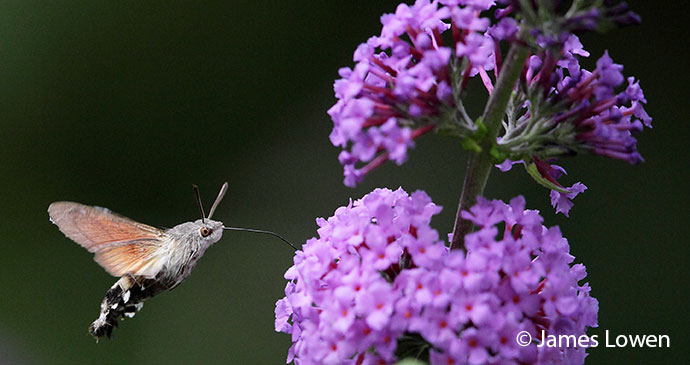 Buddleia plants are manna from heaven for hummingbird hawkmoth © James Lowen
As a family, we giggled at moths' magical monikers. There are wainscots and waves, flames and footmen, beauties and bloodveins – and who could forget shears and snout? Above all, we were mesmerised by a wide cast of hawkmoths, notably small elephant (as pink as candy) and lime (Art Deco green and grey): all made saucers of my daughter's eyes. It transpires that H is for hawkmoth, not just for hawk. Moths became our very own Project Wild Thing: smitten, my daughter refused to move house unless 'Daddy's moths can come with us.' Let moth-ing hook you too.
Want to know more about Britain's moths? Read James Lowen's A Summer of British Widlife.