Written by Oliver Moss
On 22 July 2006, I set off from the familiarity of London's Hyde Park along with 200 other drivers and cars, on the road trip of all road trips: the Mongol Rally. The purpose of the rally is to make your own way from London to Mongolia's capital Ulaanbaatar to raise money for various charities, in a car with an engine size below 1,000cc (eg: Nissan Micras, Fiat Pandas, Ladas, Minis, Ford Escorts) which would normally be deemed wholly unsuitable for such a journey. The route you take is largely up to you.
After reaching Prague on the second night, the teams started to head off in different directions according to their planned route. Some headed north through Scandinavia, St Petersburg, across the Urals and down into Mongolia; others headed across Poland to Moscow and through Kazakhstan; others through Ukraine and central Asia; and others down through the Balkans, across Turkey, the Caspian and central Asia. I, with my team of four Fiat Pandas, decided to take the last of the described routes. We spent a total of three days in Georgia, which under normal circumstances would barely seem sufficient. But the innate sense of hospitality and friendliness for which Georgians are well known, and the fact that we crossed the entire country from the western border with Turkey to the eastern border with Azerbaijan, meant we left this compact and stunning country with huge reluctance and a longing to return in the future.
On our first day, after a long wait at the border, we sat down to a late lunch in a beachside café overlooking the Black Sea. Having heard of the banquets that are the average Georgian meals, and the local wines of which they are so proud, we had to ask the staff to halve the dozen or so courses they were trying to lavish on us. The food was superb and very filling, with enormous amounts of cheese and meats and wine: it seemed rude to turn them down when they attached such devotion and pride to their meals.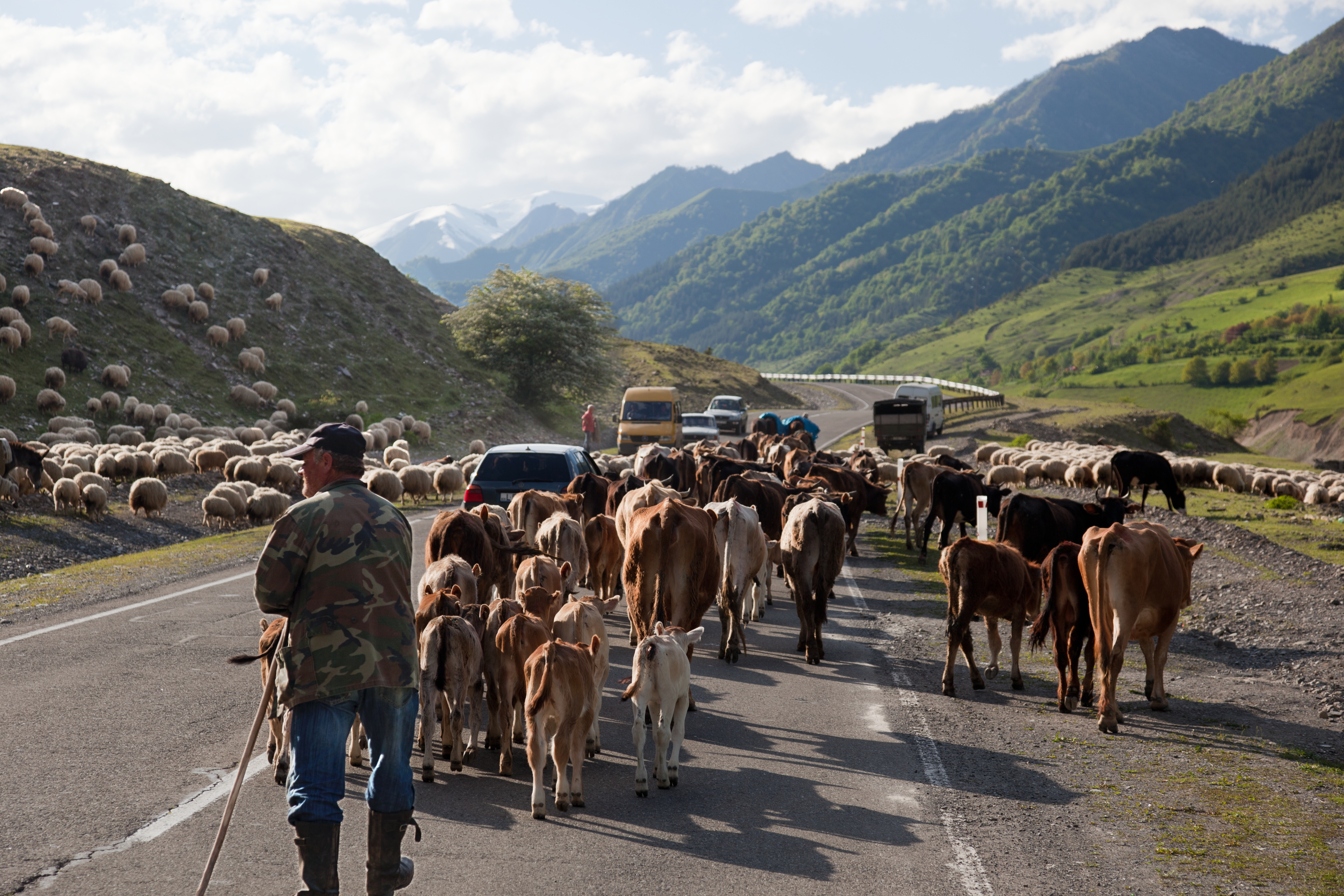 Herd of cows on the Georgian Military Highway near Pasanauri © Ilia Torlin, Shutterstock