Written by David Orkin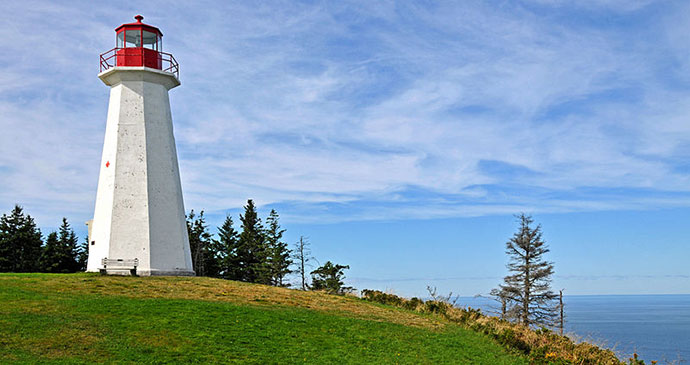 Cape George Lighthouse © Dennis Jarvis, Wikimedia Commons
Lovers of lighthouses, magnificent coastal scenery and hiking should include this detour (or side trip from Antigonish) in their itineraries. The 'Cape George Scenic Drive' also gets labelled the 'mini Cabot Trail' (for the real Cabot Trail, one of the world's great scenic drives): that's going a bit far, but this is still a delightful and scenic little diversion.
The drive begins at Malignant Cove on Highway 245, 8km east of Arisaig (if you are starting in Antigonish, take Highway 245 north for approx 21km). Here, June's B&B is a good accommodation option. Turn on to Highway 337, and you'll pass through Livingstone Cove, which also has an excellent B&B, the Blue Tin Roof, and in less than 20km you'll reach Cape George Point. As you round the cape, watch for Lighthouse Road, a left turn on to a 1km unpaved road to the lighthouse. En route, you'll pass Cape George Day Park with picnic areas and a parking area for trailheads. From this lofty setting, Prince Edward Island (over 50km away) and the highlands of Cape Breton are often clearly visible. The Cape George Hiking Trail, accessible from the park, comprises over 30km of loops and point-to-point trails, some reaching over 180m above sea level.
Back on the road, just past Cape George, there is a striking view of a line of cliff s, which head off in to the distance towards Antigonish, with the brightly painted homes of the pretty and predominantly tuna-fishing community of Ballantynes Cove directly below. Learn about bluefin tuna fishing past and present at the cove's Tuna Interpretive Centre. With indoor dining and a deck overlooking St Georges Bay, Boyd's Seafood Galley is the obvious lunch spot.
You'll then pass the Crystal Cliffs, named for their whitish appearance (a result of their high gypsum content), and will then have a view of the narrow entrance to Antigonish Harbour. A left turn on to Mahoney's Beach Road will lead you to a pleasant 1.8km beach trail: art afi cionados will want to visit Anna Syperek's home/studio. Working with oils and watercolour, drawing and etching, Syperek is one of the province's top artists.
Just past Mahoney Beach on Highway 337, several more hiking trails ranging from 3km to 13km allow you to explore beautiful Fairmont Ridge, which overlooks the harbour. From here it is just 9km to Antigonish.