Written by Tim Burford
If you're wondering why so many people seem to be carrying an oversized leather binocular case, it's not because they're dedicated birdwatchers but because they are afficionados of maté, the infusion of the leaves of the Ilex paraguianensis shrub to which many inhabitants of Uruguay and the neighbouring countries seem to be almost addicted. The case is the matero, containing a thermo or vacuum flask of hot water, a supply of yerba maté leaves (pronounced 'zherba mat-ay', at least in Uruguay), a gourd also known as a maté (from the Quechua for 'cup'), a silver straw called a bombilla, and an escobilla with which to clean the bombilla. Maté can also be drunk from a pezuña (cow's hoof) or guampa (bull's horn), but this is generally seen as affected. Whoever is in charge of the thermo fills the gourd with maté and hot water, drinks the first cup himself, adds more water, and passes it to the person on his left. He or she drinks and returns it for recharging, and so it continues to circulate clockwise. It may continue to circulate for hours, as the group relax, chat and watch the world go by. Unlike tea, maté does not get bitter when left brewing and can be topped up multiple times. Do not say 'thank you' until you have drunk your fill and don't want another refill; and never wash the gourd with soap. If the gourd is filled to overflowing, or with cold water, or just not filled immediately, this can be taken as a sign that your presence is not welcome.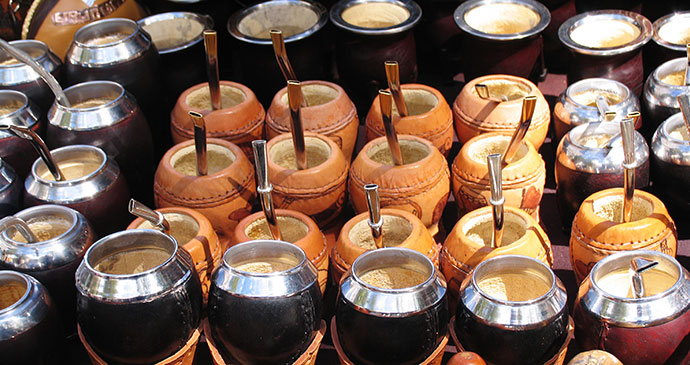 Maté gourds on sale in Montevideo © Julian de Dios, Shutterstock
There's an indefinable difference between Argentina, where you may get the impression that people would happily drink maté for ever rather than risk going to work, and Uruguay, where maté-drinking seems more like a justified relaxation before or after getting on with the rest of one's life. The social rites of maté-drinking began with the Guaraní people and were then adopted and spread by the Jesuits; now you'll see people happily preparing maté on the beach in the hottest of weather, in bus stations, and whenever they're watching television or hanging out with friends.
The maté should not be too hot (there's a possible link between hot maté and oesophageal cancer); if it's too bitter (and for some of us, it's always too bitter), wait until the gourd has been around a couple of times. In some places it's normal to take maté with sugar (dulce) but in Uruguay it's usually without (amargo); however, herbs such as mint, or orange or lemon peel, are sometimes added. It can also be found nowadays in teabags and in cans (toasted and sweetened, and drunk cold). In southern Brazil the yerba is finer and the gourds are bigger; it can also be made with cold water there (and is
called tereré).
Yerba maté contains an alkaloid called matteine, very similar to caffeine, which makes one feel more alert and less hungry, but doesn't lead to jitteriness and palpitations; it's also said to ease the digestion and reduce blood pressure. It also contains useful doses of vitamins B1, B6 and C, calcium, phosphate, magnesium, sodium, potassium and iron.
---
Inspired to try maté for yourself? Check out our guide to Uruguay and start planning your trip.