Written by Bradt Travel Guides
Despite being so close to the UK, Luxembourg has somehow remained off the tourist radar, but this tiny nation is an ideal destination for people seeking somewhere a bit more unusual that don't want to travel too far. Due to its size, everything is so close to hand, making it perfect for a short break – its possible to drive from one side of the country to the other in just over an hour.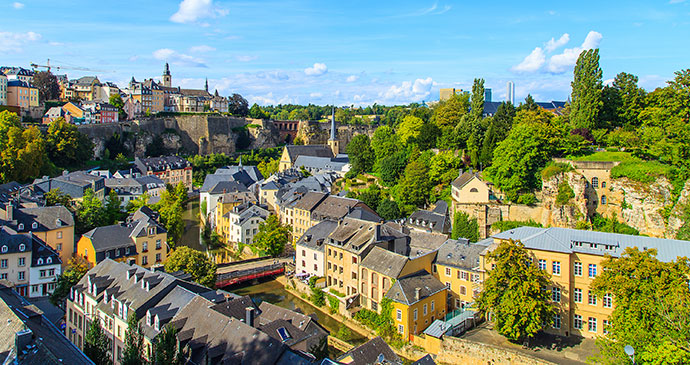 Luxembourg City is a great place to base yourself © Marcin Krzyzak, Shutterstock
Flying directly from any of the major UK airports, you'll arrive in Luxembourg City just a hour from take-off. This is a great place to base yourself perched at the confluence of the Alzette and Pétrusse rivers, it has one of the most stunning settings of any urban area in Europe. It's a city you can easily explore on foot, with plenty of charming squares, great museums, surprising amounts of green and centuries-old architecture. In short, it's a lovely place, and UNESCO clearly agrees: it awarded the old town World Heritage status in 1994. Ideally, you should spend two days in the capital to enjoy it at a more relaxed pace, but it's also possible to see it in one.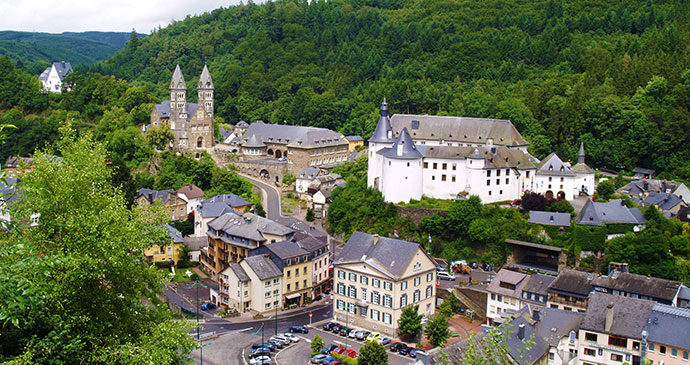 Clervaux's abbey and castle tower over the town © Tim Skelton
Next, head north to the Ardennes, a rural world of gently rolling plateaux cut by deep valleys. Spend the day in compact Clervaux, home to a magnificent castle, Benedictine abbey, and 'The Family of Man', the world's greatest photographic exhibition. Added to the UNESCO Register of the Memory of the World in 2003, thematic rooms take you on a trail telling the story of man, covering subjects from love and birth to work and war. Alternatively, head to Vianden – nestled in a valley on the banks of the Our, it's setting alone makes it worth visiting. But, adding to this museums, churches, an adventure rope garden and one of Europe's most impressive castles, it becomes somewhere no-one should miss.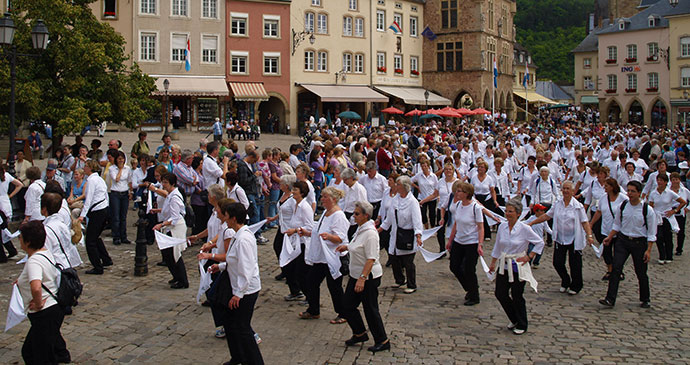 The Dancing Procession is not to be missed if visiting Luxembourg in May © Tim Skelton
The final day of your weekend should be spent in the Müllerthal, the smallest but most dramatic of Luxembourg's regions. Echternach, the region's capital and Luxembourg's oldest city, is simply a lovely place, which anyone with a soft spot for old European architecture will enjoy. May is a particularly good time to visit, as on Whit Tuesday the annual Dancing Procession comes to town, a celebration of its founding father, St Willibrord. Now on the UNESCO List of the Intangible Cultural Heritage of Humanity, dancers dressed all in white weave their way through the streets, linked together by white hankies. It's quite a spectacle.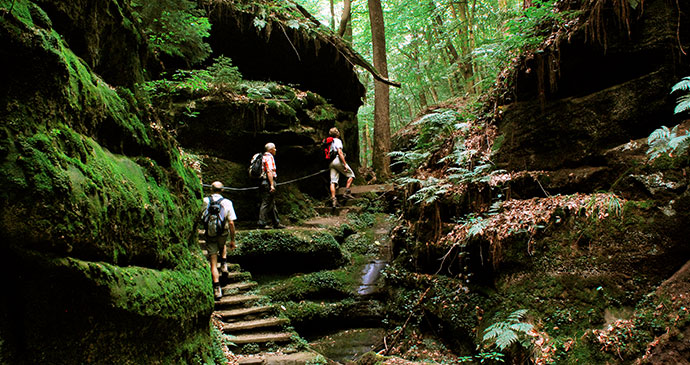 Little Switzerland is home to the country's best hiking trails © Office of National Tourism
If you're into hiking, then Little Switzerland is a must-visit – a maze of spectacular craggy outcrops, pathways, gorges and valleys. Situated between Beaufort and Echternach, and completely encompassing Berdorf, it is a tranquil land of breathtaking beauty; it's also tranquil and very peaceful. Beyond the clomping footsteps of fellow hikers the air is filled with birdsong and gently trickling water. Best of all, it has some of the finest walking routes in the country, with well-maintained trails and clear signposting.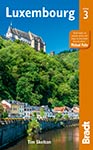 Read more in Luxembourg: the Bradt Guide