Written by John Ruler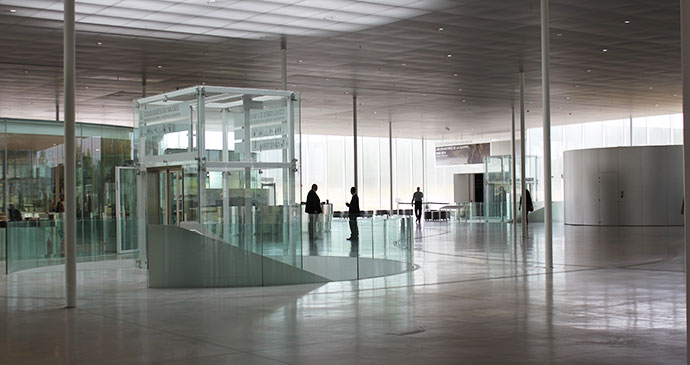 Despite raised eye-brows at the daring decision to locate it in Emile Zola's 'King Coal country' – previously dominated by slag heaps – the Louvre-Lens is far from being in the dumps, if you'll excuse the pun.
Instead, this glittering €150m (£121m) gallery housing 'a collection of arts in one giant shoebox', as one executive succinctly put it, has exceeded all expectations.
Chosen largely for its convenient road and rail links, the gallery opened in December 2012, anticipating 700,000 visitors in the first year. It had more than 900,000. And by May this year the figure rose to 1m 300,000 (including 5% Brits).
So what drove them to visit this out-of-town branch of the Paris Louvre? For art buffs the chance perhaps to catch up on major exhibitions, for others simple curiosity. For this is no conventional art gallery, but a shining slice of silvery surrealism with two main exhibition areas which, windowless and clad in partly reflective aluminium, capture the northern sky while craftily diffusing the light.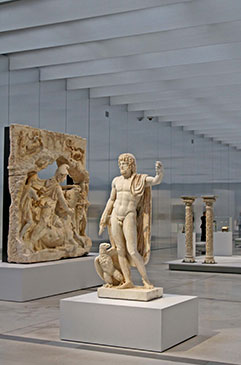 Those who like their art or artists in neat compartments may baulk slightly at the biggest, the 'Gallery of Time' ('Galérie du Temps'), a 125m long (400ft) by 24m (80ft) wide open space housing 205 works. These works were chosen from the Louvre Paris and cover six millennia of art, from the prehistoric to the 19th century. Not only can you cross cultural boundaries, from Persian to Roman, Islamic to Renaissance, but dabble in the media of your choice, from a reclining nude sculpture to a classic painting by Botticelli.
One art critic, who otherwise gave it the thumbs up, rather rudely suggested it was an exhibition for dummies – if this means suiting those who prefer their art in small doses, that's fine by me. It is also family friendly, from a café and restaurant to suggested tours to suit all ages.
A topical exhibition, the Disasters of War 1800–2014, which runs to 6 October, shows how artists contributed to a growing disenchantment with war: the grotesque, almost sci-fi images of World War I by German painter Otto Dix shocks like a slap in the face.
Henri Loyrette, president of the Louvre, sees the exhibits, in much the same ways as diamonds, being enhanced by the setting.
Meandering paths in the 48 acres of landscaped garden – itself created from a flattened slag heap – recall the geometry of mine shafts. Nor should the analogy be lost on Lens itself, a town which once relied on the 'black diamond' – namely coal. Indeed the entire project lies on the site of what was once Colliery No 9.
'It is not the building alone that is important, but the people, the art, the landscape, the whole ensemble', says Kazuyo Sejima, of SANAA the Japanese architects behind the Louvre-Lens, which hopefully will act as a jumping off point for heritage and general tourist sites in the former mining region as well as attracting much needed investment locally.
Practicalities
Louvre-Lens
99 Rue Paul Bert, 62300 Lens; tel: +33 3 21 18 62 62; email: info@louvrelens.fr; www.louvrelens.fr; open: 10.00–18.00 daily except Tue & 1 May 1 (last entry 17.15) also 10.00–22.00 first Fri of each month.
Getting there
By train: Lens train station is in the centre of town. There are direct connections from Paris Gare du Nord or from Lille, Arras, Béthune and Douai. Free shuttle service runs regularly to the Louvre-Lens. The pedestrian walkway takes about 20 minutes.
By car: If driving from Calais, take the A26 towards Arras and Paris. Take exit 6-1 signposted to Lens. Follow the directions to Louvre-Lens Parking is well signposted.