Written by Rudolf Abraham and Thammy Evans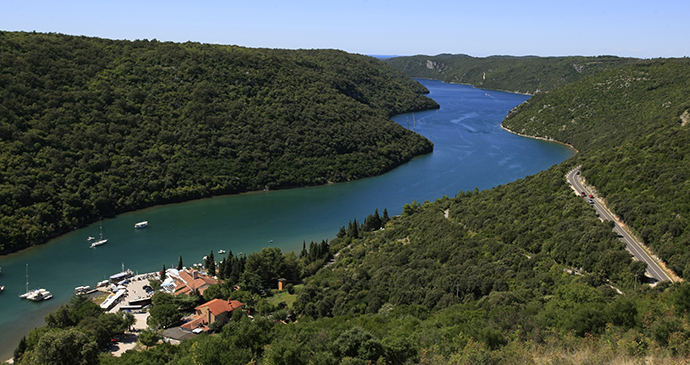 The Limski kanal, a fjord-like sea gorge on Istria's west coast © Istra Photonet
The whole inlet has been the backdrop for a number of films, including The Vikings starring Kirk Douglas
No trip to the Poreč area would be complete without a trip to the Limski kanal. The karst area here, mostly made of limestone (lim in Istrian comes from the Latin limes, plural limites, meaning 'channel/path/boundary', and is not related to the word limestone) sank some 10,000 years ago forming the current sea gorge. Protected from the wind and currents, it is the home of several shellfishfarming beds and is a protected natural monument, as a result of which it is illegal to swim in the eastern half of the channel.
At the eastern end of the gorge on the south bank is Romuald's Cave (Romualdova pécina) (a visit can be arranged through Natura Histrica or Kanfanar tourist office), so called because St Romuald of Ravenna lived there as a hermit from 1002 to 1004. The cave, which is 105m long and several metres high, but with an entrance only 1m in height, shows evidence of Stone Age rock art on its western side (but, strangely, none on its eastern side), and the fossils of 41 different animals dating back to the Stone Age have been found there.
Romuald left the cave, deciding that those wanting to dedicate themselves to God should live in a community as monks, so he returned to his monastery (now no longer in existence), which he had built earlier on the north bank at Kloštar. There are legends that Sir Francis Drake left treasure there, and the whole inlet has been the backdrop for a number of films, including The Vikings starring Kirk Douglas (1958). There is ample parking at the road entrance to the Limski kanal on the old road between Poreč and Rovinj, where you can find information boards on the cave and local flora. It's a hike of 15–30 minutes up to the cave entrance, which becomes a difficult and exposed scramble at the top with very little railing support. Dress shoes and flip-flops are not advised.
A third of the way into the channel is the Pirate Cave – a watering hole and souvenir stall for the tourist boats visiting the gorge. Entry to the cave (which is more a very large hollow than a standard cave) includes a postcard. A signposted trail from Petalon; at also leads down from the cliffs above, which can be reached from the end of the road going to Vrsar airport (private jets only). From the parking area at Petalon it is a 2km bike trail to the turn off to the Pirate Cave, and a 200m hiking trail from the turn off till you reach the cave.
---
Are you interested in visiting Limski kanal and other sites in Istria? Here's 10% off our guide: