Written by Bradt Travel Guides
If a colourful coastal village tucked into the hillside tempts you more than a bustling city break, why not squeeze five of them into one trip? Liguria's Cinque Terre National Park allows you to do just that, with the villages of Riomaggiore, Manarola, Corniglia, Vernazza and Monterosso al Mare all within walking distance of each other and each with their own unique charm. There isn't a list of must-do things to tick off – this is a place to unwind, enjoy the outdoors, take a boat trip, swim in the sea and paddle. Going on a day trip to the Cinque Terre in July or August can easily leave you burnt out and overwrought so head here in May before the crowds arrive and give yourself a few days to slow down.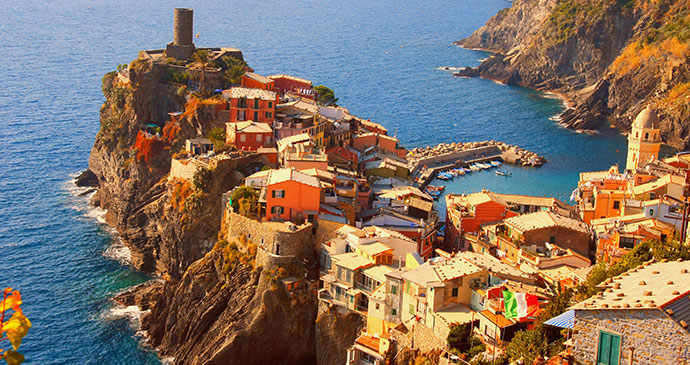 Corniglia is a great place to base yourself © Sternstunden, Shutterstock
We recommend basing yourself in Corniglia, as it's high up on the cliffs and is the one place that tends to get left out of day trippers' itineraries. Alternatively try Vernazza, which retains an ability to rise above it all and is simply the nicest of the five villages. The loveliest way to explore the Cinque Terre is on foot; the five towns are linked by the Sentiero Azzurro, the 14km-long Blue Footpath which takes anywhere between two-and-a-half and five hours to walk, leaving you plenty of time to explore each village on the way. To divide the walk across two days, hop on the train along the coast to Monterosso or Riomaggiore at either end of the string of towns and spend the day walking back to your base in the centre.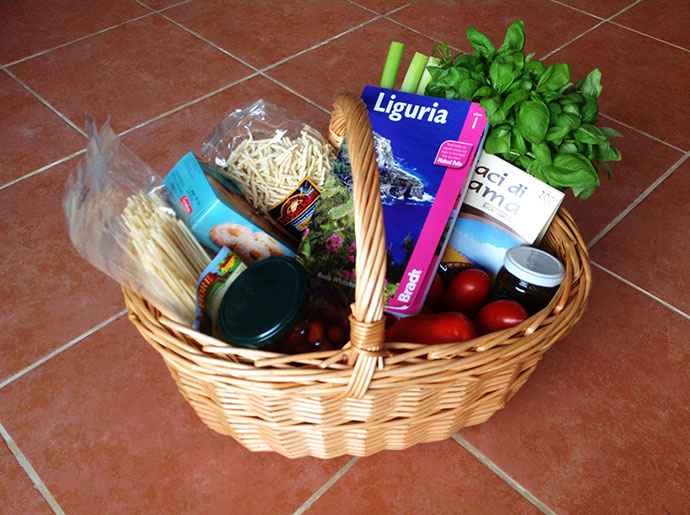 Food is an essential part of any trip to Liguria © Rosie Whitehouse
Food is an essential part of the Ligurian experience and a very local affair so make sure you factor in time to savour the tastes of the area, not forgetting to pick up some fresh pesto and to sample Monterosso's famous anchovies. Beautiful churches along the way include Santa Margherita d'Antiochia in Vernazza with its waterfront setting and impressive 40m-high octagonal bell tower; legend has it that it was built after the bones of Santa Margherita were found in a wooden box on the beach. Keep your swimming gear with you at all times so you won't have to resist the temptation to take a dip in the sparkling waters; plunge off Manarola's rocky harbour, paddle out from Vernazza's sandy beach or spread out your towel on Monterosso's vast open strand.
If you fall in love with these picturesque villages while they are splashed with sunlight, they'll take your breath away by night. This is the time to enjoy the remoteness of an area that has been saved from developers. Enjoy it – it's all yours!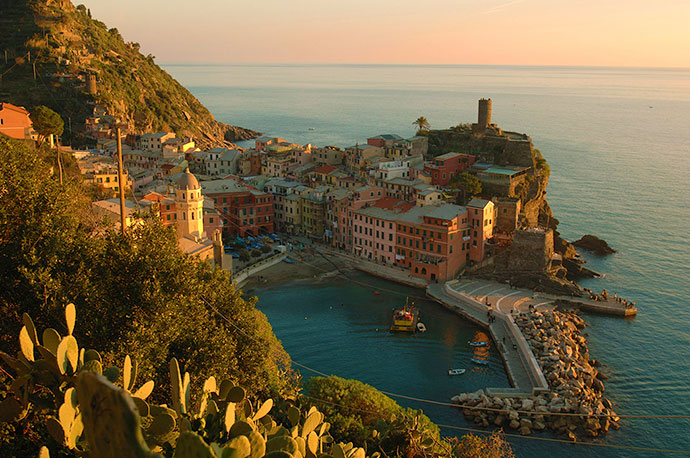 The Cinque Terre is quite a mellow place, if you know where to go © Rosie Whitehouse
If you choose to stay another day or two, head further along the coast by car or train for some Riviera glitz in Portofino or take a boat trip around Liguria's only archipelago, near Porto Venere.
---
Want to read more about Liguria? Whether it's hilltop villages, walking trails or great food you're after, our guide has it all: