Written by Paul Doyle
In common with many other Middle Eastern countries, Lebanon is a very family-friendly destination. The Lebanese adore children, and the hospitality extended to adult visitors applies equally, if not more so, to parents with children. With a year-round cordial climate compared with many other countries in the region, and a variety of activities with lots for kids to see, at often discounted rates, Lebanon has plenty to offer parents travelling with children, whether on a long weekend break or an extended holiday.
National Museum, Beirut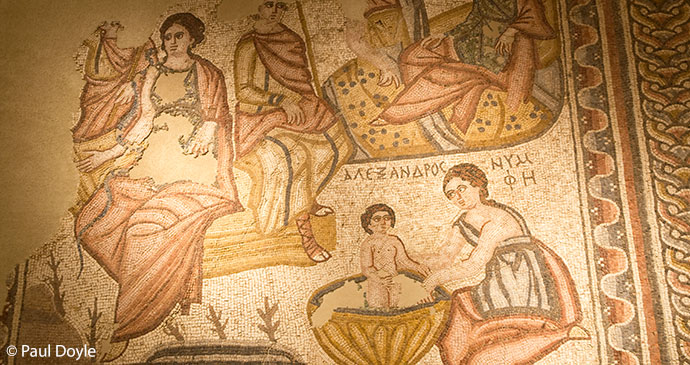 A visit to the National Museum will emphasise the diversity and richness of Lebanon's history © Paul Doyle
Without a doubt Lebanon's premier museum, this, arguably, should be first on your itinerary. Its extensive archaeological collection spans the salient eras from prehistory and the Bronze Age to the Mamluk period, including a beautifully preserved mosaic from CE300, a marble statue of Hygeia, the goddess of health, from the Roman period, 2nd-century CE Roman sarcophagi, and a bas-relief of Pharaoh Ramses II. From the Phoenician era, statues of children associated with Echmoun, the god of healing, are particularly impressive. But the most prestigious relic from this period is the sarcophagus of King Ahiram, the 10th-century King of Byblos, which contains the earliest inscriptions of the Phoenician alphabet. All exhibits within the museum are labelled in Arabic, English & French.
Planet Discovery
If you are travelling with young children and looking for a diversion from the shops and perhaps a more edifying and rewarding experience, Planet Discovery is an excellent option. This is Lebanon's sole permanent children's science museum, catering for families and kids from the age of three years. With its child-friendly bright and colourful décor, the museum provides a fun, hands-on learning experience across a wide range of areas such as the life-cycle of the ant, the five senses, and how genes make us who we are. The Unfinished House display lets children gain valuable social and physical coordination skills within a team environment as workers wearing hard hats and high-vis vests on a pretend construction site, with a shared goal of completing a home. The museum also runs Kids Town, where parents can drop off their children for up to a whole day in a professional and safe crèche-type environment.
Jeita Grotto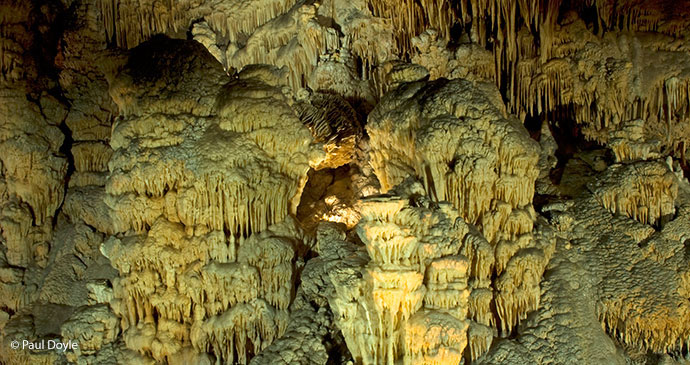 Jeita Grotto's majestic and stunning stalactites and stalagmites made it a finalist for the title of one of the world's 'New 7 Wonders of Nature' © Paul Doyle
Just 22km north of the capital, Jeita Grotto is one of the country's biggest tourist attractions. This karstic limestone landscape, fashioned by geology, time and water, has resulted in an extraordinary display of stalactite and stalagmite rock formations, which will enthral both kids and adults. A visit to the grotto is divided into two parts. The upper cavern, where the temperature is kept constant at 22°C, is reached by a short cable car ride and then a 120m-long walkway to reveal a series of eerily peaceful and beautifully lit chambers containing bizarre rock formations, including the world's longest stalactite. The 7,000m lower grotto is visited via a short boat ride and is equally beautiful, though cooler at 16°C. A visual feast for all ages!
Moussa Castle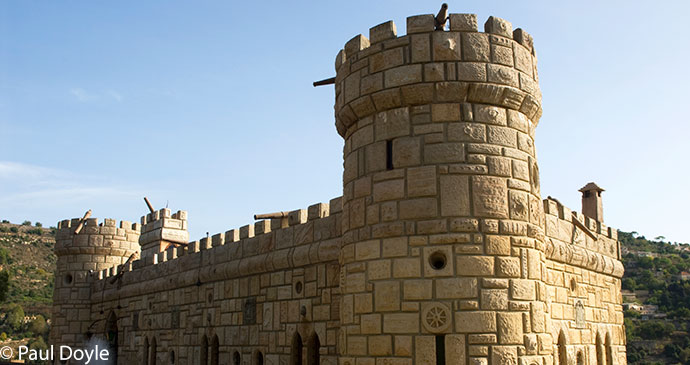 The story behind Moussa Castle is something of a fairytale © Paul Doyle
One of Lebanon's most offbeat and odd attractions, Moussa Castle is the result of one man's childhood dream one day to 'turn sand into gold' and live in a castle. Undeterred by the humiliation of being mocked by his classmates and beaten by his teacher, this ambition endured some 60 years … until 2005, when work was finally completed, each brick having been cut and positioned by Moussa's own hands. Inside the castle a tableau of plaster figures shows scenes from traditional Lebanese life such as silk making, grape picking, corn workers and sheep shearing. On the ground floor is a classroom scene depicting a 'defining moment' in Moussa's story, together with scenes of bread making, the Last Supper and dabke dancing.
The Orange House
Not far from the southern city of Tyre, and surrounded by banana groves, citrus plantations and a garden brimming with orange trees and pretty flowers, is the aptly named Orange House. This excellent rural retreat is owned by Mona Khalil, and shared with fellow environmental enthusiast Habiba Fayed, five goats, a black cat, two dogs and an African grey parrot. A chance sighting of a sea turtle en route to lay her eggs on the beach gave birth to Mona's passion and 'dream' to preserve and protect the turtles, two species of which, both endangered, come to lay their eggs on Lebanon's coastline each summer. To fund their project, Mona and Habiba provide bed-and-breakfast accommodation, where guests can enjoy the beauty and tranquillity of the house and beach area, and where kids can experience ecoliving and assist with the care of new turtle hatchlings.
---
Inspired to visit? Get 10% off our Lebanon guide: