Written by Gail Simmons
In 1874, the lovesick author Robert Louis Stevenson stepped off a train at High Wycombe station on the first leg of a three-day journey across the Chiltern Hills to Tring. Almost 150 years later, Gail Simmons took to the hills in his footsteps, chronicling the world of her childhood before the construction of HS2 brings commensurate destruction to this ancient landscape.
Entwining personal memories with impassioned interviews and extracts from Stevenson's 'In the Beechwoods', Gail portrays the poet's 'Country of Larks' from prehistory to the present day. To discover what lies beneath, read on…
---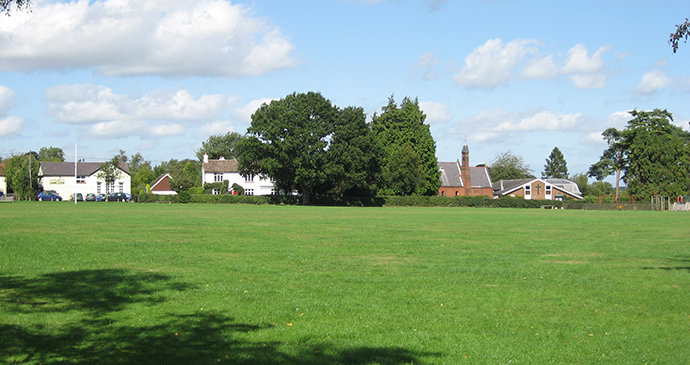 The common is the focus of the little village of Holmer Green © Proteus4, Wikimedia Commons
Antique landscapes such as the one I was walking through that day are palimpsests, layers of history, one lying just beneath another. Sometimes an upper layer peels away, and a buried one is revealed. Such is Kingstreet, which according to my 1880s map existed when Stevenson was here and which leads north from Holmer Green. This was an important drovers' road, where cattle and sheep would be driven across the Chilterns to seasonal fairs and markets. Nowadays its importance is much reduced, there not being much call for drovers anymore. Yet there are still references to the village's connection with drovers and their animals in the street names. I was standing in Penfold Lane (where sheep were penned), having just passed Sheepcote Dell Road. Even the neat bungalows lining the street out of the village still cling on to the old rural traditions, with their allotment gardens and signs advertising home-grown runner beans. And names such as Orchard End hark back to Holmer Green's vanished agricultural past when the village's proximity to London encouraged fruit-growing, its plentiful cherry orchards still studding my 1880s map.
Kingstreet survives today as a bridleway, its entrance hidden at the edge of the village. Too hidden, it seems, as I could not locate it. I paused to check my map, and an elderly couple with Labradors approached. They looked very like my parents – he tall, with a cloth cap and gilet, she with a trim grey bob and a smiley face.
'You look like you're on a long-distance walk,' the woman said, touching my arm. I wondered if this was a polite way of informing me that I didn't quite fit in with the Sunday strollers of Holmer Green, with my scruffy hiking gear and old rucksack. Just as the apparently civil enquiry 'can I help you?', when uttered by a certain breed of English person, really means 'what do you think you are you doing here?'
'I am on a long-distance walk – to Tring,' I responded to her gentle tease.
---
Read more in Gail Simmons's new book: