Written by Hilary Bradt
It was George Bush who first sparked my interest in North Korea. When he defined the 'Axis of Evil' as Iran, Iraq and North Korea in 2002, it was clear that we needed to complete the trilogy of guides to those countries, having published Iran in 2001 and with Iraq in the pipeline for 2002. Succumbing to the temptation to stick two fingers up at the Bush administration was, perhaps, not the best reason to publish a guide, especially when the tourist figures didn't justify the risk – but that is only part of our discussion. Bradt was founded on the principle that everyone deserves to become familiar with a country through their own eyes and ears, not through what our – or their – politicians choose to tell us. Our guide to North Korea was duly published in 2003, is now in its third edition, and since then has been one of the countries I have most wanted to visit.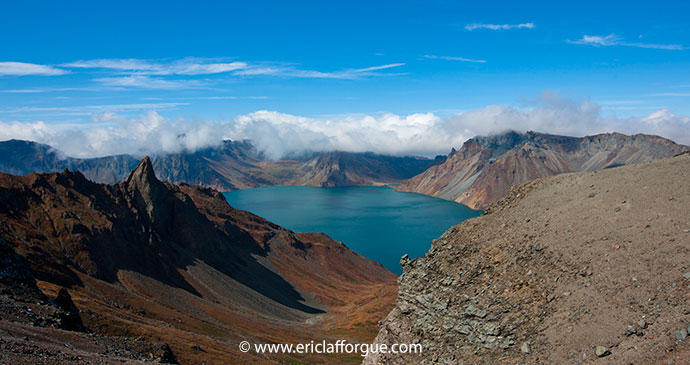 Mount Paektu – beautifully serene desolation © Eric Lafforgue
When I mentioned to the folks at Regent Holidays that I was particularly interested in visiting North Korea they told me about the special trip they are running this year, Pioneering North Korea. Described in their 'Alternative Experiences' brochure as the most alternative of all their tours, this is an irresistible itinerary and I'm thrilled to be going in September. Whilst most visits to the country are relatively short, focusing on Pyongyang, the DMZ, and nearby sites, this three-week trip heads off into the unknown. We take a chartered plane to Samjiyon and on to Mt Paektu, described in our guide as 'beautifully serene desolation'. We continue to the highest point on the Korean peninsula, Janggun Peak, with the chance to hike down to a crater lake, Lake Chon. I don't know if this will be the highlight of the trip, or Mt Kumgang, which has been off limits to tourists until recently. We'll hike to a lake, a waterfall, and a series of rock pools. And the book says the area is still home to Korean tigers. Wow!
I expect this part of the trip to overturn all my preconceptions of North Korea. I'm most excited about the natural world but there are long journeys by road, and what you glimpse out of the window of a bus can put an entire country into focus. I can hardly wait!
There are still a few places on this September trip, but if you want to join me you must hurry. Because of the time it takes to get the necessary visas (which Regent do for us) bookings will close on July 16. For further information or to book, click here or call 0207 6661258.